hospital workers
May 16, 2014
Hospital workers were on the march in the pouring rain earlier this month at John Hopkins Hospital saying: "America's Number One Hospital - Keeping Workers in Poverty."
Read more
April 15, 2014
The union's wage proposal would add 0.32 percent to Hopkins' $754 million payroll costs; in 2013, Hopkins reported a surplus of $145 million.
Read more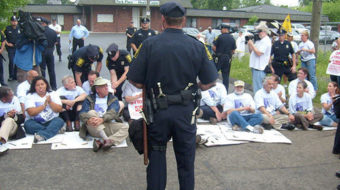 June 4, 2010
Twenty-one labor, community, elected officials and clergy members were arrested by Hartford police Tuesday for blocking the entrance of Park Place Health Center in support of District 1199 Spectrum strikers.
Read more