May Day
April 30, 2019
On this special day, workers hold their heads higher and walk with a jaunty spring to their step. This is their day.
Read more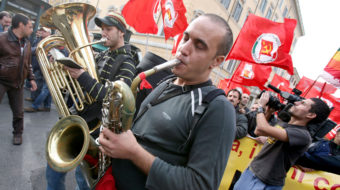 April 30, 2019
I worked with a guy named Irving Taffler in Brooklyn politics in the early 1970s. After a long day of door-to-door campaigning together for a progressive challenging a right-wing New York State assemblyman, we sat down...
Read more
April 17, 2019
The theme is "LA People's Power/LA Poder del Pueblo," calling out the Trump administration's ongoing attacks on immigrants and workers.
Read more