military
December 31, 2009
Two leftist South American presidents are under the gun.
Read more
December 12, 2009
BERLIN -- Like the peaks of the Hindu Kush dominating much of Afghanistan, the war in that unhappy country increasingly overshadows the political scenery in Germany.
Read more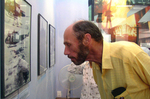 October 26, 2007
The death of Veterans for Peace leader David Cline on Sept. 15, 2007, in Jersey City, N.J., touched off an outpouring of tributes from his fellow veterans that continues to this day. Cline was one of...
Read more