Native Americans
October 2, 2009
An important envirnomental project is completed in Washington state.
Read more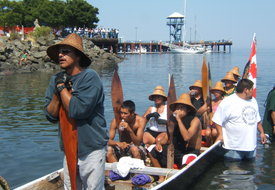 August 9, 2009
'Paddle to Suquamish" Aug. 1-11 was a dramatic sign that the Indian tribes of the Pacific Northwest are in the midst of a cultural reawakening. Participation continues to grow 20 years after "Paddle to Seattle," the...
Read more
August 26, 2005
PORT ANGELES, Wash. — "Paddle to Elwha" brought thousands of Pacific Northwest Indians and their friends to the waterfront of this old Olympic Peninsula mill town Aug. 1 to celebrate the arrival of 76 dugout canoes...
Read more