women's rights
November 4, 2009
The white streamers were everywhere ― worn as armbands, headbands, neckties, leg-bands ― as hundreds of Richmond High School students gathered on the football field.
Read more
May 11, 2009
Today is the 101st anniversary of Mother's Day as we know it [May 10, 2009]. Over at Beliefnet, popular religion scholar Diana Butler Bass reminds us of the progressive origins of Mother's Day, which started with...
Read more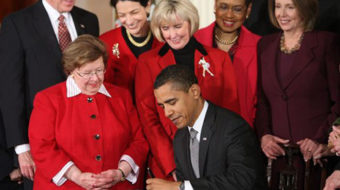 January 12, 2009
Lilly Ledbetter says she knows she'll never recover the hundreds of thousands of dollars she lost from her paychecks because of nearly 20 years of pay discrimination.
Read more