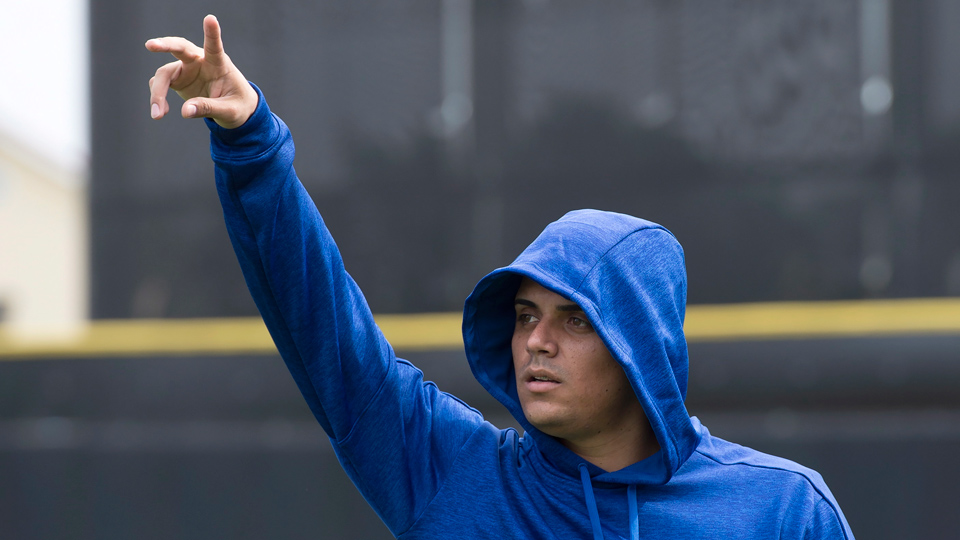 It was a "what the Hell" moment for me yesterday morning, and one that has soured my love of baseball.
Major League Baseball is perfectly fine letting Toronto Blue Jays closer Roberto Osuna take the mound once he returns from suspension, even if a domestic violence legal charge remains pending.
"If in fact the application of that policy results in Roberto coming back to work after a very long suspension while there are still unresolved criminal proceedings, I can live with that result, because that's the policy we negotiated," baseball commissioner Rob Manfred said at the all-star game Tuesday. "You can't take all the benefits of the policy and then turn around and say, 'Gee, I don't like the outcome in this case and therefore I'm going to do something else.'"
Osuna was put on administrative leave May 6 after being charged with one count of assault in Toronto, and his suspension will run through Aug. 4 for violations under the MLB-MLBPA joint domestic violence policy. He was transferred to the Blue Jay's single-A team (Dunedin Blue Jays), where he will serve his 75-game suspension on a rehab assignment.
At a hearing earlier this month, Osuna's case was pushed back to Aug. 1—four days before he is eligible to return to the majors, and his attorney Domenic Basile restated that Osuna intends to plead not guilty.
Basile is currently holding pretrial discussions with the Crown (prosecutors), seeking a course of action that would prevent a trial from taking place.
"The meetings are going well," Basile told reporters on the court steps of Toronto's Old City Hall following the brief procedure. "There's a lot of information that is being discussed and exchanged. It's a very productive, reasonable approach that I suggest the Crown is taking and that I'm taking thus far. But nothing is carved in stone."
While not revealing much detail, Basile pointed out only three options in this matter: resolution, possible through a peace bond, a trial, or a guilty plea—which Osuna will not enter.
He went on to emphasize that Osuna's decision to accept MLB's suspension without appeal was not an admission of guilt.
"I want to make it clear there is no admission of guilt by Roberto Osuna with respect to what happened with Major League Baseball. They imposed that suspension and he's not appealing it and he's going through the process."
Basile also confirmed that Osuna has begun counseling as stipulated under the domestic violence policy.
"I believe that the process moved forward in the fashion that it should have," said Tony Clark, executive director of the MLB Players Association, when asked about Osuna's return.
Osuna will miss 89 days total, which will cost him about $2.54 million of his $5.3 million salary.
Are Major League Baseball and the Players Association setting up dangerous precedent when it comes to domestic violence and its prevention?
Let us know what you think.
Like free stuff? So do we. Here at People's World, we believe strongly in the mission of keeping the labor and democratic movements informed so they are prepared for the struggle. But we need your help. While our content is free for readers (something we are proud of) it takes money — a lot of it — to produce and cover the stories you see in our pages. Only you, our readers and supporters, can keep us going. Only you can make sure we keep the news that matters free of paywalls and advertisements. If you enjoy reading People's World and the stories we bring you, support our work by becoming a $5 monthly sustainer today.