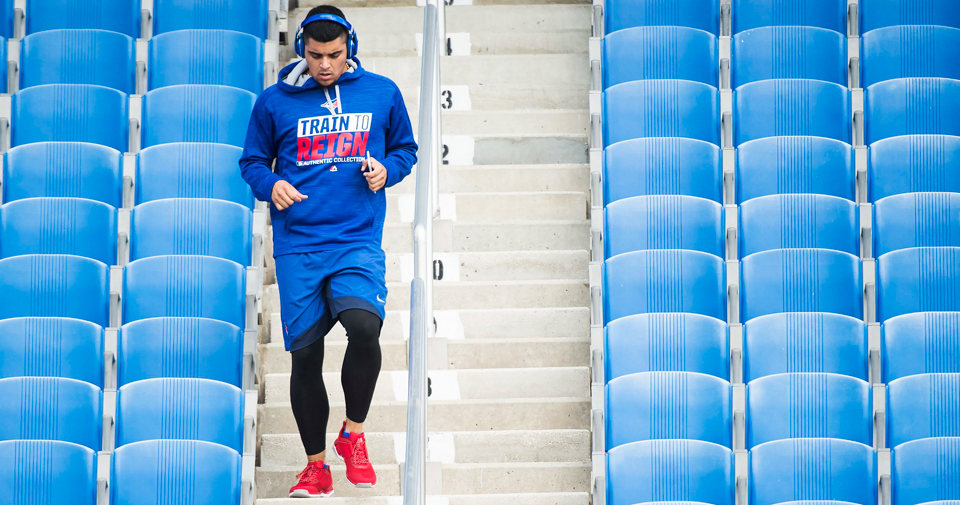 After a lengthy investigation, Major League Baseball announced a 75-game suspension of Toronto Blue Jays closing pitcher Roberto Osuna June 22 for violation of the MLB-MLBPA joint domestic violence policy. The suspension is retroactive to May 8 and will end August 4 of this year. It will cost him around $2.54 million of his $5.3 million salary. 
"My office has completed its investigation into the allegation that Roberto Osuna violated Major League Baseball's Joint Domestic Violence, Sexual Assault, and Child Abuse Policy on May 8, 2018. Having reviewed all of the available evidence, I have concluded that Mr. Osuna violated the Policy and should be subject to the discipline in the form of an unpaid suspension that will expire on Aug. 4," read the statement from MLB Commissioner Rob Manfred.
Manfred doesn't give much detail of the investigation's specific findings, unlike prior announcements of suspensions for violating the policy.
Osuna was arrested and charged with a assaulting a woman May 8. He was placed on administrative leave—with pay—as the league began its investigation. According to MLB insider Jon Heyman, writing on FRS Sports Network, it is believed that the league was allowed to interview the victim, which gave Manfred sufficient evidence for suspension.
Osuna has agreed not to appeal the suspension. According to Osuna's attorney, Domenic Basile, who appeared at an initial hearing in Canadian court June 18, Osuna plans to plead not guilty.
A statement from the Toronto Blue Jays in response to the announcement was short, and to the point: "The Toronto Blue Jays support the decision by the Commissioner's Office to suspend Roberto Osuna. As this remains a legal matter, the club will have no further comment at this time."
"I don't have much of a reaction other than you take what MLB does and trust that and live with that and let it go through its course," said Blue Jays manager John Gibbons. "We knew something was coming down. Actually, it took a while. Hopefully, it all gets worked out on both sides and everyone gets the help they need and everything works out fine."
I'm sure everything will work out fine for Osuna, but what about his victim? It's not so certain that everything will work out as "fine" as Gibbons hopes.
The 75-game suspension makes it the third-longest handed down under the policy. Jose Torres (100 games) and Hector Olivera (82 games) hold the dishonorable distinction of having been given harsher suspensions.
Of course, this is nothing but a slap on the wrist for one of the most popular Blue Jays.
While the joint domestic violence policy found in the MLB-MLBPA collective bargaining agreement, implemented in August 2015, takes a firmer stance on the issue compared to the other four major leagues, it fails in deterring such action from happening—players get to move on with their lives, while survivors of the abuse suffer trauma for years to come.
Could Osuna have gotten a longer suspension? Absolutely. There is no minimum or maximum amount of suspension time outlined in the policy. That decision, still subject to the union's grievance procedure, is solely in the Commissioner's hands.
Why didn't he? Because he reached a settlement agreement: "Osuna has agreed not to appeal the suspension."
He did not say that he "wouldn't" appeal, he agreed not to—that's the key.
At some point during discussions between Osuna, his representative, and the league, an offer was made to trade appeal for a lighter sentence. Personally, I have seen this scenario play out a hundred times in my previous life as a union business agent (under different circumstances and disciplines that reached a settlement agreement).
This incident has slightly tarnished the All-Star closer's baseball career (0-0 with nine saves and a 2.93 ERA in 15 games this season), but as with most of these headlines and the words that follow, it will quickly disappear from the collective sports fan's consciousness and into obscurity—leaving plenty of time for his dramatic comeback.
If the MLB-MLPBA does indeed want to take preventative action when it comes to domestic violence among the rank and file, then the punishment should fit the crime—while keeping the right to due process through the grievance procedure and arbitration as outlined in the CBA.
The Blue Jays should stand up against domestic violence by terminating Osuna's major league contract—cut and dry.
It would send a clear message to current and future ball players that actions, on and off the field, have consequences.
So, what's it going to be Toronto?
Are you taking a stand against domestic violence or just sweeping it under the rug?
This sportswriter will be waiting for your answer.
If you're a fan exhausted by the lack of action taken to curb violence in the big leagues, let the Blue Jays know by sending in your suggestions. Click here.