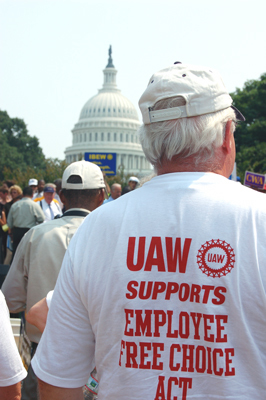 WASHINGTON (PAI)–Before a chilled crowd of almost 4,000 people, and standing among boxes named by state and symbolizing the 1.4 million cards, letters and e-mails sent to Congress, organized labor launched this year's drive to pass the Employee Free Choice Act, with a boisterous outdoor D.C. rally on Feb. 4.
And with a backer of the bill, Democratic President Barack Obama, now sitting in the White House, its lead 2009 congressional sponsors, Sen. Tom Harkin, D-Iowa, and House Education and Labor Committee Chairman George Miller, D-Calif., vowed to get it to his desk this year.
Ailing Senate Labor Committee Chairman Edward M. Kennedy, D-Mass., handed Harkin the job of shepherding the bill through the upper chamber, which will be tough.
To do so, labor must overcome a virulent business campaign against the bill, which would help level the playing field between workers and bosses in organizing drives and in bargaining for first contracts. Business wants to garner 41 senators to filibuster it to death.
The bill would aid workers by legalizing majority sign-up — automatic recognition of the union in a workplace when a majority of workers signs election authorization cards — and that's one piece of ground the campaign will be fought on.
Business has launched a multimillion-dollar ad drive saying that majority sign-up would take away "secret ballot elections" for or against unionization, without discussing its rampant labor law-breaking — detailed at the rally — in campaigns before such votes.
And as virtually every union speaker, led by Steelworkers President Leo Gerard said, the legislation would still permit union recognition elections or majority sign-up. "But it would leave the decision in the hands of the workers, not the bosses," he added.
Besides majority sign-up, the Employee Free Choice Act would impose hefty fines for labor law-breaking and binding arbitration if labor and management can't reach a first contract within 120 days of starting bargaining. And it would make it easier to get federal court injunctions against persistent labor law-breakers, such as Wal-Mart.
That business law-breaking, from illegal firings to threats to pay freezes to illegal threats to close plants, was a key theme of the rally. Majority sign-up, the law's supporters say, would short-circuit business' chance at such campaigns.
Sarah Steffens, a Newspaper Guild-CWA member who was a lead organizer for the union at the Contra Costa (Calif.) Times, told a typical story: The union got 2/3rds of the newsroom to sign the election authorization cards. Then trouble started.
The virulently anti-union large newspaper chain that owns the paper "hired an anti-union 'consultant,' threatened there would be a wage freeze and layoffs if we voted for the union, and called people in again and again" for anti-union meetings, she explained. The union won, and three weeks later the paper fired 29 people — many of them organizing drive leaders — including her. That's illegal.
Businesses, in their campaign against the law, "act as if they're speaking up for democracy — and they're not," added Communications Workers President Larry Cohen.
"Workers need the Employee Free Choice Act so we can solve problems in our workplace and not get fired if we stick our necks out" for our rights, Steffens added.
It's also a matter of respect on the job, and of giving workers a say in dividing up the proceeds from their own hard work and productivity, which has soared in recent years, said Teresa Garris, a bus driver from New Jersey who was a key organizer of her shop for the Transport Workers.
"They don't want us to have a voice in our companies. We're told: 'You're just a bus driver and you're a dime a dozen.' We run the company. We run it smoothly. Why can't we have a piece of the pie?" she asked.
Unionists had another message for lawmakers for their nationwide campaign: That it would help restore the middle class and also help pull the country out of its present economic crash. Gerard, the rally's emcee, said the law is even more needed now "because the nation is in economic free-fall."
Harkin, reading a long list of progressive laws labor pushed through over the years to create and aid the U.S. middle class — Social Security, Medicare, civil rights acts, the minimum wage, OSHA, the Mine Safety and Health Act, workers' comp and more — he said the Employee Free Choice Act would join those in restoring workers' bargaining power, and incomes. But he also warned "we had to fight for every one of those, and we'll have to fight for this. I'm here to ask you to turn up the heat.
"I'm here to state the obvious: It's better to bargain collectively than to beg individually," the Iowan, son of a coal miner, added.