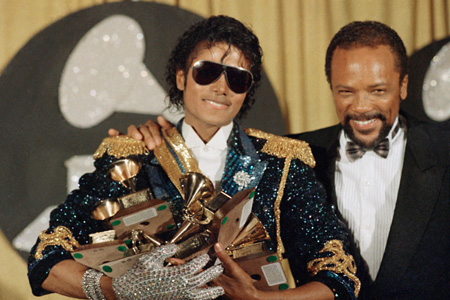 On February 28, 1984, musician and entertainer Michael Jackson won an amazing eight awards at the 26th Grammy Awards show: Best R&B Vocal, Male for 'Billie Jean', Best R&B Song (Songwriter) for 'Billie Jean', Best Rock Vocal, Male for 'Beat It', Producer of the Year (Non-Classical), Best Pop Vocal, Male for 'Thriller, Best Video Album for 'Thriller, Best Recording for Children (Quincy Jones (Producer) & Michael Jackson for 'E.T. the Extra-Terrestrial', Record of the Year 'Beat It', Album of the Year for 'Thriller' on this day.
Jackson (August 29, 1958 – June 25, 2009) is recognized as the most successful entertainer of all time by Guinness World Records. His contributions to music, dance, and fashion, along with a much-publicized personal life, made him a global figure in popular culture for over four decades.
The music videos for his songs, including "Beat It," "Billie Jean," and "Thriller," were credited with breaking down racial barriers and transforming the medium into an art form and promotional tool.
Through stage and video performances, Jackson popularized a number of complicated dance techniques, such as the robot, and the moonwalk, to which he gave the name. His distinctive sound and style has influenced numerous hip hop, post-disco, contemporary R&B, pop, and rock artists.
Jackson won hundreds of awards, which made him the most-awarded recording artist in the history of popular music. In what would have been Jackson's 52nd birthday on 29 August 2010, he became the most downloaded artist of all time.
When Michael Jackson died in 2009, People's World editor Joe Sims wrote Remembering Michael Jackson, linked here. And graphic artist Marguerite Wright wrote a review of Michael Jackson's final performance "This is It" for People's World, linked here.
Photo: Michael Jackson with Quincy Jones shown at the Grammy Awards, Feb. 28, 1984 in Los Angeles. Doug Pizac/Saxon/AP