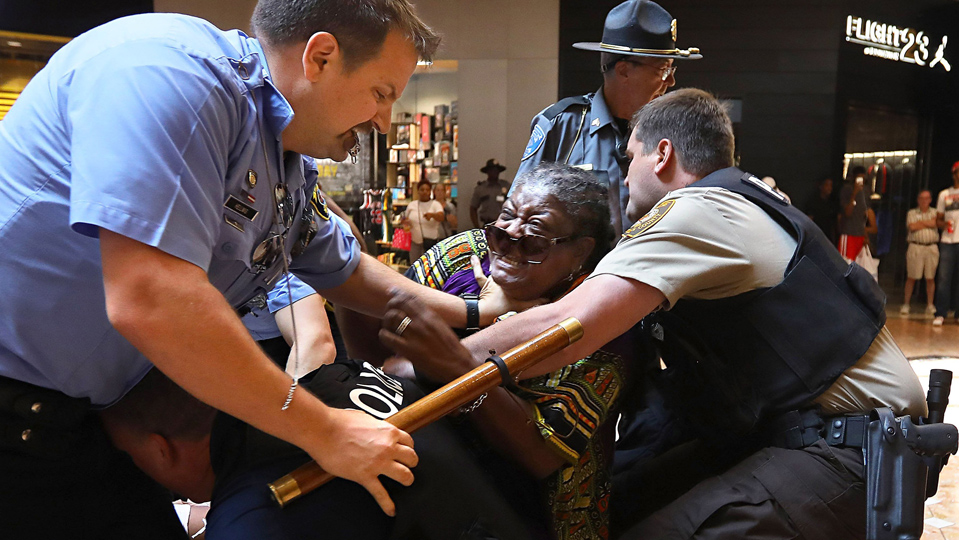 ST. LOUIS — Another weekend of demonstrations and unrest hit St. Louis, as activists continue to protest ex-cop Jason Stockley's acquittal 11 days after the verdict was announced.
And as demonstrations take an economic toll here—a goal announced through the chant, "You kill our kids, we kill your economy"—two competing narratives have emerged—one from activists calling attention to police brutality, the other from St. Louis City and County police justifying their questionable actions through social media.
Marching silently through the downtown area, disrupting weekend business through mall occupations, and setting up protest camps outside jail centers, local activists have shown their commitment to reaching their goal: One hundred days of action calling for justice.
Thursday, Sept. 21
Several hundred movement allies gathered at Keiner Plaza downtown and began marching to Busch Stadium, where singer Billy Joel was scheduled to perform, chanting, "White silence is violence."
Demonstration organizer Cori Bush explained that the rally was primarily made up of white allies to drive the point that it isn't just African Americans upset by the acquittal.
As the demonstration continued outside the stadium, there were only a few tense moments between bike cops and activists, and riot police were not on the frontline. By 9:00 p.m., the demonstration ended peacefully.
Friday, Sept. 22

The St. Louis Board of Aldermen unanimously approved a resolution in remembrance of Anthony Lamar Smith, 24, who was killed in 2011 by Stockley. St. Louis Mayor Lyda Krewson pledged her support in strengthening the city's Civilian Oversight Board, which investigates complaints against police but does not currently have subpoena power to compel testimony during investigations.
These actions by city officials outraged St. Louis police officers, who claimed elected officials were bowing to political pressure from activists.
St. Louis Police Officers Association business manager Jeff Roorda told the St. Louis Post-Dispatch that the resolution was a "slap in the face for city cops."
In response to the brutal arrests of activists last Saturday and unconstitutional police conduct during demonstrations, the Missouri chapter of the ACLU filed a lawsuit against the City of St. Louis.
"As a legal and advocacy organization, litigation is only one of the tools the ACLU uses to effect change," said Jeffrey Mittman, executive director of the ACLU of Missouri, in a statement. "To create long-term change, we must address the problems of policing and racial disparities collaboratively. Law enforcement officers, community members, experts, advocates, and elected officials must come together to create sustainable solutions. We must foster understanding and trust."
Several hundred activists traveled to St. Charles, Mo., a mostly white suburb, to protest Stockley's acquittal and demand justice. Around 8:30 p.m., activists took to the streets outside of the town's Oktoberfest festival chanting, "Whose Streets? Our Streets!"
It was a tense demonstration as activists lined up against intoxicated town residents. At one point, a man driving a silver sedan attempted to drive through activists, only to be stopped by them before reversing and flipping activists off.
At 10:00 p.m., the demonstration ended quietly.
Saturday, Sept. 23

Several hundred protestors converged inside the St. Louis County Galleria mall in the early afternoon and marched through the halls chanting, "No Justice, No Profits!" Police presence was heavy during the peaceful demonstration.
Around 1:00 p.m., county police gave orders to disperse before moving in and causing panic as activists and shoppers ran to the nearest exits. The department said via Twitter that officers ordered people to leave after "destructive actions."
In videos uploaded to social media, officers are seen shoving, tackling, and forcefully arresting activists and bystanders.
A 13-year-old boy was among the 22 arrested.
St. Louis Public Radio reported that 35-year-old Zach Becker had been at the mall shopping for a suitcase when police arrested him. Becker, who recently had a kidney transplant and takes several medications, had a difficult time getting to his medication, as his friends were met with resistance when reaching out to county jail officials.
Activists moved from the mall to the county jail and ended the evening with a march and demonstration outside the Brentwood neighborhood Target store. Police presence was heavy that evening, and demonstrators were given orders to disperse. They responded with a six-minute moment of silence before leaving.
County officials said that seven out of the 22 arrested activists were charged with rioting; the other 15 will be referred to the Richmond Heights Municipal Court at a later date. Among those charged was 56-year-old Karla Frye-Weaver, who was accused of assault, rioting, and resisting or interfering with an arrest after she tried to stop the arrest of her 13-year-old grandson.
Attorneys representing those arrested said authorities denied them access to their clients and that they were unable to get medication to their clients or inform nurses what prescriptions were needed.
"I've never heard of a duty judge not being available," said attorney Sarah Molina in a comment to the Post-Dispatch. "The courts are supposed to be open all the time. And they should be open in an emergency situation like this."
By Sunday evening all arrested activists were released.
Sunday, Sept. 24

Across the river in the small town of Belleville, Ill., around 50 local activists gathered at the town square for a rally protesting the not-guilty verdict and in support of St. Louis activists. Several Blue Lives Matter supporters, "alt-right" militia members, and counter-protesters were present at the demonstration. The rally ended peacefully at 4:00 p.m.
Monday
Wearing blue tape over their mouths, about 300 protesters gathered for a silent march to police headquarters in downtown St. Louis.
Missouri State Rep. Bruce Franks, Jr., D-St. Louis, led the silent march and demanded the immediate resignation of Interim Police Chief Lawrence O'Toole for his department's recent tactics during protests that have sparked sharp criticism from the public and city officials. 
Franks explained that the blue tape is in reference to the theme of "blue silence"—the refusal by police to release information on instances of alleged violence by officers against minorities.