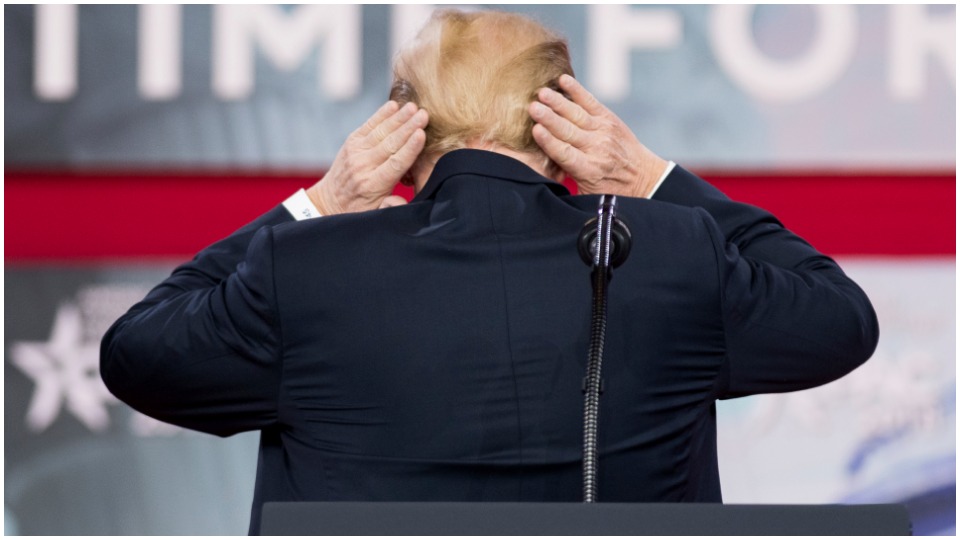 If the total number of COVID-19 deaths in the United States has not yet surpassed 100,000 when you are reading this, tragically, it soon will. In the space of the first five months of this year, we have long passed the milestone (just under 60,000) of Americans killed in the long Vietnam War. We know, of course, that some people died of the pandemic in the early part of 2020 before health authorities even knew what they were dealing with. We also know that others died at home, their families only at most suspecting what the cause of death might have been.
The United States leads the world in COVID-19 deaths. No advanced country was so unprepared for a health catastrophe as the U.S. under President Donald Trump. It's hard even to say the numbers will abate in the coming weeks and months. We may not have peaked yet. With the president's push to "reopen" the economy and secure his re-election in November, tens of thousands more in America could be exposed to the virus and require treatment. In new waves of infection, the death toll will continue to rise.
It seems like no one in the White House ever heard of the Six P's: Proper Prior Planning Prevents Piss-Poor Performance (We threw in an extra P in honor of Vice President Pence and his coronavirus task force).
The prize for best preparedness no doubt goes to Vietnam, with a population of about 100 million, which shares a border with China and yet, because of its highly coordinated planning, has registered exactly 0 deaths from the coronavirus. This model needs to be studied closely.
Has your city been wiped out?
Numbers are often hard to grasp. Well, the city of Roanoke, Va., has just under 100,000 people. So imagine that the entire city of Roanoke—every single person in town—has been wiped off the earth. If you've never been to Roanoke and can't picture it in your mind, how about Kenosha, Wis., or Clinton, Mich., both of them inching up toward 100,000 population?
Here are the names of most of the American cities with a population between 90,000 and 100,000. Imagine every resident of any one of these cities dead, not to mention whole populations of hundreds of smaller cities. To list them all would be numbing, and most Americans are probably pretty numb already from the staggering loss of human life that could have been avoided so early on with rational, science-based policy coming from the federal government.
Miami Beach, Fla.; Lynn, Mass.; Plantation, Fla.; San Marcos, Tex.; Santa Monica, Calif.; Boca Raton, Fla.; Carson, Calif.; Hesperia, Calif.; Quincy, Mass.; Yakima, Wash.; West Albany, N.Y.; The Woodlands, Tex.; Lawrence, Ks.; Yuma, Ariz.; Roswell, N.M.; Livonia, Mich.; New Bedford, Mass.; Dearborn, Mich.; Brockton, Mass.; Sparks, Nev.; Portsmouth, Va.; South Gate, Calif.; Beaverton, Wash.; Lawton, Okla.; Ventura, Calif.; Vacaville, Calif.; Mission Viejo, Calif.; Allen, Tex.; Flint, Mich.; Tuscaloosa, Ala.; Compton, Calif.; Albany, N.Y.; Spring Hill, Fla.; Richmond Hill, N.Y.; Portsmouth Heights, Va.; Erie, Pa.; Columbia, Md.
Is your city next?
What happens after 100,000? The virus just goes after warm, available bodies. It doesn't know from numbers. We'll shortly be recording the next 10,000 deaths.
These cities rank in population between 100,000 and 110,000, in order from low to high. Do you live in one of them? Your city may be the next to go.
Renton, Wash.; San Angelo, Tex.; Davie, Fla.; Greeley, Colo.; Vista, Calif.; South Bend, Ind.; Las Cruces, N.M.; Hillsboro, Ore.; Edison, N.J.; Davenport, Iowa; Rialto, Calif.; Brandon, Fla.; San Mateo, Calif.; El Cajon, Calif.; Tyler, Tex.; Louisville, Ky.; Clovis, Calif.; Lakeland, Fla.; Wichita Falls, Tex.; Santa Maria, Calif.; Green Bay, Wis.; Burbank, Calif.; Sandy Springs, Ga.; Daly City, Calif.; Broken Arrow, Nev.; West Palm Beach, Fla.; Norwalk, Calif.; Boulder, Colo.; Pompano Beach, Fla.; Palm Bay, Fla.; College Station, Tex.; Everett, Wash.; North Charleston, S.C.; Enterprise, Nev.; West Covina, Calif.; Waterbury, Conn.; Pearland, Tex.; Pueblo, Colo.; Richmond, Calif.; Centennial, Colo.; Murrieta, Calif.
Is a cure in sight?
A cure or vaccine for the coronavirus may not come for many months, maybe never. But a cure does exist for numbness. It's called "action."
Education, advocacy, sharing on social media, caravans, letters to the editor, communicating with your elected officials, voter registration and voting, campaign contributions, phone banking, precinct walking if and when it's safe. On-the-job walkouts, sitdowns, strikes, demonstrations. Supporting your family, friends, and neighbors. Expressing gratitude for workers who remain on the job under highly stressful conditions. Writing articles about local developments for People's World, and supporting PW financially. Solidarity.
And unity. Lots of it. To remember and honor our fellow Americans and those who came to our shores seeking a better life.
To protect life. To save democracy. To stop fascism.
Unity. Unity! Unity!!
Population data: World Population Review.