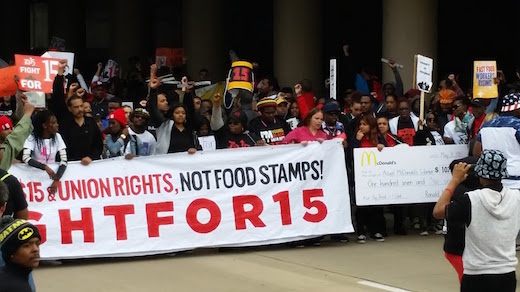 Ten hours of toil and what is your pay?
For sizzled flesh as spuds drop in
Fifteen and a union, someday
Managers give you grief every way
Those low, low prices mistaken
Ten hours of toil and what is your pay?
You'd think an adjunct does OK
Yet that check won't bring home bacon
Fifteen K and a union, someday
When daily you are away
Kids and elders need carin'
Ten hours of toil and what is your pay?
Creating wealth for display
Corporate thieves enjoyin'
Fifteen now and a union, we say
For food and justice, global tongues pray
Echoes of May Day a-bornin'
Ten hours of toil and what is your pay?
Fifteen and a union today!
This poem is a villanelle, a form of poetry that traces its humble roots to the Italian countryside and peasants singing rounds during the harvest. The first poetic evidence of this form comes from a French poet, Jean Passerat, who died in 1602.
The formal characteristics of a villanelle are found in:
its 19 lines – five three-line stanzas with a final stanza of four lines;
its refrains – first and third lines are repeated as the last lines of stanzas two and four, and three and five, respectively;
its last two lines which are the two refrain lines;
its A-B-A rhyme pattern.
Perhaps the most well-known English language villanelle is "Do Not Go Gentle into That Good Night" by Dylan Thomas. His repeating lines are the poem's title and "Rage, rage against the dying of the light."
This villanelle was written for and inspired by Dr. Ryan Poll's Forms of Poetry English class at Northeastern Illinois University.
Photo: Earchiel Johnson/PW