LITTLE, Okla.—"Daddy, I didn't do it," said Robert Mitchell to his father. Robert didn't blink an eye when he answered Charles "Gabby" Mitchell's question. Had Robert Wayne Mitchell, 15 years of age on September 4, 1992, murdered 90-year-old neighbor Myrtle McGeehee? The boy did not lie, but Oklahoma justice fell short for this Native Indigenous Seminole lad.
A boy grows up in Indian Country
Little, Oklahoma, is a rural, sparsely inhabited community in the northern part of Seminole County. It sits some 16 or 18 miles due south of Prague, Okla., on the Interstate 40 corridor. If you drive along Oklahoma Highway 99-A you see run-down, some abandoned, mobile homes, a few dilapidated barns, and a few nicer homes. Most houses are square Indian homes sitting on the Seminole Nation boundary. The only school is Strother, which has very few students compared to most metropolitan schools.
Robert had grown up around his paternal grandmother, Lottie Mitchell, who mostly spoke the Seminole/Creek language. Robert would have to answer in English very slowly or she would not understand. For any young Indian boy, the tribal stomp dances and church meetings are the only social outlets. Tribal stomp dances for the Mississippian Mound tribes are an ancient ceremony. A central fire sets in the middle of three willow branch brush arbors. The arbors are sitting areas for boys and men in the West, North and South. The East is open. The fire is lit promptly at sunset and stays lit till sunrise. The men lead the tribal language songs with women keeping time with turtle shell shakers laced around their legs. They dance counter clockwise with 5-10 minute songs all throughout the night. This is the custom Robert grew up with at the Snake Creek stomp grounds.
Robert was raised traditionally by his father, Charles, and grandmother Lottie. His maternal grandfather, Tony Hill, was a traditionalist medicine man. Being raised traditionally hinges upon respecting elders, using cedar and sage for prayers, and respecting all of life. Especially all things created by the Creator, as traditionalists say instead of God, Buddha, Brahman, etc. Creator is the one who started all of life.
Robert would be described as a well groomed, shy, but respectful young man. In fact, the respect for elders would play a role in his relationship with the nonagenarian Myrtle McGeehee. "Many times he would mow her yard, get her mail, or do other kind of tasks," Pearl Seaboy, Robert's younger half-sister says. "He would open doors for elders, say yes ma'am or no sir; he was what you would call a traditional teenager in Indian circles."
Robert met his first girlfriend, Beatrice Fry, while attending several stomp dances. In her affidavit to the court in 1992, she states:
"I met Robert in May of 1992 but I've seen him before at an indoor stomp dance at Glenpool (Okla.). He asked my name—well, his cousin asked my name. I couldn't tell my name because I was a shy person. In May I saw him at Arbeka stomp ground and I told my cousin, Zoe Tiger, to go ask if his name is Robert."
They exchanged addresses and began to write to each other. Over a short course of time, through letter writing, the two young Indigenous teenagers were "going together." With Robert's calling card, Beatrice was able to call long distance to speak with him. They would end their phone calls by saying "I love you" to each other.
Lottie Mitchell would spend quality time with her grandson Robert. She and his father taught him the essence of traditional Indian ethics. His family, and even friends at school, would describe him as shy, timid, and highly respectful. Though Robert learned the Seminole/Creek language and was able to understand what his grandmother said, he would respond in English. It was a symbiotic relationship: Especially in Oklahoma Native families, elders and grandparents raise and educate the children. It is customary for grandchildren to be around their grandmother often. Respect of elders, taking care of family first, and learning cultural ceremonies: These were a daily part of Robert's life.
On September 4th, 1992, Robert's entire understanding of life would collapse around him. The incident would haunt him for over 25 years: The murder of his next-door neighbor, Myrtle McGeehee, would not only affect Robert, but his whole family enclave forever.
A tragic miscarriage of justice
"Guilty!" would ring out upon the ears of a hushed courtroom a year later, on September 23, 1993. "I could not understand or figure out how my 17-year-old son is guilty," Charles Mitchell says. Robert Mitchell was just as confused. "I mean, there was no evidence produced except a sock with one speck of blood on it," Charles states. Even the Oklahoma State Bureau of Investigation (OSBI) agent, Bruce Richard Spence, said that he could not conclusively state anything. A miscarriage of justice happened that day upon yet another Indigenous Indian in Oklahoma. So many errors played a role in Robert's conviction.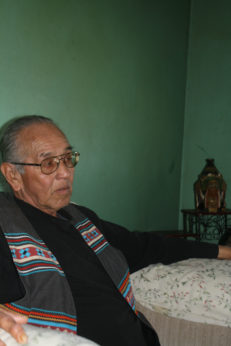 "My mother, Lottie, if she had trouble sleeping would wake Robert up to sit with her on the front porch," Charles Mitchell says. "On that night, they saw a light on at Myrtle's house, and she (Lottie) asked Robert to go check on her. Robert told me he walked over the road and down the north side fence line to walk up Myrtle's driveway." A walk so familiar to Robert from his many times going over to assist her. Yet this walk tonight forever changed history for this 15-year-old boy. When he peeked into her window he saw her lying on the floor surrounded by blood.
"This is where it gets very confusing," Pearl Seaboy exclusively said to People's World. Pearl is Robert's half-sister, ten years younger. She also grew up away from Robert, which is typical for many Indian families with step-children. "Some of the newspaper accounts say Robert walked into the house," Pearl explains. "Yet Robert has always told me, he just peeked into her window. And it is so traditional in Robert's response to call Ms. McGeehee's son first."
Many of the details of what occurred that September night are cloudy on numerous points. The murder, where Robert was living with his grandmother next-door, took place on sovereign Indian land. It falls under the jurisdiction of the federal government. Tribal lighthorsemen arrived at Lottie's residence, asking to fetch Robert for the local Wewoka, Okla., sheriff. They spoke so fast, that in her lack of fully understanding English Robert was snatched away by the tribal police. They drove him to McGeehee's house about  70 yards from Lottie's house. Robert was kept in the sheriff's car for 11 hours with no guardian or attorney present.
"I was called at work to come home in the early hours that night," Charles Mitchell said. "When I came home and my mother explained what was happening, my first thought was to call an attorney." The attorney told me "to go over and ask if they were going to charge him, and if not that he must be released."
Earlier in the night, Robert was at a stomp dance until around midnight. "He went with the Miller family who lived nearby," Charles states. "The Millers were members of Snake Creek Baptist Church where we attended too. They also took Robert, as the two older sons, helping Robert learn of his culture at stomp dances."
For 11 hours Robert would sit in the back seat of the sheriff's car with no water, no food, and no legal representation. Once Charles stated his demands, the Assistant District Attorney filed charges. Robert was whisked away to sit in a jail cell, all alone, and quite perplexed. A May 16, 1993, report from the Seminole Producer beautifully describes his situation inside a cell.
During the course of leading up to trial, many bizarre truths would bring Robert's situation into a whirlwind of confusion. First, the only evidence—which proves nothing—was a drop of blood on Robert's sock that he wore September 4th, 1992. "The OSBI agent stated on record that he could not specify if the fractional droplet of blood was human or animal," Pearl Seaboy states. "Later DNA analysis would prove that it did not belong to Ms. McGeehee at all. They never found to this day the murder weapon."
"The sheriff arrived at my house, went through Robert's belongings and took my hunting knives as evidence," Charles said exclusively to People's World. "Later I checked the court files and evidence and there is no search warrant at all." The knives would prove that they had not been used in the stabbing death of Myrtle McGeehee. "The whole time it seemed they were pinning it all upon my boy while never really looking for the rightful suspect."
"They even drug the pond behind Robert's home and found nothing," Pearl Seaboy states. "It amazes me why they never followed up with trying to find the person responsible."
Charles said around 2 am Lottie noticed a light on and asked Robert to go see if anything was wrong. "I asked Robert later before the trial exactly how he walked to McGeehee's home. Robert looked me in the eye without blinking and said how he walked. And he said he didn't do it." In the Seminole Producer October 28, 1992, Charles said this: "Any 15 year old boy accused of this crime would run. He didn't run, went and called (McGeehee's) relatives. He didn't run and he didn't know what was going on until they accused him."
Charles also knew it was not possible for Robert to do this. "In the past, when he done something wrong, he'd run," Charles says. On this occasion, though, "he looked at me just like he always does, straight at me, and said, 'Dad, I didn't do it.' He didn't even blink an eye."
The light next door was bright, as though it could be made by a car. Both Lottie and Robert saw the bright light, saw a car, and heard the dogs barking. No investigation into this car nor any other suspect other than Robert was investigated.
"There was no evidence at all during this trial, just an old sock with untold origins of the drop of blood," Charles states. "They never allowed Robert's legal investigators into the house for their own investigation or scientific examinations."
Robert Mitchell even submitted his own affidavit asking for specific requests. The requests are well within the bounds of a defendant's right, but were ignored by the courts. Some of the requests were for police county logs, arrest reports, and the court order for his investigators to enter the victim's home. Yet these legal requests would fall upon deaf ears.
Even more bizarre is the role of William Peterson, the district attorney at this time in Seminole County. Peterson is the DA in John Grisham's book The Innocent Man. Peterson has convicted many innocent persons during his career. His role in Robert's conviction is on very shaky ground. Several persons wrongly convicted by Peterson have been subsequently released.
Robert was released after 90 days held at a juvenile detention center. "He was so happy to be out, but you could tell all this was affecting him," Charles sighed. A note that the family has held on to speaks of the nightmares Robert suffered.
The only evidence entered by Peterson in the trial is one sock, with questionable data on whose or what type of blood it is. No murder weapon was found. No other leads that the defendant's family or attorney provided were ever checked out. In fact, in an affidavit by Minnie Mitchell, Robert's step-mother at the time, she even questions why the prosecution won't allow a lie detector test that Robert sought. Robert also had been at a stomp dance at the time in question when the murder took place. How a jury could find this mild-mannered teenage Indigenous boy guilty defies logic.
An ordinary, breezy autumn Oklahoma night. Dogs barking, a car pulling away from the neighbor's house. An elderly lady's house lights on around 3 am. A quick peek into a window to check on her. Local sheriff's office investigating upon sovereign Indian land instead of federal presence. And a 15-year-old boy's life is forever and traumatically changed.
A sister's love could free him
"I just want to know the truth, the real killer is out there," Pearl Seaboy states. "My brother has been in prison for 25 years as an innocent man." Pearl is now seeking Indigenous support for her brother's Post Conviction Relief hearing on May 9, 2018.
Her tireless work not only seeks justice both for her brother Robert, but for the family of the victim. "I mean, the real killer is out there: This case needs to be solved with a real investigation," Seaboy pleads. "There are so many unanswered questions and so much is wrong with the case. It is just wrong to convict an innocent 15-year-old boy."
Yet the family of the victim has pursued Seaboy for her actions on behalf of her brother. "I had to go to the police and report the threats and harassment her family has given me." Pearl's determination to release her brother and reopen the investigation is a daily job for her. She exhibits a true warrior spirit. "I want these questions answered, especially who really did kill Myrtle McGeehee."
"The Innocence Project wants to look into my brother's case. They have two other cases similar to my brother's which would be beneficial for all," Seaboy tells People's World. "Many Indigenous youth and adults are always getting treated wrongfully by the justice system. Someone needs to speak up for these forgotten warriors."
A Post Conviction Relief hearing is a method for legal relief after a conviction above and beyond the appeal process. This allows a collateral challenge to a judgment of conviction that might have been finalized in the course of a normal appellate review process.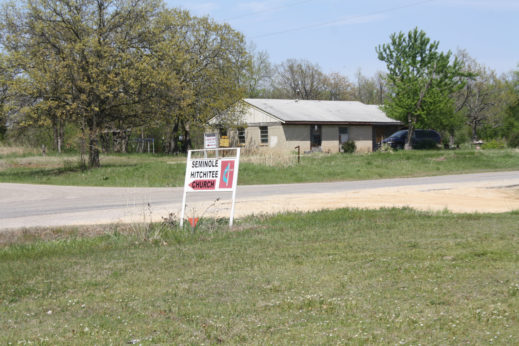 Robert is challenging his conviction of CRF-1993-00100 in Seminole County in Oklahoma. The hearing will be held in Wewoka, Okla., at 2:30 pm on May 9th, in front of Judge George W. Butner. AIM-Indian Territory and Red Dirt Defense will be there along with other Indigenous individuals and groups. The event is strictly for support, it is not a protest.
Pearl Seaboy said, "Robert has held on to his innocence this whole time. So on May 9, we are asking everyone to pack the courtroom and courthouse in support of Robert." The plan, she goes on to say, is to show the legal system we will not take any more harassment, bullying, injustice toward our people, our children, to stand up for our constitutional rights and to make sure the law—the justice system, DA, Assistant DA and cops—are adhering to them as well.
This is not the first time Seaboy has had issues with the legal system. She has witnessed first-hand the kinds of abusive tactics law enforcement uses on Indigenous and other persons of color. The Prison Policy Initiative in 2010 reports by racial/ethnic group the numbers per 100,000 people as follows: 767 were white/Caucasian, 1876 were Hispanic, 3796 were African American, and 1059 were American Indian/Alaska Native. By far, persons of color are more likely to be incarcerated in Oklahoma than people who are white.
The FBI, BIA and DEA began to stalk and follow posts on Pearl's Facebook page. One of her "friends" on Facebook used to be incarcerated and knew her brother Robert. "I mean, I don't judge, I just accepted the friend without even really knowing or talking with the person," Seaboy states. "Yet I was approached by these agencies in a very intimidating manner."
In a room all alone with the three agents, they began to drill and question Pearl. "They wanted me to take drugs inside a prison and try to find out who the ringleader was. I never used drugs nor been involved in anything like what they proposed. All this intimidation based upon a social media friendship without me really being real-life friends."
The FBI, DEA and BIA even went so far as to state that if Pearl tried to visit her brother in McAlester State Prison they would arrest her. "This is why the May 9th event is so important to me. People don't know how the police and agencies harass and use power over persons of color," Seaboy said.
"There was a lot of racism going on in Oklahoma toward Indians back in 1992 and 1993. There still is racism going on. It is the continuance of the genocide perpetrated upon my people for centuries," Seaboy states.
Seaboy concluded the interview on several points. First, DA William Peterson has abused his power before in prosecuting innocent persons. He also said before the trial that he would be seeking the death penalty. This type of behavior before a trial taints the jury trial. "I have questions and so does my family that were never answered in 1993. Evidence was not collected and they convicted my brother wrongfully," Seaboy said. "I want to show the judge on May 9th that my brother has a support system. All Indigenous people showing up will show the support my brother has."