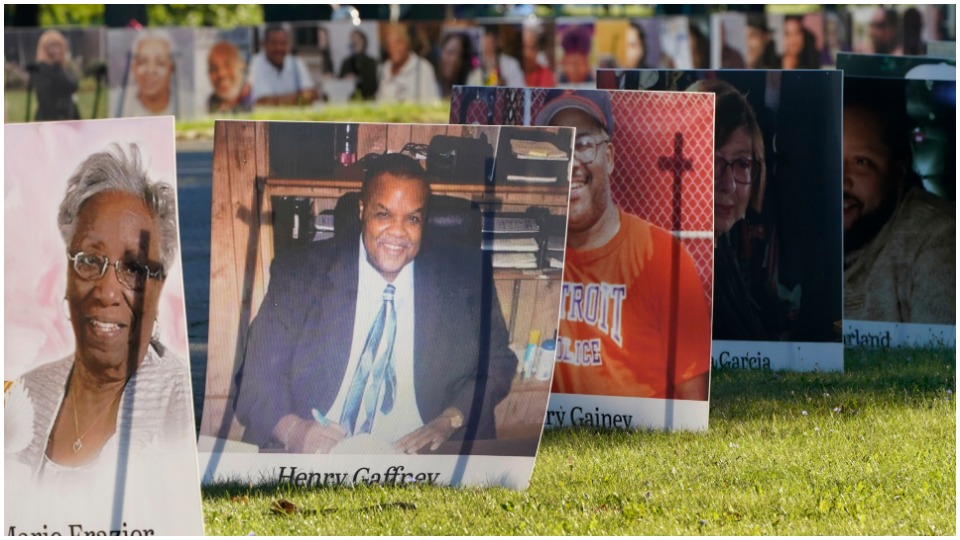 It wasn't so long ago, just back in May, that the United States reached the gruesome milestone of 100,000 dead of COVID-19, setting a world record for the number of deaths. Two months later, in late July, we reached 150,000, still holding onto the Number 1 place as the world's epicenter for the killer disease. And now, mid-September, we are at the 200,000 mark, bearing down fast on a quarter of a million probably just around Election Day. More world records.
No wonder these numbers have no place in Donald Trump's re-election playbook. His defenders speak of the pandemic only in the past tense—what a terrific job the president did in bringing it under control!
We know from the journalist Bob Woodward's tape-recorded conversations with Trump that the president purposely withheld the severity of the coronavirus from the American public in the empty hope that it might just "disappear" in time to be forgotten by November. The perennial weekend golfer was clearly incapable of coping with a national challenge of this magnitude. Carl Bernstein, Woodward's former writing partner going back to the Nixon Watergate scandal times, calls Trump's behavior "a kind of homicidal negligence."
Statistics are vital to track. But behind these morbid numbers lie the corpses of unique, individual women and men, and yes, even some youngsters now, who had families, spouses, children, and grandchildren. People they worked with, prayed with, sang and danced with, attended weddings and sports events with, shared barbecues with, and argued with over films and politics.
Now their lives are snuffed out, not so much from a virus—because other countries, far less prosperous and advanced than the U.S., stepped up to contain it so much better—but from unpreparedness, lack of will, lack of effective response, abdication of executive duty, failure to follow the science, corporate greed, and cynical political calculation. And underlying it all, from the fatal weaknesses in the chaotic, punitive American health care system which values profit for the few over the protective mantle of universal health care for all.
In the latest iteration of White House policy, Trump appears to be favoring the "herd immunity" approach which allows the pandemic to run its course, killing off thousands, maybe hundreds of thousands of more people along the way, in the frail expectation that those left will have achieved immunity from so many recovered cases. His new advisor, Dr. Scott Atlas, believes this. According to such a model, there's no point to testing. If you get sick, you'll either die (no more Social Security payments!) or recover, even if you have long-term residual complications.
According to a Sept. 2 Los Angeles Times editorial, "Undergirding a herd immunity strategy is the morally reprehensible notion that older people and those with chronic conditions such as diabetes and obesity (conditions that affect a significant number of Americans) are expendable because they would die soon anyhow. That's an idea that has no place in a civilized society."
In other countries, the mismanagement of a pandemic on this level of incompetency would be met with severe punishment, removal from office, and perhaps jail. One can only hope that the American people will make their judgment of the Trump regime forcefully known on November 3 and that the country can right itself on a rational course toward beating this health crisis so that we can start the work of rebuilding.
People living in the United States have but fleetingly, as an insincere afterthought, heard from the Executive Office a word of comfort, solidarity, and empathy with the suffering families whose breadwinner has been ripped away, whose grandparent has been taken too soon, whose mom or dad will no longer be there to hug and hold. Even in tragedy, we expect our president to stand in mourning and in hope with us, but in this con man/politician's eyes, even the slightest gesture of sympathy would only be interpreted as an abject admission of failure. Perhaps it's that callousness, as much as the monstrous losses his policies have inflicted, that has hit such a deep place of anger in the nation's heart.
And from other angles…
In our previous sad commemorations of these milestones, we ticked off the names of whole cities with a population of 100,000 or 150,000 that those "statistics" would have wiped off the map, every last woman, man, and child gone forever.
Now that we're at 200,000, let's look at this number from a couple of different angles. There are nearly 200 countries in the world today. In population, China is the largest, with approximately 1,434,000,000 people, followed by India, with 1,367,000,000. Third largest, but far behind those numbers, is the United States at 330,000,000. Yet China managed to successfully bring COVID-19 under quick control with strict universal measures that still kept people in their homes, well-fed and cared for. Still vigilant about any new eruption of the virus, China deals with it locally and efficiently to keep it from spreading. China's total number of deaths is reported at 4,724, approximately 2.5% of the U.S. number, with over four times the U.S. population. India, a poor country with over a billion more inhabitants than the U.S., has recorded up to this writing only 66,333 coronavirus deaths. [Sourced from Johns Hopkins University Coronavirus Resource Center.]
Suppose we looked at the world's nations at the lower end of the population rankings. Which whole countries—apart from some remaining small dependencies such as the Falkland Islands (UK) or St. Pierre and Miquelon (France) or American Samoa (U.S.)—would now have been completely killed off had 200,000 deaths come their way? The following are 2019 numbers:
Vatican City (801) gone. Nauru (10,756) gone. Also Tuvalu (11,646), Palau (18,008), San Marino (33,860), Liechtenstein (38,019), Monaco (38,964), St. Kitts and Nevis (52,823), Greenland (56,672—still owned by Denmark, but too significant a landmass to ignore).
Disappeared, too, would be the whole populations of the Marshall Islands (58,791), Bermuda (62,506, also still a UK possession), Dominica (71,808), Andorra (77,142), Antigua and Barbuda (97,118), Seychelles (97,739), U.S. Virgin Islands (104,578), Aruba (106,314—owned by the Netherlands), St. Vincent and the Grenadines (110,589), Tonga (110,940), Grenada (112,003), Federated States of Micronesia (113,815), Kiribati (117,606), Curaçao (163,424, also still Dutch-owned), Guam (167,294, owned by the U.S.), the UK Channel Islands (172,259), St. Lucia (182,790), and Western Samoa (197,097). [Sourced from the United Nations on Wikipedia.]
These places may be small in population, but each one of them is rich in languages, cultures, cuisine, history, and traditions. If the decimation of 200,000 dead spread across the United States is a stunningly tragic and unnecessary blow, imagine if you were from one of these smaller nations or territories whose entire population had vanished like some modern-day Atlantis.
Do you live in one of these counties?
Now let's look at this staggering statistic in another way. Most U.S. states are divided into counties. Texas has the most, with 254, and Delaware has the fewest, with three. There are a few states where county government is weak or nonexistent and where municipalities are the regional authorities, and Louisiana, of course, dating back to its Catholic past, has "parishes." But most people have some legal, political, social, and emotional tie to the county they live in or come from apart from the city or township where they live.
In population, Los Angeles County is by far the largest in the U.S., with over 10 million residents. But county names do not always reflect the name of the principal city or township in the district. L.A. County, for example, actually includes 88 separate municipal jurisdictions, including such well-known cities as Long Beach, Santa Monica, Beverly Hills, and Pasadena, among others. In the chart below [sourced from Wikipedia] we only provide the county name, not the primary cities located in them, so if you are interested to learn more you have only to do a quick internet search for more details.
Below are more than 100 counties in the United States with populations ranging from our last milestone of 150,000 to the new figure of 200,000. Keep in mind, of course, there are many times this many counties that have fewer residents. The entire populations of these counties would be dead from the coronavirus if all 200,000 were concentrated there. How else to convey the scale of these losses? Maybe these numbers will resonate with you, reader, if you happen to recognize yourself in these places. We do all we can not to become stupefied—numbed—by numbers. A vast majority of these deaths could have been prevented with a pandemic preparation plan in place and with a rapid, organized, and scientifically guided response once it hit.
We are angry. We are outraged. We are offended by the gross negligence of our nation's leaders. And we mourn those we have lost and will never see and touch and embrace again. We extend our solidarity to all those who have lost friends, family, and co-workers to COVID-19. Our voices rise in protest and we will—we must—be heard. As you survey the following roster of counties across our great nation, you will undoubtedly recall places you've visited, homes where friends and relatives live, somewhere you once planted roots, perhaps. And you will think of how we will survive this plague somehow and start to heal ourselves and our ailing nation.
U.S. County Populations up to 200,000

State, County
Population
State, County
Population
New Mexico, Santa Fe
150,358
Ohio, Greene
168,937
Michigan, Monroe
150,500
North Carolina, Alamance
169,509
Connecticut, Tolland
150,721
Wisconsin, Kenosha
169,561
Maryland, Washington
151,049
Pennsylvania, Monroe
170,271
Iowa, Johnson
151,140
Indiana, Hendricks
170,311
New Hampshire, Merrimack
151,391
Indiana, Porter
170,389
Maine, Penobscot
152,148
South Carolina, Aiken
170,872
Virginia, Stafford
152,882
Illinois, McLean
171,517
California, Kings
152,940
Wisconsin, Winnebago
171,907
Georgia, Bibbs
153,159
Iowa, Scott
172,943
Louisiana, Ouachita Parish
153,279
Michigan, Muskegon
173,566
Michigan, Berrien
153,401
Florida, Bay
174,705
Colorado, Mesa
154,210
Texas, Johnson
175,817
Pennsylvania, Franklin
155,027
Puerto Rico, Carolina Municipality
176,762
Mississippi, Rankin
155,271
Texas, Midland
176,832
New York, Schenectady
155,299
Ohio, Licking
176,862
Texas, Comal
156,209
Kansas, Shawnee
176,875
Georgia, Columbia
156,714
Utah, Washington
177,556
California, Madera
157,327
New York, Ulster
177,573
Ohio, Fairfield
157,574
West Virginia, Kanawha
178,124
Georgia, Houston
157,863
Illinois, Peoria
179,179
Indiana, Johnson
158,167
Virginia, City of Newport News
179,225
Minnesota, Olmsted
158,293
Ohio, Medina
179,746
Tennessee, Sullivan
158,348
California, Shasta
180,080
Michigan, Jackson
158,510
Connecticut, Litchfield
180,333
New York, Rensselaer
158,714
Missouri, Boone
180,463
Michigan, St. Clair
159,128
North Carolina, Pitt
180,742
Virginia, City of Alexandria
159,428
Delaware, Kent
180,786
North Carolina, Catawba
159,551
California, Imperial
181,215
Florida, Indian River
159,923
Indiana, Vanderburgh
181,451
Massachusetts, Hampshire
160,830
North Carolina, Iredell
181,806
Florida, Martin
161,000
North Dakota, Cass
181,923
Minnesota, Stearns
161,075
Florida, Santa Rosa
184,313
Montana, Yellowstone
161,300
Texas, Ellis
184,826
Pennsylvania, Centre
162,385
Mississippi, DeSoto
190,539,945
Connecticut, Middlesex
162,436
Nebraska, Sarpy
187,196
Ohio, Portage
162,466
Pennsylvania, Butler
187,853
Guam, Guam
162,742
Wisconsin, Outagamie
187,885
South Carolina, Dorchester
162,809
Florida, Charlotte
188,910
Maryland, Charles
163,257
New York, Broome
190,488
Wisconsin, Rock
163,354
Michigan, Saginaw
190,539
Vermont, Chittenden
163,774
Tennessee, Sumner
191,283
Pennsylvania, Beaver
163,929
Michigan, Livingston
191,995
Rhode Island, Kent
164,292
South Carolina, Beaufort
192,122
Alabama, Lee
164,542
California, El Dorado
192,843
Kansas, Wyandotte
165,429
South Dakota, Minnehaha
193,134
Idaho, Kootenai
165,697
Florida, Hernando
193,920
Texas, Ector
166,223
Illinois, Sangamon
194,672
Puerto Rico, Ponce Municipality
166,327
Indiana, Tippecanoe
195,732
Texas, Guadalupe
166,847
Georgia, Muscogee
195,769
Kentucky, Kenton
166,998
Wisconsin, Racine
196,311
Hawaii, Maui
167,417
Oregon, Deschutes
197,692
North Carolina, Davidson
167,609
North Carolina, Onslow
197,692
Colorado, Pueblo
168,424
Ohio, Trumbull
197,974
Maryland, Carroll
168,447
Minnesota, St. Louis
199,070
Georgia, Paulding
168,667
Chloe Caldasso formatted the above table.
---
Like free stuff? So do we. Here at People's World, we believe strongly in the mission of keeping the labor and democratic movements informed so they are prepared for the struggle. But we need your help. While our content is free for readers (something we are proud of) it takes money — a lot of it — to produce and cover the stories you see in our pages. Only you, our readers and supporters, can keep us going. Only you can make sure we keep the news that matters free of paywalls and advertisements. If you enjoy reading People's World and the stories we bring you, support our work by becoming a $5 monthly sustainer today.