It's the moment NFL team owners salivate over year after year: NFL Draft day.
That three-day extravaganza where college football players—three years removed from high school—toss their names and dreams into the hands of NFL officials. Hearts will be broken, riotous celebrations will ensue, and for football fans, new names and potential championship players will grace our television screens next season.
For me, and I'm sure for other fans, watching those moments of joy cross the faces of young athletes trying to get their big break, along with the tears and giddy grins from family and friends, creates a sense of wholesomeness—something we haven't seen since Trump took office and started tweeting about professional football.
Held at the AT&T Stadium (don't forget 14,000 Midwest AT&T union workers are gearing up for strike after failing to live up to its promises post-Trump tax bill) in Arlington, Texas, this year saw the highest-rated and most-watched draft ever recorded in NFL Draft history (what was that about ratings continuing to tank?).
It was also the first time a draft was held at a stadium, and only the third time in draft history—the first was in 1999—where five quarterbacks were selected in the first round. The Cleveland Browns had the No. 1 pick, and selected Oklahoma Sooners QB Baker Mayfield.
The Browns organization swore up and down that the only things Mayfield has in common with Johnny "football" Manziel are height (6'1) and a Heisman trophy.
All that excitement and wholesomeness was just a flash in the pan.
As the Buffalo Bills negotiated a trade up with the Tampa Bay Buccaneers, moving from the No. 12 pick to No. 7, the Bills found their potential franchise quarterback in Wyoming's Josh Allen.
This was, of course, a controversial pick for the Bills, who selected a college athlete that didn't play in Power Five conference in Wyoming, and produced unimpressive numbers against lower-tiered competition.
But, I really don't care about that.
What I care about is the simple fact that the Bills signed a player with a racist history.
When he was in high school, Allen repeatedly used racist language in his tweets, and even worse, hours before the draft was to take place, he jumped online and began deleting them.
Yes, Allen apologized for the past racist comments. Yes, he went on to say that who he was then isn't who he is now and made clear that he will "take it on the chin" and "own up" to his mistake.
As of now, those are just words spoken at a press conference. The real test will happen day one inside the locker room.
"A lot of guys don't say the right things at 15 years old," said Tremaine Edmunds, Allen's first new Bills teammate from draft night, who is African-American. "I think he has to walk through the door in Buffalo, into the locker room, and just be straight up about it. If he does that, I think it will take care of itself."
Bills general manager Brandon Beane, speaking to WGR 550 said, "We don't condone anything. We did our due diligence, spoke to him and his coach again…he's going to come in here and own it and has to earn the trust of the fans and organization."
Take a look at the tweets.
Oh, and don't forget to check out this Adolf Hitler tweet, too.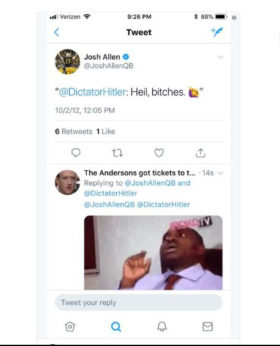 Obviously, the Bills organization is going to use everything in its public relations arsenal to develop a nice workaround for the "racism" issue.
But, we should also remember, and remind the Bills, that this isn't the first time a controversial racist player has worn the Buffalo emblem.
During this NFL post season, as the Jacksonville Jaguars beat the Bills 10-3 in the wildcard round, Bills offensive lineman Richie Incognito was accused by Jaguars defensive lineman Yannick Ngakoue of "using some weak racist slurs."
The NFL decided not to punish Incognito this time for the alleged comments—surprise, surprise.
An NFL investigation in 2013 found that Incognito "used a racist slur and made vulgar comments" in a voicemail to then-Dolphins teammate Jonathan Martin. He was suspended for the last eight games of the 2013 season and missed all of 2014 before he got the call to join the Bills in 2015.
Makes you wonder about the Bills priorities when it comes to addressing racism within "Jim Crow" football, doesn't it?