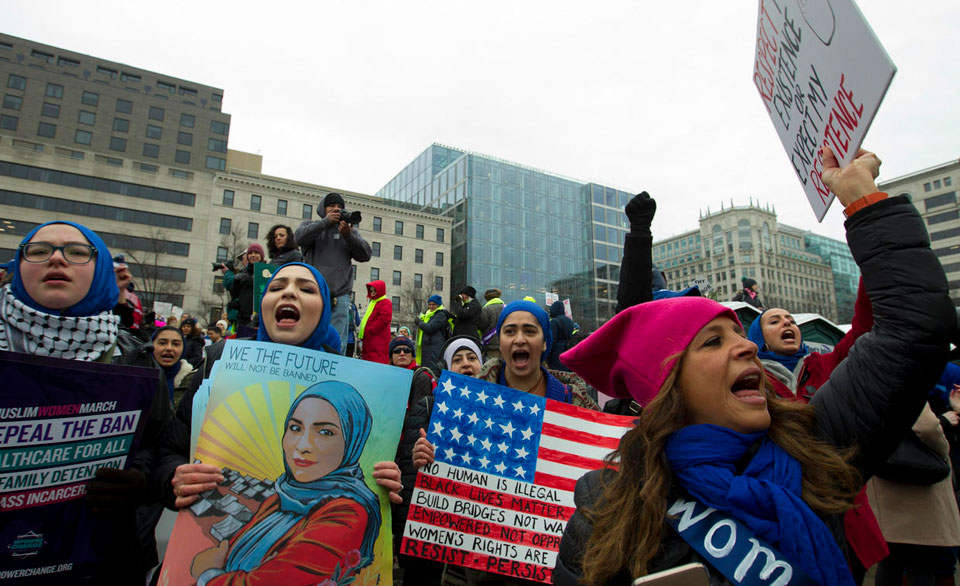 WASHINGTON—As Mary Lewis of Mars, Pa., marched down Pennsylvania Avenue in D.C. on Jan. 19 with more than 100,000 other women – and quite a few men, too – she carried a handmade sign that symbolized what this year's Women's March seemed to be all about: More resistance to Donald Trump.
"I've been marching since the first Women's March," the day after Trump was inaugurated two years ago, Lewis explained. "Having someone who's a misogynist fascist like Trump in the White House reminds me of Germany" under the Nazis. "I think he's as dangerous as Hitler."
While other marchers interviewed didn't equate him with the Nazi, the 2019 Women's March in D.C., and sister marches in dozens of other cities nationwide seemed dominated by opposition to Trump.
D.C. marchers started down Pennsylvania Avenue chanting, "Hey, hey, ho, ho, Donald Trump has got to go!" before rethinking whether they should even dignify him by name. They changed "Donald Trump" to "Forty-five," since he's the 45th U.S. president.
And the frequently-heard past chant of "If we don't get it" – whatever "it" happens to be – "shut it down!" changed to "If we don't get it, vote him out!"
Numerous signs called for Trump's impeachment.
Anti-Trump sentiment ran throughout the march even though the leaders of the movement, realizing they and their forces must be for something, not just against Trump and his policies, released a 22-point platform in advance and renamed this march "The Women's Wave." Marches also took place from coast to coast, including in two in New York and one each in Los Angeles and Philadelphia.
The one in Chicago was replaced by dozens of local marches, including one in the western suburbs with two newly elected U.S. Reps. Lauren Underwood and Sean Casten. Both turned DuPage County blue.
In advance, the released platform included workers' rights, immigrants' rights, reproductive freedom passage of the Equal Rights Amendment, ending violence – particularly sexual violence – plus LGBTQ rights, Native American rights, environmental justice and full restoration of voting rights.
"All women should be paid equitably, with access to affordable childcare, sick days, healthcare, paid family leave, and healthy work environments. All workers – including domestic and farm workers, undocumented and migrant workers – must have the right to organize and fight for a living minimum wage," the workers' rights plank reads.
And in the hours leading up to the march, the organizers added two more planks: Opposition to Trump's partial federal government shutdown and his Mexican Wall, as well as endorsement of Medicare For All, in the days before the demonstrations. Women's March leaders joined National Nurses United in a Jan. 18 statement for Medicare For All, a top cause of that union for years.
"The lobby day on Capitol Hill" – the date was not specified and Congress wasn't in town – "will demand legislators support the Medicare For All bills to be introduced by Rep. Pramila Jayapal" of Washington "and Sen. Bernie Sanders" of Vermont, "as well as 22 other urgent policies that make up the Women's Agenda," the Women's March leaders said.
"Women's March brought our #PowerToThePolls this past November, electing a historically diverse Congress. Now we're bringing our Women's Agenda and organizing power to the halls of Congress," said Winnie Wong of the 2019 Women's March Steering Committee.
"When women don't have access to affordable health care, whole communities suffer. Roughly 30 million Americans are uninsured, and tens of millions more lack enough coverage to afford their healthcare costs — particularly women. This is just one of several dozen policies created by women and for all people that make up the Women's Agenda."
Signs and songs were a big part of the protest. One sign with raised fists and the women's movement symbol drawn on read: "You haven't seen nasty yet!" "Men of quality don't fear E-quality," another declared.
A frequent song on the march: "R-e-s-p-e-c-t." Two other signs: "The future is female" and "Respect my existence. Expect resistance." When the marchers passed one small group of jeering anti-abortionists, they broke out into a familiar chant: "Our bodies, our selves."
Unionists at the march emphasized putting federal workers back to work. More than 1,000 people gathered at the AFL-CIO beforehand for their own rally. Led by Secretary-Treasurer Liz Shuler – the highest-ranking woman in the labor movement – they emphasized the shutdown, which is also a Trump lockout, of 800,000 workers, many, if not most, of them working women, and its negative impact on workers, women, families and the country (see separate story).
Many of the union marchers came from the union federation's 3-day Martin Luther King conference in town. One carried a sign reading "Martin Luther King had a dream, not a nightmare.
"Stop playing games with our lives and #callthevote," one printed sign read, referring to the refusal by Senate Majority Leader Mitch McConnell, R-Kent., to let lawmakers vote on House-passed bills to reopen the government by funding the affected departments and agencies.
Other causes and denunciations were sprinkled through the march. A group of 11 women from Georgia – of whom helped put a Democratic gun control advocate in a long-time GOP-held U.S. House seat – was one of many marchers for strict firearms control.  "No safe seats" in political offices, their sign read.
Several signs honored Dr. Christine Blasey Ford, the Stanford psychologist who – despite fear and threats – testified about sexual abuse Trump's Supreme Court nominee, Brett Kavanaugh, inflicted on her when both were teenagers. The GOP disregarded her testimony and OKd Kavanaugh.
But Ana Maria Archila, the Arizonan who confronted then-Sen. Jeff Flake, R-Ariz., in a Senate elevator, saying "look at me" and demanding he really listen to tales of victimized women, told the D.C. crowd. that "courage is contagious." She now heads the Center for Popular Democracy, a march co-sponsor.
"Keep ice at the poles," the first half of one sign read, referring to the impact of global warming. "Not ICE in our neighborhoods," referring to Trump's roundups of undocumented people.
There were positive messages, too. One sign read: "Women in Congress dance, too." In the background was a cutout of the Capitol. In front, a large cutout of new Rep. Alexandria Ocasio-Cortez, D-N.Y., dancing as she entered her congressional office. The GOP had tried to degrade her by posting an old video of her dancing during her college days, less than a decade ago.
At least two signs implored former Democratic President Barack Obama to come back. One said the White House occupant needs "a babysitter." "Obama, are you coming home soon?" another asked. "This is getting very weird." Another, with a picture of Supreme Court Justice Ruth Bader Ginsburg, declared "RBG speaks for me."
Another woman's hand-made sign extended denunciation of Trump to his whole government.
"I've seen better Cabinets @IKEA," it read.
And just as Trump's White House win and his anti-woman, anti-worker and racist policies inspired record numbers of first-time women to run – and win – political office in last November's election, at least one marcher has already made up her mind to do so, in a normally GOP area.
Holding a sign saying the 139th District should have a woman in the state legislature, Marian Keegan, a health care worker, explained she plans to run for the first time, as a Democrat, for that House seat. It covers Pike and Wayne Counties at the northeastern corner of Pennsylvania.