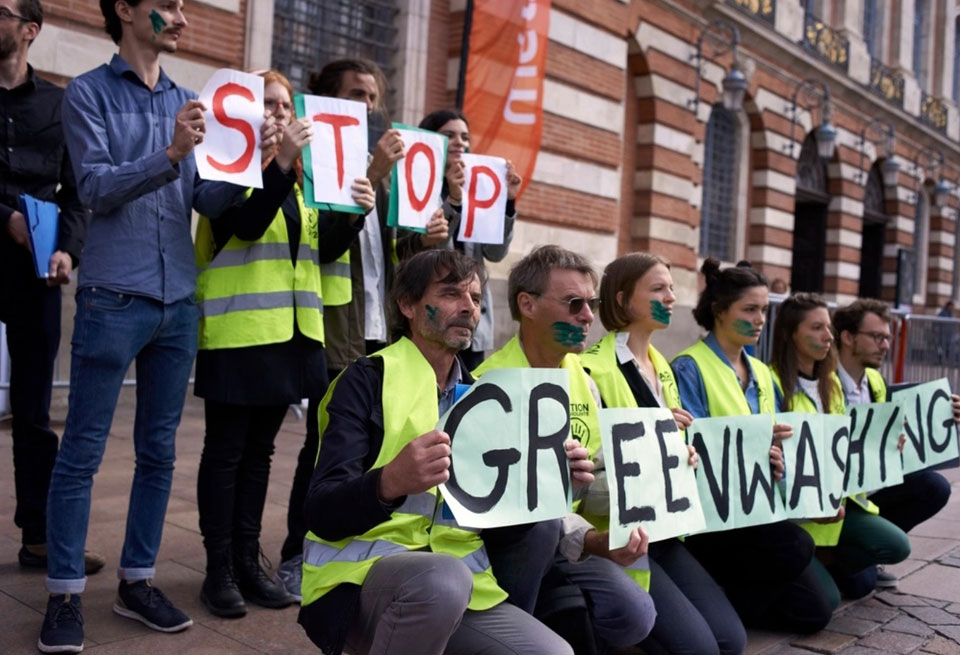 As public pressure to act on the climate crisis increases, more and more companies, governments and nonprofits are making misleading claims about the sustainability of their operations, a tactic commonly known as greenwashing.
However, as greenwashing is becoming more common, people are also getting better at spotting it. Eco-Business published its list of 18 entities called out for greenwashing in 2022, up from eight examples in 2020 and 11 in 2021.
"2022 was the year that policymakers started to take greenwashing a bit more seriously," Robin Hicks wrote in the yearly roundup published Thursday.
Legal consequences
One trend noticed by Eco-Business is that companies are increasingly facing legal challenges for making misleading environmental claims. They pointed to several high-profile cases:
HSBC: The bank was forced to end an ad campaign in Britain after the UK's Advertising Standards Authority ruled that it was misleading because it promoted the bank's tree planting efforts without acknowledging its fossil fuel investments.
H&M: The fast fashion brand was sued twice this year for charging more for items misleadingly labeled as more environmentally friendly.
Deutsche Bank: The bank's investment arm offices were actually raided by police in Germany after accusations it had lied that more than half of its assets were invested based on environmental, social and governance criteria in 2020.
KLM: ClientEarth sued the Dutch airline over its "fly responsibly" campaign, arguing that the company can't reduce its carbon footprint without reducing flights.
There were other greenwashing lawsuits this year that Eco-Business did not pick up on, according to Truth in Advertising. Household cleaner company ECOS faces a class action lawsuit claiming its supposedly safe and eco-friendly products contain harmful ingredients, while Kirkland Albacore Tuna is being sued over misleading dolphin-safe claims and Whole Foods is being sued over sustainability claims despite its wasteful packaging, among others. In total, Truth in Advertising listed seven class-action greenwashing lawsuits for 2022 and seven class-action complaints.
Sports and entertainment
There were several examples on Eco-Business's list of sporting events or celebrities helping companies to greenwash their images.
Tennis Australia and Santos: Tennis Australia actually stopped using oil and gas company Santos as a sponsor in January after climate campaigners criticized the partnership.
Coldplay and Neste: Coldplay came under fire after the band — in a bid to decarbonize its tour —partnered with Finnish oil company Neste. While the company claims to produce sustainable biofuels, it actually sourced palm oil from 10,000 hectares of deforested area between 2019 and 2020.
Singapore Formula One Grand Prix: The event was criticized for claiming to be "on track to minimizing our carbon footprint" without actually calculating the emissions of the fossil fuel powered vehicle race itself.
Boohoo and Kourtney Kardashian: During New York Fashion Week, the fast-fashion brand launched a green line and hired Kourtney Kardashian as a celebrity sustainability ambassador, but environmental groups argued that the fast-fashion business model is inherently unsustainable.
The list left off one of the most high profile cases of sports-related greenwashing this year: the 2022 World Cup in Qatar. FIFA and the host country claimed the event was carbon neutral, but an analysis proved this was not the case. FIFA also partnered with state oil company QatarEnergy, despite the fact that Qatar's oil and gas fields could add 50 gigatons of carbon dioxide to the atmosphere, according to BankTrack.
Governments and nonprofits
While greenwashing is usually associated with corporate advertising, there were also governments and, surprisingly, environmental nonprofits on Eco-Business's list.
Japan: Japan was criticized by experts for a supposed decarbonization plan to burn ammonia with coal. While ammonia does not produce carbon dioxide when burned, it does produce the greenhouse gas nitrous oxide.
Australia: Australia's previous conservative government, which lost to the more eco-friendly Labor Party in May, announced a plan to save the Great Barrier Reef that was lambasted by Greenpeace for failing to mention reducing fossil fuel emissions, despite the fact that the climate crisis is the greatest threat the reef faces.
The Ocean Cleanup: Dutch innovator Boyan Slat's efforts to get the plastic out of the Great Pacific Garbage Patch were thrown into question when images of trash he'd supposedly collected looked too clean to be true to scientists and fishers. Slat said the trash had come from a nutrient-poor part of the ocean.
WWF-Singapore: The environmental group found itself accused of greenwashing when it said that plastic trash collected by volunteers would be used for "clean energy," even though it is still a fossil fuel based product being heated for energy.
WWF also came under fire this year when it announced a plan to fundraise using Non-Fungible Tokens (NFTs), which are controversial from a climate perspective because they use high-energy blockchain technology. The charity quickly chose to abandon the idea.
Business as usual
Finally, there were several instances of greenwashing from the usual offenders such as plastics makers and oil and gas companies.
Michelin: The tire company of restaurant-guide fame promised to offset its emissions by planting rubber trees, but it was revealed it had actually replaced habitat for orangutan, tiger and elephant with a less biodiverse tree plantation.
The Big Five Oil Companies: A study from InfluenceMap found that 60 percent of public statements from ExxonMobil, Shell, Chevron, BP and TotalEnergies painted the companies as climate leaders while only 17 percent of their investments were channeled towards renewable sources. While this was not mentioned by Eco-Business, the greenwashing of the fossil fuel sector was also called out by a House Committee on Oversight and Reform investigation, which revealed internal documents in September showing that the companies did not take their publicized net zero plans seriously.
DBS: Southeast Asia's largest bank brands itself as "More like an eco-warrior, less like a bank," but CEO Piyush Gupta still defended a plan not to defund coal power until 2039.
Unilever: Unilever puts its name to many plastic pollution reduction plans, but a Reuters investigation revealed that it is lobbying the governments of developing countries against banning the single-use sachets it uses to sell products in poorer nations.
Lazada: The Southeast Asian company promoted supposedly "eco-friendly" items on Earth Day that were still largely disposable.
British Companies: A twitter bot revealed that many British companies claiming to support International Women's Day online still had significant internal pay gaps. While this is more false advertising in general than greenwashing specifically, women are disproportionately impacted by the climate crisis.
This article was reposted from EcoWatch.