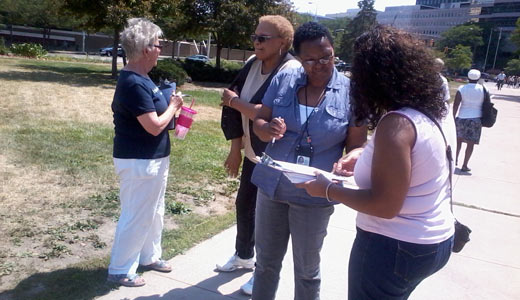 Union members and allies submitted petitions with over 430,000 signatures to Ohio Secretary of State John Husted on Tuesday to place a constitutional amendment on the November ballot to end gerrymandering of state and congressional legislative districts.
That more than met the requirement of at least 385,253 signatures from half (44) of Ohio's 88 counties.
The action culminated a drive of just over three months prompted by the rigging of congressional districts last summer by extremist Republican politicians elected in 2010.
The petition drive, initiated by the Ohio League of Women Voters and other good-government groups, was joined by We Are Ohio, the labor-led coalition that organized last year's successful repeal of Senate Bill 5, the union-busting law stripping collective bargaining rights from public employees.
We Are Ohio said more "extreme legislation like Senate Bill 5" would be inevitable if partisan noncompetitive districts continue to be drawn.
The petition drive also included volunteers from the Ohio Democratic Party, the campaign of U.S. Senator Sherrod Brown, and Organize for America, the campaign to re-elect President Obama.
In an evenly divided state, GOP operatives had drawn 16 congressional districts such that Republicans were favored in 12 while Democratic voters were piled into the remaining four.
Under their scheme Democratic Congressman Dennis Kucinich lost his long-held seat in a primary when his district, previously concentrated in the west side of Cuyahoga County, was stretched in a narrow strip along Lake Erie 100 miles to Toledo. Another district was distorted to include the headquarters of the right-wing Timken Corp. so as to guarantee campaign contributions to Republican Congressman Jim Renacci.
The lines were drawn in a secret downtown Columbus hotel suite known as "The Bunker" under the direction of GOP House Speaker John Boehner, who represents a gerrymandered district in western Ohio. The maps were then given to the apportionment board controlled by newly elected Republicans, who approved them.
While Republican Gov. John Kasich endorsed partisan districting as legitimate under the Ohio constitution, the Toledo Blade, in an editorial backing the petition drive, called the GOP gerrymandering "appalling."
Under the proposed amendment districts would be drawn by an independent, nonpartisan 12-member commission, composed equally of Democrats, Republicans and non-affiliated voters, none of whom could hold elected or partisan office or be lobbyists. The districts would be required to be compact and competitive.
"This is a great day for Ohioans as we can begin to take back control of the state from overreaching politicians and put that power in the hands of the people," said Ohio AFL-CIO President Tim Burga. "If redistricting passes this November, no longer will politicians retreat to the backrooms and draw lines that protect themselves, their party and their donors."
Republican officials vowed to campaign against it, but if voters approve the amendment, new districts will be drawn in time for the 2014 elections.
Photo: Petitioning. Rick Nagin/PW