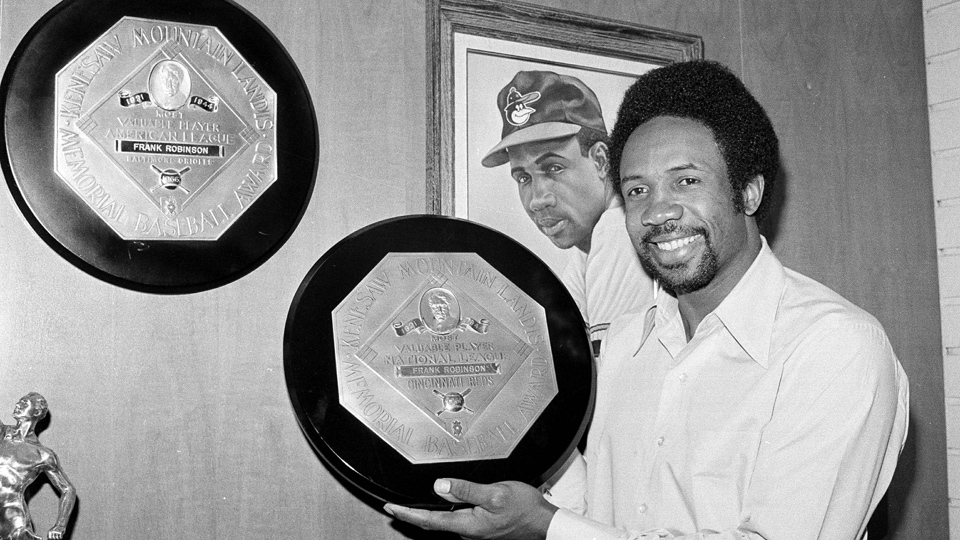 Wouldn't it be incredible sport fans if we could say racism in the big leagues ended the day Jackie Robinson Broke the color line? Or when then the first African-American major league manager was hired? Or…or. or…
There were countless moments in history where the scourge of racism in sports could have been defeated. There are countless moments today, where we can all take part in that fight.
The question I have for you readers is this: Which side are you on?
Frank Robinson passed away at the age 83, completing his personal quest to become the first African-American manager in the big leagues. And he used that national platform to fight for social and racial justice. He was a relentless, hard-ass player, manager, activist, MLB vice-president, and we're all better for it—whether we know it or not.
Let's honor Robinson's legacy by continuing to hold fast in our fight for social, racial, and economic justice.
Let's continue to take a knee and support Colin Kaepernick in his fight against racism and police brutality.
Now is our moment.
And if not us, then who?
From the People's World Sports Desk:
Al Neal
Wanted: big league Black pilots
William Allan
Daily World, March 13, 1969
DETROIT. – The time has come for this sports page and its readers to plunge deep into the campaign for black managers in the major baseball leagues.
Frank Robinson, black star of the Baltimore Orioles, believes there are many black players capable of managing in the bigs. Frank tells newsman he's not shooting for a manager's job now "because I'm planning to play at least two more years. By then I'll have 15 years in the game and I'm going to make a decision. If I'm approached to manage, I'll listen to offers, but right now I'm not campaigning."
Robinson is 33 and a genuine super-star. He is sharp and interested in the game and the players.
He is also very outspoken.
But the owners, who continue to keep all white managers, will not hire Frank Robinson because he is black. Unless the fans demand it. There has never been a black manager in the major leagues.
Besides Robinson there are at least seven black-baseball men capable of doing an exciting managing job. They are Ernie Banks, Willie Mays, Junior Gillam, Bill White, Maury Wills, Elston Howard, and Henry Aaron to name a few.
Says Robinson, "…there may be a few more. I can't believe that in the 22 years since the first Negros came up to stay there hasn't been one who could have been a manager."
Robinson is not campaigning yet, but he thinks he can manage the Baltimore Orioles after a couple more years of experience. And he doesn't want that experience to be managing in the minor leagues.
"I don't think I can gain anything by going to the minors for what they call experience," says Robinson, I've been a big leaguer too long for that.
Readers of the Daily World should get into the ball game and become part of this fight.