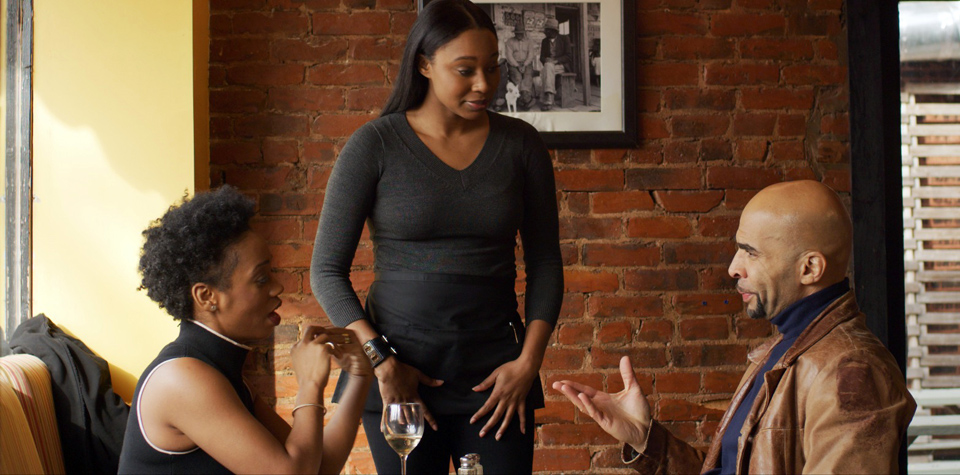 Now I lay me down before I go to sleep,
In a troubled world, I pray the Lord to keep
Keep hatred from the mighty
And the mighty from the small
Heaven help us all.
(Lyrics from "Heaven Help Us All" by Stevie Wonder)
LOS ANGELES — Yes, heaven please, help us all!
The films at the Pan African Film Festival (PAFF) this year have been emotionally painful, and true to life, for Black Africans and African Americans. Being Black, and living in America is horribly tough!
A Brother's Whisper was for me the epitome of the feelings of anger, love, laughter, distress, and sorrow of being Black in this country. The cast of excellent actors was the start for this very poignant film.
Written and directed by Jacinto Taras Riddick, A Brother's Whisper opens with husband and wife in a lovemaking scene. The wife, Leona Bordoux (Lekethia Dalcoe), is left basically unsatisfied, with many questions as to what is going on with her husband David Bordoux (Che Ayende, also a co-producer). Later on, they have a visit from the husband's brother, Solomon (Jacinto Taras Riddick, also director, producer, and screenwriter), who is returning from three tours of duty in the Iraq and Afghanistan wars.
Solomon is noticeably brash in expressing his disgust with the changes he sees in New York, such as continuing gentrification and loss of housing for the community. And he confronts any interracial dating with repugnant commentary. One might say the brother sometimes verged on total rudeness and discourteousness, but not without good reason. He has been diagnosed with PTSD.
Leona and David are overjoyed to have Solomon come to stay with them, celebrating with a nice meal and Leona's moving, genuine blessing. The reunion is heartfelt, but Solomon wants to get to the bottom of why he and his brother have started having so many difficulties in their relationship, when they had always been so close and mutually supportive. This is also where things start to go a little haywire between them.  There is love expressed throughout the film, but about a third of a way into the film, many emotions start emerging that overshadow the family love.
Solomon begins having auditory hallucinations of bombings and loud gunfire—exactly what he had experienced in both wars. It frightens David sharply because Solomon seemed to be acting out those very scenes he was hallucinating about. David becomes more concerned about this when he catches Solomon cleaning and playing with his revolver. As he watches Solomon intensely and with some distrust, Solomon assures him that he would never ever hurt his family.
These various changes of mood keep a viewer wanting to be engaged with everything and everyone on the screen, but also make one wish for an escape from the surprises, suspense, and the sinking feeling of emotional defeat.
The writer uses this filmscript to bring in a wide range of variables that affect Black people and their communities. Drug addiction, homosexuality, homophobia, violence—all are dealt with here, primarily in realistic form. Almost anyone who is Black, or should I say just human, could relate to the intricate changes that occur, such as sudden fights erupting almost without provocation, trying to hide one's homosexuality, the true love between the Black man and the Black woman, and true love that exists between two homosexual partners. Despite David's essential homosexuality, he declares to Solomon how much he loves Leona, everything about her being.
Resura Arkestra is the musician and band leader. He employs a fusion of African, jazz, Latin and Caribbean music that provides a comforting undercurrent through the many different emotions unfolding among the characters. Though the music could be heard clearly, it was also like a hidden, quiet, almost white noise. The genius of the score is one of the film's greatest attributes.
During Solomon and David's boxing practice routines (David was also a graceful, talented ballet dancer) there are some violent interactions. One boxing opponent is particularly rude, making disparaging remarks to David regarding his homosexuality (shades of the Emile Griffith story). Their boxing coach, Mark Breland (playing himself), is a wise older man who gingerly handles skirmishes with firmness and tact.
As the compressed (69-minute) film progresses, one feels that our communities are going to need not only civic leaders to step up to the plate, but also leaders appointed by our people to provide wisdom and guidance.
The film unfolds with an indivisible mixture of sobering reality and epiphany, inspiring in the end deep respect for people's differences, as well as compassion for one's own and others' feelings of despair. Kudos to the many talented people involved in editing (L.A.-based Kathleen McAuley) and photography (Jeffrey Akers). Production, lighting, and sound masters go well beyond the minimum to bring about a result not only great to watch but summoning memories of many New York scenes.