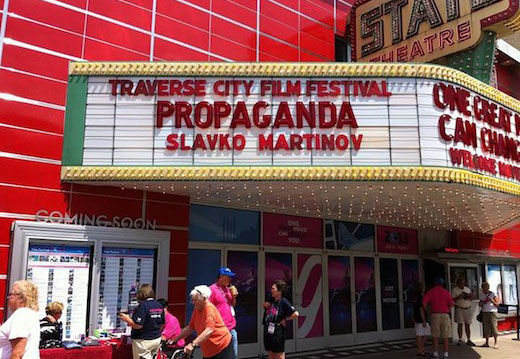 TRAVERSE CITY, Mich. – Another film feast for discerning viewers of progressive cinema has come to an end. Michael Moore's 9th Annual Traverse City Film Festival broke records in attendance, renovated a new theater called Bijou by the Bay, and seemed to involve just about every resident of this scenic northern Michigan tourist town, either as a volunteer, filmgoer, or both. Centered around the State Theater, voted America's #1 film theater, the festival offers free bus shuttles to all screenings, children's films and activities, free panels and film classes, and audience participation with actors and directors at most all film showings.
It's been impossible to see every important great film here. But some of the ones I was able to see (and some that also appeared at earlier festivals) are listed below in order of my personal ratings. Some will be covered in more depth in later columns.
5 stars:
Propaganda (North Korea): By far the most daring and progressive film at this festival and winner of the Founders Prize for Best Film. Probably one of the most creative and challenging political documentaries in years. Supposedly a captured film from North Korea that you can see for free on YouTube. (Of course a big screen is much better)
No (Chile): Last year's Progie Award Winner for Best Progressive Film and Actor (Gabriel Garcia Bernal, who also directed). The story of the ad agent who successfully ran a TV campaign to vote "No" on re-electing Chilean dictator Augusto Pinochet in 1989.
The Act of Killing (Denmark): One of the most disturbing films about anti-communism ever made. Select Indonesians gleefully re-enact methods that were used to wipe out millions of communists and progressives during their recent political battles. Reviewed at length here.
The Central Park Five (USA): Ken Burns and daughter Sarah's investigative documentary researching the truth about the innocence of five young men convicted of raping a jogger in New York back in 1989. Many wasted years in prison for these young men.
The Pervert's Guide to Ideology (UK): Slavov Zizek (Pervert's Guide to Cinema) returns! This Chomsky-on-steroids romp through ideology expressed in cinema is a treat to every intelligent mind. It'd be helpful if the film could be run at slow speed, to catch everything.
The Trials of Muhammad Ali (USA): An inspiring and uplifting tale of the great fighter, in and out of the ring, heavily researched and well put together. Family members relive Ali's tough choices in life, and we get to learn much more about this hero than we've learned in all his other documentaries of the past. See more about this film here.
4-½ stars:
56 Up Series (UK): A unique film series chronicling several British children every seven years as they grow to adults. Fascinating long-term human study unparalleled in any art form.
Fruitvale Station (USA): A dramatic re-enactment of the tragic incident in Oakland, Calif., when a young African American was shot dead by a transit cop at the Fruitvale BART Station. Well acted and a compelling human drama. Read more here.
Gore Vidal: United States of Amnesia (USA): Not only reveals the life of one of America's greatest opinionated authors but exposes the deep contradictions of a country that is supposed to be "democratic." So good it should have been longer. More here.
A Hijacking (Denmark): Somali hijackers take over a Danish cargo ship and the drama escalates in a calculated manner to an unbelievable climax. What to sacrifice: corporate money or peoples lives?
Into the White (Norway): German and British airmen crash land in the deep white snowy mountains in Norway during World War II. These mortal enemies need each other to survive, but can they get past their differences? An extreme real life story.
Remote Area Medical (USA): A volunteer medical organization founded by Stan Brock travels to remote areas to provide free health care for hundreds of uninsured people, every weekend! No strings attached. A sad statement about health care in America.
TWA Flight 800 (USA): Clearly NOT a conspiracy film, but rather a collection of indisputable facts that prove a plane bound for France filled with 230 people was shot down just outside Long Island in 1996. Why and by whom is not addressed.
4 stars:
God Loves Uganda (USA): Young American Christian evangelists go to Africa to "save" lives, and wipe out homosexuality. This probing doc exposes the negative repercussions of this religious colonialism. Why did they allow themselves to be filmed?
Good Garbage (ISRAEL): The reality of Palestinians forced to scavenge in garbage dumps created by Jewish settlements is shown in this narrative, visually poetic depiction of people driven to the brink.
Teenage (GERMANY): An intriguing examination of the "teenage" years, a recent term and concept unknown before World War II.
3-½ stars:
The First Movie (UK): Scholar and historian Mark Cousin's first film (1989) predating his masterful Story of Cinema: An Odyssey. But the title actually refers to young Iraqi children making their first film with provided cameras.
Inequality for All (USA): Can't fool me. Ford, Carter and Clinton appointee, Robert Reich is charming and charismatic, but ultimately a defender of corporate America, despite all its failings that are clearly depicted in this film. More here.
Our Nixon (USA): Silent home movies taken of Nixon by his cabinet members add little to what is known about the disgraced president. An exercise in filmmaking with no stated political intent. But see a very different take on Our Nixon here.
This is What Winning Looks Like (USA): This is what being embedded in Iraq with Marines looks like. An endless attempt to show the corruption and ineptitude of Afghans entrusted to run their own country, thus logically implying we shouldn't leave.
War on Whistleblowers: Free Press and the National Security (USA): Reminding us that whistleblowers can also be Republicans. Not necessarily a progressive film.
3 stars:
Citizen Koch (USA)
A rehash of We Are Wisconsin, but exposing Citizens United and the suffocating tentacles of the Koch dynasty. Nothing new to most activists, and about an hour too long.
Fanie Fourie's Lobola (South Africa): White male South African falls for Black female South African. A fantasy? Close to it, in this unbelievable but sort of charming story that couldn't have happened just a short while ago.
Far From Afghanistan (USA): Five committed film activists searching for a new cinematic voice to depict the horrors of American foreign intervention, this time in Afghanistan. Well-intentioned but ultimately slow moving art film. Pales next to Far From Vietnam.
Photo: via Propagandafilm