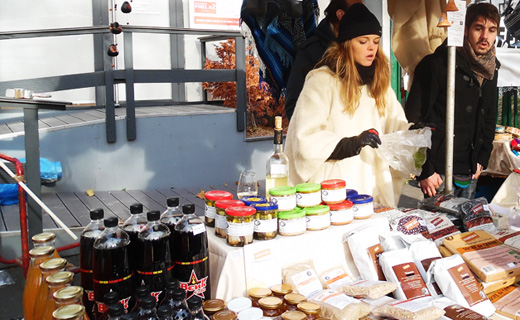 MONTREUIL, France – Just a single train stop away from Paris, in this nearby suburb, the People's Climate Summit took place on Dec. 5 and 6. Rue Dombasle; Rue Pépin; Rue François Debergue; Place Jean-Juarés; Rue Victor Hugo. These five streets were filled with forums, discussions, workshops, and a large, festive gathering of members of the environmental community – both local and worldwide – unlike any other.
Beginning from the entrance to the Metro station and wending its way throughout the town, people set up stands selling wholesome, healthy, and natural goods. It was collectively called the Global Village of Alternatives. Various groups of people set up tables with homemade organic wines, which many were sampling as they lined up to purchase burgers made from organic, farm-raised, grass-fed lamb. Others sold gluten-free and vegan products. One couple sold all-natural juices. Another man, fruit and vegetables.
But those attending the Summit were not merely merchants. Others set up informational areas, educating passersby on sustainable food and agriculture, shared gardening, environmental awareness, responsible consumption including recycling and waste reduction, grassroots energy and climate initiatives, and much more.
And on another street, the aforementioned forums and workshops were in full swing, with communities, groups, and organizations all the way from the U.S. gathering to exchange ideas with Parisians and find inspiration in the many actions centered around the climate talks in Le Bourget.
There were also many powerful displays, including Greenpeace activists clad in polar bear outfits, warning of the dangers posed to the Arctic and other ecosystems by offshore oil drilling. At one street corner, an enormous Statue of Liberty spewed dark smoke from its raised torch – obvious commentary on pollution.
Kate McNeely, an artist and activist from New York, came all the way to Montreuil to turn people on to the idea of climate ribbons; standing before the statue of a tree adorned with multi-colored ribbons, she said that the idea was, people write onto a ribbon the thing they love most, and which they fear might be lost due to climate change.
"The magnitude of what we are dealing with, I don't believe it can only be solved by governments and organizations inside Le Bourget," McNeely said. "We need a complete system change, and I believe civil society will make that change. I truly believe that gatherings like this village in Montreuil are the way forward."
Photos including slideshow: Blake Deppe/PW