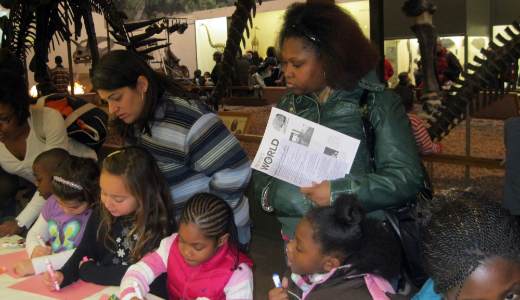 NEW HAVEN, Conn. – A month-long celebration linking the 50th anniversary of the Freedom Rides that desegregated interstate transportation in the South with today's movements to address racism, violence and unemployment was kicked off here on Dr. Martin Luther King, Jr.'s birthday.
In response to the shocking fact that many teen students don't expect to live to be 18 because they have lost so many classmates to street violence, the local club of the Young Communist League, made up of high school students, decided to ask young children to draw what they would like to be when they grow up. At the annual King Day celebration at the Peabody Museum, the children enjoyed doing just that.
"This is great!" said one of the event coordinators. "You are asking them to dream big and set positive goals for themselves for the future."
The pictures of teachers, doctors, veterinarians, astronauts, truck drivers, scientists and dancers will be exhibited on Sunday, Feb. 27 at 4 p.m. at the New Haven Peoples Center, 37 Howe Street, during the 37th annual African American History Month celebration. Presented by the People's World, the theme will be, "A New Generation of Dreamers – Freedom Rides Yesterday – Freedom Rides Today."
While the children were busy coloring, their parents were asked to sign petitions calling on Congress to prioritize job creation, funding to cities and states and extension of unemployment compensation.
The official unemployment rate in Connecticut is just over nine percent, but in the cities and in African American and Latino communities it is three times higher. Over 30,000 Connecticut workers who were laid off at the beginning of the economic downturn and have been receiving unemployment compensation for 99 weeks are now losing all benefits, creating an even greater crisis situation.
In May 1961, when young people from the North traveled south to break down racist segregation utilizing the principles of non-violence, they were beaten and jailed. They were subjected to many harms and indignities, but they stood firm and made a lasting contribution to the passage of the Civil Rights and Voting Rights Acts.
Among the Freedom Riders was Lula White, a New Havener who was going to college in Chicago at the time. That experience helped to shape her life when she returned to New Haven and taught history.
Now retired, Lula White will be featured on a panel at the Feb. 27 event with high school student Kendra Streater and Ricardo Henriquez, a labor and immigrant rights activist.
The panel discussion will also be presented in Hartford on Saturday, Feb. 26 at 6 p.m., including high school student Vyctoria Viera.
The New Haven event will also feature prizes and certificates of recognition to participants in the high school arts and writing competition, "How can we build on The Dream for ourselves and the next generation?" Students are asked to express in artwork, poetry, essay or song what young people today can do to further Dr. King's dream and achieve new hopes and aspirations. Submissions must be received no later than 5 p.m. Friday, Feb. 18, 2011. For specific requirements call 203-624-8664.
Also on the event program is drumming by Brian Jarawa Gray and a light buffet. Tickets are $5 or what you can afford.
Image: Children enjoying the Peoples World table at MLK celebration at New Haven's Peabody Museum. Photo: Montell Wright/PW