PASADENA, Calif.—Director Michael Michetti's dramatic adaptation of Oscar Wilde's 1890 Gothic novella The Picture of Dorian Gray, about the costs of eternal youth and beauty, is highly stylized and exceedingly strange. Large swaths of Picture border on avant-garde theatre, especially in Act II. The sinister plot and its presentation are likely to make some theatergoers uncomfortable (leave the kiddies at home for this one!) and to enthrall others as a most apropos choice for the Halloween season.
Most of the characters are charter members of Britain's upper class. In his portrait of England's elite, wild Oscar sneers at their pretentiousness as he rips the veils off his hypocritical dramatis personae. Lord Henry Wotton (Frederick Stuart) has a sham marriage to Lady Henry (the poised Tania Verafield), which, witty Wotton notes, provides him with cover to pursue debauchery. His ideal of "the new hedonism" is personified by the title character, supposedly hyper-handsome Dorian Gray (Colin Bates, who proves that beauty is in the eye of the casting director, if not the beholder). Enamored by him, the philosophical poseur Wotton spoils Dorian rotten.
They meet through the effeminate painter Basil Hallward (Amin El Gamal), who daubs a compelling portrait which Dorian sits for (actually, he's standing) in the buff. Some viewers may be put off by the full frontal nudity but personally I didn't mind. I applaud A Noise Within for utilizing the artistic freedom that many artists, notably Wilde himself, fought for in their works and lives. About 500 words were edited out of Wilde's novella when Lippincott's Monthly Magazine initially published Picture in Victorian England, and Wilde paid a terrible price for his unconventional sexuality.
Act I covers Dorian's youth, but after the intermission, while the other characters have clearly aged with the passage of about two decades, Dorian appears to be the same age in that he was in the first act. What is the secret of his seeming agelessness, his continuing status as a sterling specimen of physical beauty?
But timeless Dorian's debauched life—wherein, as he says, he has "pursued pleasure, but not happiness"—has taken its toll, especially on his inner self. Michetti's creepy adaptation of Wilde's horror story has a strongly homoerotic theme, although Dorian seems to be bisexual and is depicted being involved with members of both genders. His purported beauty is so splendid that Dorian is irresistible to both men and women, drawn to pulchritude like moths to a flame. As he frequents London's demi-monde and fleshpots, the story asks: "What price youth? What price beauty?"
Michetti helms his cast skillfully, as the veneer of puritanical "respectability" among the English aristos is torn to shred by Irish Oscar, who wields his pen like a rapier. Deborah Strang is strong as haughty high society ladies. Chelsea Kurtz is affecting as the actress Sibyl Vane, who is inexplicably jilted by Dorian with dire consequences, all because Sibyl isn't a particularly good actress (although Ms. Kurtz herself certainly is).
Particularly arresting is the exquisite Tania Verafield, whose eyes burn like embers as she plays Lady Henry, Gladys, and a member of the ensemble. She memorably romps about the boards clad in 19th-century lingerie that could be described as Victorian Era Victoria's Secret undergarments. The American-born Verafield is adept in her various roles, whether slinging her bon mots in a convincing British accent or dancing. Alas, this multi-talented actress isn't given enough to do in this male-centric production, although happily for theatergoers, she returns to ANW's stage when Othello debuts February 10.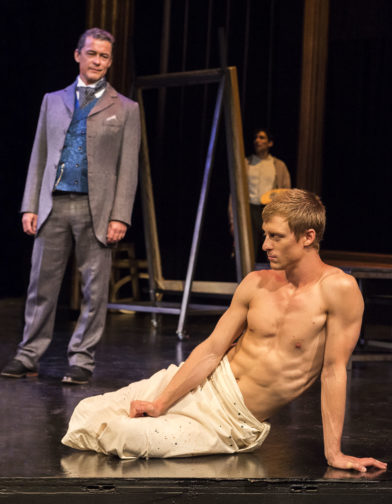 As the title character, Colin Bates is fine. In his final nude scene, and I kid thee not, Dear Reader, his twitching derriere does the best butt acting I've ever seen. I'm not trying to be lewd or jocular: Bates adeptly uses his body to convey quivering emotion. Bates is to be commended for giving his all, including the Full Monty, to his art.
Wilde was not only a sexual revolutionary, he was an out of the closet socialist. His extremely perceptive 1891 essay The Soul of Man Under Socialism argued that leisure was too fine an attribute to be wasted solely on the ruling class. He advocated the creation of a leisure society for the working class through seizing the means of production and equitable redistribution of wealth, so that ordinary people could pursue their creative impulses, have fun and enjoy life—instead of just the rich (like the decadent Dorian and his chums) being able to do under capitalism. I strongly suggest all read Wilde's libertarian take on what Marx called "the free association of individuals."
Garry Lennon's period costumes enhance a show that will nevertheless probably be best remembered for its lead being out of costume. One of the play's best things is the scenic design by Machetti and James Maloof. They cleverly use picture frames to frame their tale and an otherwise mostly bare stage. Even doors are suggestive of this framing device. However, I wasn't smart enough to figure out what all that junk behind the huge frame in Act II was supposed to mean. (Is Dorian a hoarder?)
Even if we Angelenos live in the epicenter of the High Renaissance of plastic surgery—procedures Oscar Wilde prefigured in his 1890 novella—A Picture of Dorian Gray is not for everybody. If depictions of murder, male nudity, homosexuality and avant-garde mise-en-scène on the stage aren't your thing you might prefer to skip this production. More adventurous ticket buyers who prefer their plays on the edgier, experimental side will more likely enjoy this drama. Those who like to take a walk on the Wilde side may be riveted by Oscar's vision of the significance of being beautiful and forever young.
A Picture of Dorian Gray runs in repertory with Rosencrantz and Guildenstern are Dead through Nov. 16 at A Noise Within, 3352 East Foothill Blvd., Pasadena 91107. For exact times, dates and more info, call (636) 356-3121 or go the company website.