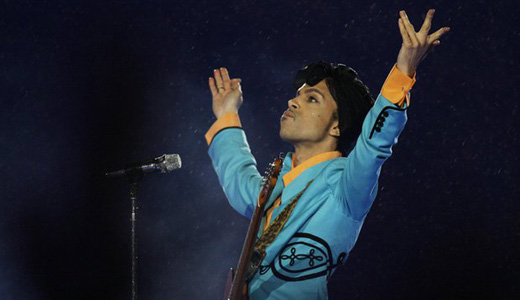 Prince Rogers Nelson, gifted singer, songwriter, bandleader and pioneering recording artist, died April 21 at his Paisley Park estate and recording studios in Minnesota. As the New York Times noted in an obituary, he sold over 100 million records, won seven Grammys, and was inducted into the Rock and Roll Hall of Fame. But these facts only touch the surface of what Prince was to audiences in the U.S. His musical project was transformative; but his personal project was transcendence.
Those of us who grew up listening to Prince obsessed over his albums as teenagers. Groups of us sat at our high school cafeteria tables and passed notes in study hall, arguing over whether his new Batman soundtrack album measured up to Lovesexy or Sign O' the Times (it didn't). At once selfish and generous, Prince exuded through music and sexuality a confidence that few of us felt during the end of the Reagan 1980s. His sound seemed to have emerged fully formed, with poetry and instrumentation that came directly from himself and fed into the flamboyant, gender-fluid, yet solidly Black and proud image he projected. He lifted stagecraft and performance techniques from other African American rockers such as Little Richard's eye makeup and frilly clothes, and James Brown's splits; but somehow audiences intuited, before hip-hop made remixing a part of our musical lexicon, that he was deploying these techniques in service of the larger Prince project. We loved him before we understood him. Instead of repelling us, he intrigued and magnetized audiences with his swagger. Prince was a beacon; he was no one's reflection.
How Prince gave back
Among Prince's many facets as an artist was an unshakable commitment to the communities to which he belonged: the community of musicians, the African American community, the city of Minneapolis. The American Federation of Musicians released a statement April 21 saying Prince was a union member for over 40 years. This means he got his union card as a teenager. Whether he initially joined the union to be able to get session gigs or contracts, it is worth noting that he contributed for more than four decades to the collective efforts of musicians to establish a fair playing field in the music industry.
This concern for the common good of his fellow working musicians would have echoes later in his career, as he took on the music industry's exploitation of artists, fighting to regain control over his master recordings from Warner Brothers. As Lisa Kay Davis wrote for NBC.com, his epic battle with Warner Brothers took many public forms: "There was the time Prince appeared with the word 'slave' scribbled across his face, schooling young artists about the ills of corporate contracts, equating the system to slavery. Or when he flooded the market with back to back albums much to the ire of his label who argued he was oversaturating the market and hurting sales. Or the pricey, extended legal battle he waged against his former label to gain the rights back to his legal birth name." Writer Kenneth Quinnell of the AFL-CIO blog noted that "In a still-changing musical landscape, Prince was one of a handful of artists who helped shape a future where musicians, working people, get the fruits of their labor."
Prince's concern for the well being of ordinary people also extended to the communities he came from. Without any fanfare or personal glory, Prince developed program after program of giving back to the African American community, most recently showing up for Baltimore after Freddie Gray's death, and helping Green for All founder Van Jones launch a project for high-tech job training for young African American men called the YesWeCode project. Similarly without recognition (in fact, as Jones recently pointed out, Prince's religious beliefs prohibited him from making public his philanthropic work), Prince supported the local music scene in the city of Minneapolis, and quietly made direct donations around the country to fund everything from solar panels to neighborhood libraries to the work of the Black Lives Matter movement.
A musical evolution
Prince's first studio album, For You, came out in 1978, and many of what would be seen as his most iconic musical masterpieces, with his back up band the Revolution, would be released between the early 1980s up through the early 1990s. Yet, his musical influence and iconic image were able to resound in a generation who were in diapers when Purple Rain first came onto the music scene. We see that influence with many younger artists today such a soul singer D'Angelo, neo soul artist Erykah Baydu, R&B singer Alicia Keys, and many more.
And although Prince's music could be classified as mainly in the genres of funk, R&B, and pop, it was clear that his music influenced artists and lovers of many musical forms. One of those being one of the most dominant musical genres today: hip-hop. As Roots drummer and Tonight Show musical director Ahmir "Questlove" Thompson explains in a recent article "33 reasons why Prince is hip-hop" the music icon embodied early on the rebellion against the mainstream that hip-hop would eventually become–at least in its earlier stages.
Although Prince would at one time ponder if he should learn to rap himself as hip-hop became more popular later in his career , he stayed true to his own musical leanings, and was able to still influence a large amount of mainstream hip-hop artists–including some who are seen as legends in their own right, such as Tupac, Jay-Z, and Kanye West. In an article released a day after Prince's passing, the online music magazine Hip-Hop DX highlighted some of the most popular hip-hop songs that sampled from Prince, showing just how deep his influence went. Bet you didn't realize that Public Enemy's famous anthem against racism, police profiling, and inner city poverty "Brothers Gonna Work it Out" sampled "Let's Go Crazy" by Prince from his album "Purple Rain". It is clear from this example and others that Prince's image and refusal to be boxed into any one category fueled many artists, even in hip-hop, to attempt to do the same, and it went beyond musical beats. (story continues after video)
A fluid, inclusive identity
The young rising hip-hop star Kendrick Lamar, who wowed audiences at this year's Grammy's with his controversial and poignant performance focusing on systemic racism and police brutality perhaps said it best when describing Prince's influence on music and youth: "He was a straight black man who played his first televised set in bikini bottoms and knee high heeled boots, epic," the rapper wrote on his Tumblr last week. "He made me feel more comfortable with how I identify sexually simply by his display of freedom from and irreverence for obviously archaic ideas like gender conformity etc. He moved me to be more daring and intuitive with my own work by his demonstration – his denial of the prevailing model."
This sentiment isn't just felt by famous music artists, but by those who loved Prince's music and were inspired by his daring from around the world- but particularly in the black community. In a time where there have been plenty of recent articles detailing the problem of homophobia within the black community, and internal and external discussion on the definition of blackness, Prince stood as a beacon of change and challenge across generations. As Vox magazine recently highlighted in their article "Prince gave black kids permission to be weirdos": "He was an example – perhaps even the goal – of sensual, confident androgyny, and blackness."
In what could be seen as an even more daring move, or a challenge against stereotypes, Prince was also a religious man. The artist converted to being a Jehovah's Witness in 2001 and described it as not a conversion but more of a "realization" and compared it to becoming like Neo in the Matrix. This presented its own set of controversies, questions, and contradictions. Particularly on Prince's actual stance on gay marriage and sexuality. Yet, as writer Chelsea Reynolds so aptly put it in her article "I'm a gender and sexuality scholar. Here's how the media blew it on Prince," the barriers that Prince broke down and even his lived contradictions have layers to them that we can continue to learn from. She explained, "the Artist was still a person, a person whose experiences rendered him not only a symbol of black queerness, but a product of the social and political realities he lived every day," Reynolds writes, "We can't analyze away his multiplicities." And we shouldn't want to, as his complexities as an artist and human are what made him so relatable to so many of us.
Prince occupied a giant place in our culture. His sudden loss sends shock waves through and across all categories of Americans – categories that he himself transcended. Through his music, his generosity, his creativity, and his steadfast insistence on remaining true to his musical voice, he showed us what it means to be fully self-actualized. And he did it all without leaving his hometown. His radical self-acceptance, and his radical welcoming of all of us into his community, are rare gifts. He will be missed.
Photo: Alex Brandon/AP