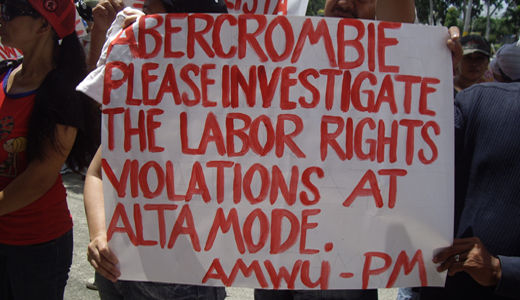 Abercrombie & Fitch is a well-known American retailer that focuses on clothing for target consumers, ages of 18 through 22. The company also operates offshoot brands, including Hollister and Gilly Hicks.
The store, however, has kept a high profile in the public eye for reasons other than the products it sells; Abercrombie is known for its discriminatory nature (especially prevalent in its advertising), flawed and unjust employment practices and its use of slave labor.
Abercrombie & Fitch clothing is manufactured at Alta Mode factory in the Philippines. When factory employees sought to form a union to address justifiable concerns, all of the 100 union members were placed on forced leave. The Abercrombie supplier has even filed criminal cases against union members. Abercrombie lacks a public code of conduct that allows for not only union-busting, but discrimination in the stores themselves.
A Muslim employee named Hani Khan worked for the store's outlet in San Mateo, Calif., but was fired after her refusal to remove her hijab (or headscarf). Khan was initially told she could wear the headscarf, but a visiting district manager said scarves were not allowed in any form during work hours. She was subsequently dismissed for her refusal to take it off, and in February 2010 the Council on American-Islamic Relations filed an Equal Employment Opportunity Commission complaint on Khan's behalf.
This wasn't the first time an employment discrimination suit was filed against the retail clothing giant. In 2005, a class action lawsuit – representing some 10,000 young people – was brought against the company. According to the plaintiffs, the company hired mainly white sales people to keep their supposed all-American look. The court ordered Abercrombie to pay $40 million, plus legal fees, in the settlement along with an agreement to set goals for hiring and promotion of women, Latinos, African Americans, and Asian Americans.
Abercrombie's advertising campaigns have been described as sexist and racist since as far back as 1998, and even past clothing items have been discriminatory : in 2002, a shirt was sold featuring the slogan "Wong Brothers Laundry Service – Two Wongs Can Make it White." It depicted grinning figures in conical straw hats; the shirt was meant to poke fun at early Chinese immigrants.
Furthermore, Abercrombie & Fitch is currently on the 2010 Sweatshop Hall of Shame at laborrights.org. One of the biggest reasons is glaringly obvious. All of the Abercrombie clothing is made by child laborers slaving away in unsettling conditions. They have no benefits or access to health care, and these products are being marketed and sold to a demographic who have little to no concern for the poor or less fortunate.
Abercrombie is a prime example of how product names and brands hold places of false significance within the minds of average young adults. People are willing to pay any price for something that is fashionable, without taking the time to really look into the background and see where this clothing came from. Overpriced wardrobes created from an environment that not only contains – but welcomes – union busting, slave labor, and discrimination, are nothing to be proud of.
With the autumn arriving, we're closer than ever to the holiday season. Just a little something for people to think about when they do their Christmas shopping.
Photo: Sweatshop Hall of Shame 2010: At a picket line set up by protesting workers of Alta Mode Inc., a garments factory in the Mactan Economic Zone, Quezon City, Philippines.
http://laborrightsblog.typepad.com/international_labor_right/2009/11/ilrf-announces-sweatshop-hall-of-shame-2010.html