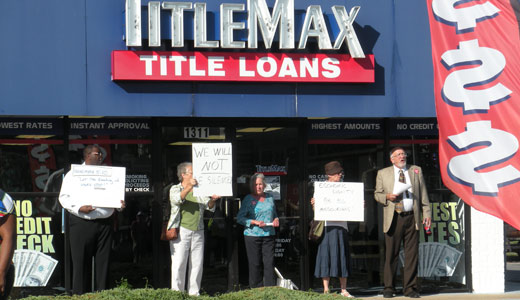 ST. LOUIS – Over 100 faith, community and labor allies rallied at a local TitleMax payday loan store here Sept. 5 to demonstrate their outrage at blatant voter disenfranchisement and the silencing of 350,000 Missouri registered voters, who signed a petition calling for a cap on payday loan interest rates and an increase in the minimum wage.
The St. Louis rally was held simultaneously with other rallies in Kansas City and Jefferson City, the Missouri state capital.
Father Richard Creason, from Holy Trinity Catholic Church, opened the rally with a stinging indictment of the pay-day loan industry. He said, "There is a fire within me, a righteous anger."
"I have lived in the same house, at the same address, on the same street, in the same ward, and in the same congressional district for 17 years. And I've voted in every election. But my signature was thrown out."
"They said I was not registered to vote," Father Creason added. "It's hard to believe. It's hard to stomach."
Father Creason, whose church is just blocks away from the TitleMax store, was one of thousands of state registered voters whose signatures in support of two ballot initiatives – to increase Missouri's minimum wage from $7.25 an hour to $8.25 and to cap payday loan interest rates at 36 percent – were thrown out.
Current payday loan interest rates here in the Show Me State average 450 percent, though rates have been known to go as high as 2,000 percent. In fact, there are more payday loan stores in the state than there are Starbucks and McDonalds combined.
In all, the Give Missourians A Raise and Missourians For Responsible Lending, and their labor-community allies, collected over 350,000 signatures to qualify the two initiatives for the November ballot.
While both coalitions worked on a shoestring budget, the payday loan industry and the Missouri Restaurant Association – and their front groups – spent millions of dollars to stop registered voters' voices from being heard.
Additionally, earlier in the year as volunteers were collecting signatures to qualify the initiatives, opponents allegedly lied to voters, intimidated signature gathering volunteers and stole 5,000 signatures out of a Springfield volunteer's car.
"This goes beyond the church walls," Father Creason added. "It goes down the street and around the corner to touch real people, real lives."
"We live in an environment where democracy is for sale," Father Creason concluded.
Ella Giges, a nurse who volunteered on the campaign and collected over 300 signatures, couldn't agree more.
She told the People's World, "This pisses me off. It makes me mad. It is totally and completely wrong."
She added that the current minimum wage "forces people to go to the payday loan stores." Also, "If people have money in their pockets, if they were paid more, they wouldn't have to go to the payday loan places."
Missourians For Responsible Lending and Give Missourians A Raise announced Sept. 3 that they were dropping their legal challenge to place the initiatives on the November ballot. The groups had argued that a significant number of signatures were improperly invalidated and filed a lawsuit challenging the ruling.
"We are sad to report that the payday loan industry and minimum wage opponents' unprecedented legal challenges effectively disenfranchised thousands of Missourians," Rev. Martin Rafanan, a leader in the campaign and executive director of Gateway 180-Homelessness Reversed, said.
"It is another example of big monied corporate interests displacing the people's interests in the democratic process."
Photo: Tony Pecinovsky/PW