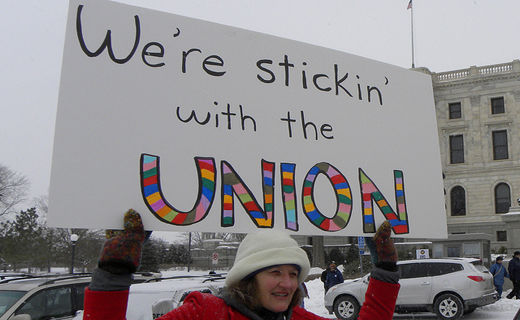 ORLANDO – U.S. workers' wages rise when U.S. unions thrive, the temporary top man at the U.S. Labor Department, acting Secretary Seth Harris, says.
Harris made the remark Feb. 22 to the executive board of the AFL-CIO Maritime Trades Department. The board met in Orlando, Fla., just before the federation's full Executive Council convened there. Harris did not address the full council.
Harris succeeded Labor Secretary Hilda Solis, who resigned in early January and returned home to Los Angeles. President Obama has yet to nominate a permanent successor to head the agency.
The executive council praised Solis' service in a Feb. 27 statement, saying "she always put the values of working families at the center of everything she did." It called her "a leading voice in the administration for the idea that a strong middle class depends on a strong and independent trade union movement." Harris, in his remarks, agreed.
"Any strategy that talks about American workers' wages must begin with every worker's right to organize and bargain collectively," Harris said, according to excerpts posted on the Maritime Trades website.
"It's very simple: Unions raise wages. Unions assure workers have pensions. Unions win workers health insurance. Unions give workers a voice in their workplace. Unions guarantee fairness and fight discrimination. Unions win paid leave for workers when they're sick or must care for their family members. Unions are a central pillar of the American middle class."
Harris said his former experience as a field representative for the Seafarers and the Maritime Trades Department inspired his continued commitment – which he has brought to the Obama administration – to workers.
"That is the simple idea that American families should be able to get good jobs; they should be paid a living wage; they should have a voice in their workplaces; they should arrive home safe and healthy after the job is done." Obama, he said, agrees the economy must be strengthened "from the middle out." That means attracting high-paying jobs, making sure "hard work leads to a decent living wage" and rewarding firms that create jobs here while penalizing off shoring, he said.
Photo: Flickr