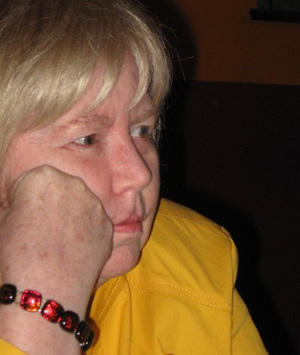 Caroli Mullen, a life-long activist for peace and civil rights, died March 8 in Baltimore after a two-year bout with cancer.
Born in Bethlehem, Penn., in 1942, Caroli's family moved to New York State and later settled in Palo Alto, Calif.
As a youngster, Caroli was "always the organizer," according to her sister, Nancy Siegel. Caroli created a "Tom Sawyer Detective Club" at seven, and in 10th grade she challenged her high school dress code by wearing sandals to school … and won!
Together with singer-activist Joan Baez, she organized the "Palo Alto Youth for Peace" with the aim of banning nuclear weapons. At 16, she traveled to Wyoming to protest a nuclear test site. When the House Un-American Activities Committee (HUAC) held a hearing in San Francisco to investigate "communist influences" in the peace movement, Mullen was among scores of young people arrested for protesting at City Hall, when police used water hoses to clear the hallways.
That arrest caused Mullen to lose a paid scholarship to San Francisco State University.
In college, Mullen joined the WEB DuBois Clubs USA, a youth group affiliated with the Communist Party. Former People's World editor Tim Wheeler remembers her from 1967 when she served as an intern for the Daily Worker newspaper. "Caroli was like a breath of fresh air, full of life and fight back."
Mullen was a delegate to a World Festival of Youth and Students. While working on her advanced degree abroad, she met Les Roth in London, who was to become her companion and husband of over 40 years. At the time Roth was office manager in the London office of the Communist Party.
Roth described his wife as a free spirit and anti-authoritarian by nature, unafraid to take on unpopular causes and leadership — even leadership within the movement — and rankled more than a few feathers. In 1973, she helped establish and contributed to a British Marxist women's liberation magazine called the "Red Rag," reader supported and produced entirely by women.
Mullen and Roth moved to San Francisco in the 1970s and settled in Maryland in 1987. She was an environmentalist and an active member of the Sierra Club of Maryland. In 2009, she was instrumental in facilitating a coalition of health care reform advocates for a large "public option" rally at the historic Senator Theater in northeast Baltimore. In 2010, she was an outspoken voice in the coalition protesting the building of a Walmart store in the Remington community of north-central Baltimore.
Mullen worked as a policy analyst at the Centers for Medicare & Medicaid Services, a government agency, until her retirement.
At the time of her death she was a member of the Northeast Baltimore Club of the Maryland Communist Party. She rejoined the party a number of years ago after leaving in the 1990s, as a supporter of the Committees of Correspondence.
A memorial service will be held on Sat., April 13, 12 p.m., at Baltimore's Sharp Hall, the Annex to Govans Presbyterian Church on 5826 York Road. A luncheon will follow the memorial.
Photo: Caroli Mullen