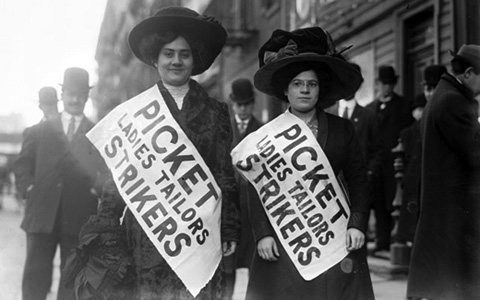 NEW YORK — "Activist New York" is now on exhibit at the Museum of the City of New York. It is a most see for anyone who is interested in the history of this great city, or of the U.S. in general.
It explores the "drama of social activism" in New York City from the 17th century up to the present.
"In a town renowned for its in-your-face persona, citizens of the city have banded together on issues as diverse as historic preservation, civil rights, wages, sexual orientation, and religious freedom," the exhibit's preparers note. "'Activist New York' presents the passions and conflicts that underlie the city's history of agitation".
The exhibit is especially of interest to labor history students and teachers. You follow the rise of labor unions through visuals and written word – including the dockworkers who fought for fair hiring practices, the right to organize gained through the Wagner Act of 1935 and much more.
The Triangle Shirtwaist Fire of 1911 is documented along with other major incidents that brought about labor reforms.
A section on the housing movement captures the dire conditions families lived in until reformers and some in the city government addressed the problem. The movement was started because of the mass immigration around the turn of the 20th century. Most of their housing was not adequate for such occupation and created unsanitary conditions.
There is a wonderful section on the New Deal's Federal Theatre Project. A sampling of plays that were produced includes "Waiting for Lefty," Shakespeare's "As You Like It," "The Cradle Will Rock." Some of our greatest playwrights came out of the Federal Theatre Project: Clifford Odets, Arthur Miller, Orson Welles, John Houseman, Martin Ritt, Joseph Losey and Marc Blitzstein.
The FTP was established in 1935. Sponsored by the Works Progress Administration (WPA), it was a national theater program that employed thousands of unemployed artists in a very short amount of time.
The exhibit touches on the demise of some of the nation's most class-conscious endeavors due to the Cold War that produced the blacklist.
In "Activist New York" there is something for everyone who is interested in New York City's history and American history. It is an exploration of political movements as diverse as abolitionism, women's suffrage and civil rights, right up to the city's debate over bike lanes.
There is no ending date for this exhibit; it will be ongoing for the next few months. Catch it while you can.
Photo: Strike pickets, February 5, 1910.