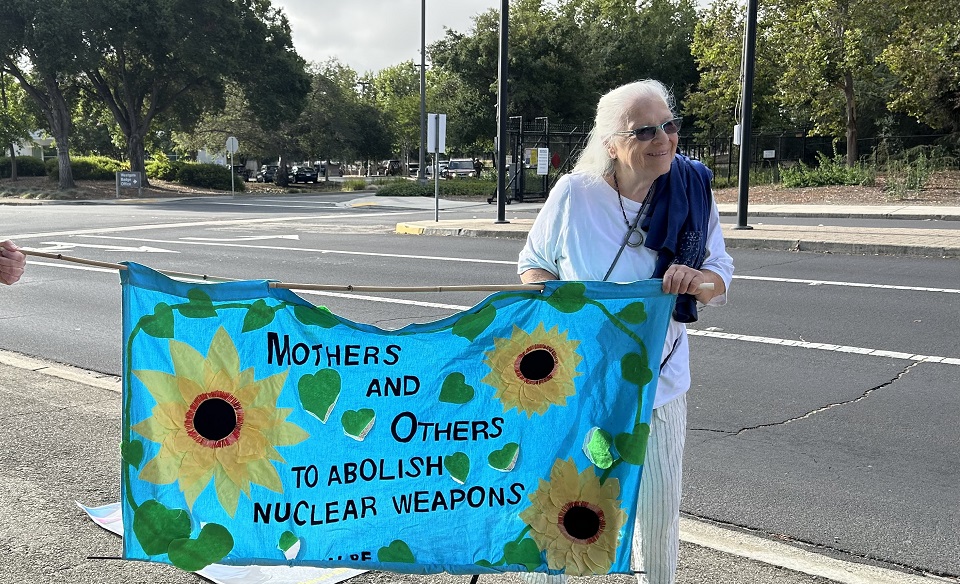 "What we have here is not a system that is safe depending on who runs it.
We have, in fact, a maniacal system of threatening nuclear weapons and supporting those threats by maintaining thousands of nuclear warheads, enough to cause nuclear winter, and a readiness to use them within minutes."
Daniel Ellsberg, addressing rally and commemoration at Lawrence Livermore National Laboratory, August 9, 2016
"This is not a species to be trusted with nuclear weapons. There has never been a leader of Russia or a leader of the U.S. or other nuclear countries whose judgment should be trusted to preserve prudently and safely this standoff between doomsday machines that may go off at any crisis – in particular, any false alarm, any kind of armed conflict of the kind that still is contemplated, and against which both sides have warned and promised and readied themselves to initiate nuclear war …
That must change if we care as a species for prolonging this experiment of life on earth and human life on earth.
We must reverse this process by protests and legal means, constitutional means and every other, to take this out of the hands of the leaders who have put us here in this position at last, and act for our species' survival."
Daniel Ellsberg, addressing the virtual rally and commemoration, August 6, 2020 
LIVERMORE, Calif. – Every year for decades, on the anniversaries of the U.S. atomic bombings of the Japanese cities of Hiroshima and Nagasaki, Aug. 6 and 9, 1945, anti-nuclear weapons activists in the San Francisco Bay Area have remembered the hundreds of thousands who died in those attacks and rallied for the abolition of nuclear arms. Usually, protesters have rallied, marched, engaged in die-ins, and risked arrest at Lawrence Livermore National Laboratory, one of two national laboratories designing every warhead and bomb in the U.S. nuclear arsenal. In COVID times, actions have been virtual.
This year, activists again gathered in person at the Lab, but the program was different. They not only carried forward their campaign to end the only weapon that could effectively wipe out life on Earth, but they also gathered to remember and honor longtime Bay Area resident Daniel Ellsberg, who had marched, spoken, participated in die-ins, and subjected himself to arrest there most years in recent decades. Daniel Ellsberg passed away from pancreatic cancer on June 16.
Ellsberg, once a Rand Corp. analyst and Defense Department consultant, is widely known as the whistleblower who released the Pentagon Papers, helping to end the Vietnam War. He also devoted decades to campaigning for the total abolition of nuclear weapons. His autobiography, published in 2018, is entitled, The Doomsday Machine: Confessions of a Nuclear War Planner.
As participants gathered in a circle around a giant poster depicting Ellsberg and his wife Patricia Ellsberg participating in a die-in at Livermore Lab's West Gate on their wedding anniversary in 2016, Marylia Kelley, Senior Advisor at Tri-Valley Communities Against a Radioactive Environment (Tri-Valley CAREs), which monitors the Lab, told them, "We're bringing Dan with us today, our dear, dear friend, who spoke at this event for many years. We're bringing Dan in our hearts and we're bringing Dan as much as we can into our circle today."
Patricia Ellsberg shared that in the months before he passed, her husband had told her, "My real tribe is people who put their bodies on the line." Looking around the gathering, she said, "That's just about everyone here. That's a wonderful tribe and we're together with him now."
Though it's hard to work on the nuclear issue, she added, "There could be no more meaningful work in the world, and our being here together, Dan would be so happy, and he would be hugging everyone."
Chanting "Dan, Presente!" participants showered the giant poster with their flowers before unfurling banners proclaiming Nuclear Weapons are Illegal, and lining the side of the road for a silent vigil. Later they viewed the inaugural screening of a 90-minute video now publicly available on YouTube: Dismantle the Doomsday Machine: Abolish Nuclear Weapons at Livermore Lab and Globally, which features excerpts from Ellsberg's presentations at August actions focused on Livermore Lab between 2016 and 2022.
Enormous military budget
In a May 26 blog post on Tri-Valley CAREs' website, Marylia Kelley noted that President Biden's Fiscal Year 2024 budget request for military programs at the Pentagon and the Department of Energy totals $886 billion and that Congress is expected to press for even higher military expenditures. Livermore Lab's budget reflects this trend. Kelley pointed out that some 84% of Livermore Lab's more than $2.3 billion budget request is earmarked for nuclear weapons activities.
These activities include the development of a new warhead, the W80-4, intended for a Long Range Standoff Weapon so pilots can conduct sneak attacks on targets thousands of miles away. Another new warhead, the W80-1 – the first to use 100% new components since the end of the U.S.-USSR Cold War – is intended for a new intercontinental ballistic missile, the Sentinel.
Asked in an interview what People's World/Mundo Popular readers can do to fight back against the growing threat posed by nuclear weapons, Tri-Valley CAREs Executive Director Scott Yundt highlighted a measure currently before the U.S. House of Representatives.
House Resolution 77, introduced in January by U.S. Rep. James McGovern, D-MA, calls on the United States to implement the provisions of the Treaty on the Prohibition of Nuclear Weapons (TPNW).
The TPNW, negotiated by over 130 countries at the United Nations in 2017, entered into force in January 2021 after over 50 states had ratified it. By January 2023, 92 countries had signed the treaty and 68 had ratified it. However, all current nuclear weapons states, and many NATO members, oppose the treaty.
The "ban treaty" bars the states party to it from developing, testing, producing, manufacturing, transferring, possessing, stockpiling, using, or threatening to use nuclear weapons, letting them be stationed on their territory, or helping, encouraging, or pressing anyone to do so.
McGovern's H. Res. 77, Embracing the Goals and Provisions of the Treaty on the Prohibition of Nuclear Weapons, calls on the president, members of the administration, and the U.S. people "to lead a global effort to move the world back from the nuclear brink" by actively pursuing new arms control and disarmament agreements with Russia, China, and other nuclear-armed states, renouncing the first-use option, ending the president's sole authority to authorize a nuclear attack, taking U.S. nukes off hair-trigger alert and canceling modernization programs. The resolution currently has 36 cosponsors in the House of Representatives.
"This bill, while it is aspirational in its goals, is something that would really benefit from additional support by other members of Congress," Yundt said. "In addition, if one of those 36 cosponsoring members is the reader's representative, I would urge their constituents to thank them, to show that there is interest in this bill.
"It would be wonderful for this bill to be discussed on the floor of the House. It's an open bill, it's got momentum – let's get more cosponsors, more eyes on it, and more support."
Yundt also urged readers to examine ways they can use their skills, abilities, and available time to further the work of peace and disarmament groups active in their communities: "The most important thing is for people to do something," participating in and helping support local peace and disarmament groups, getting involved in protests where nuclear weapons are developed, produced and stored and where nuclear waste is processed and stored.
In another conversation, Grace Morizawa of Asian Americans for Peace and Justice emphasized environmental issues posed by the development and production of nuclear arms: "Nothing annihilates the planet like a nuclear weapon!
Morizawa pointed out that nuclear weapons testing has caused enormous environmental harm to Asian communities in broad areas of the Pacific Ocean including the Marshall Islands and Tahiti, as well as to "downwinders" in communities near U.S. nuclear test sites. Besides well-publicized sites of pollution like the area around Hanford, Wash. and the Nevada Test Site north of Las Vegas, a broad range of communities in the U.S. continue to experience far-reaching consequences of nuclear weapons activities, including soaring cancer rates.
In addition to Tri-Valley CAREs and Asian Americans for Peace and Justice, groups planning the Aug. 4 vigil and tribute to Daniel Ellsberg were Bay Area Physicians for Social Responsibility, Ecumenical Peace Institute, Livermore Conversion Project, No Nukes Action Committee, Western States Legal Foundation, and Women's International League for Peace and Freedom.
We hope you appreciated this article. At 

People's World

, we believe news and information should be free and accessible to all, but we need your help. Our journalism is free of corporate influence and paywalls because we are totally reader-supported. Only you, our readers and supporters, make this possible. If you enjoy reading 

People's World

 and the stories we bring you, please 

support our work by donating or becoming a monthly sustainer today

. Thank you!