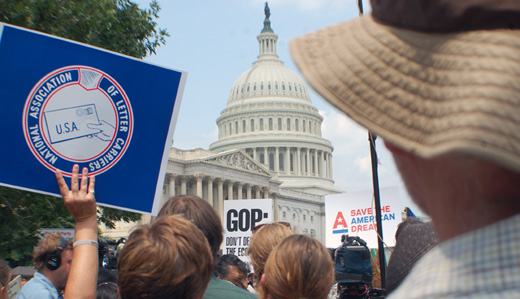 WASHINGTON – Thousands of activists representing hundreds of national and local groups across the country are meeting here Oct. 3-5 at the Washington Hilton during the Take Back the American Dream conference. Participants are discussing an action plan to revive the American dream, to clean up corrupt politics and rebuild an economy that works for working people.
The wave of nationwide protests mounting against Wall Street, now in over 70 cities, was the first item on the conference's agenda Monday morning. Demonstrators nationwide are non-violently occupying the corporate and big bank centers in their cities, demanding Wall Street be held accountable for causing the current recession. The protests originally began in New York City. They have gained the support of elected officials, unions, progressive and civil rights leaders and tens of thousands of ordinary citizens.
Conference organizers say the aim of the meeting is to build an independent and broad people's movement willing to challenge the reign of private and corporate interests. When the people rise up on all fronts, we will win, and that is what the American dream movement is all about, they say.
Robert Borosage, co-director with Campaign for America's Future said people are in motion to revive what Franklin D. Roosevelt led during the Great Depression, and what Rev. Martin Luther King Jr. spoke about during the civil rights movement and his march on Washington.
The pockets of the rich continue to grow fuller, said Borosage, even as millions are reaching extreme levels of poverty. Our opponents want to dismantle health care, take away workers' right to organize, and raise the taxes on the poor, he said.
"Three decades of our politics have been dominated by the corporate elite and public policy has been entrenched by corporate interests," said Borosage. "But we fought back. We built a movement to challenge the wars overseas, we saved Social Security, demanded green jobs, took back Congress in 2006, and came together for hope and change and elected Obama in 2008."
He continued, "We are on the move and its time to turn up the heat. We want jobs, not cuts. We are not going to give up. We know together we can win. There are great obstacles ahead, but we will turn this country around and make this economy work for working families."
Congresswoman Donna Edwards, D-MD, spoke at the conference and pointed out the injustice and inequities between the rich and poor.
"The wealthiest Americans have a responsibility because they gained their wealth on the backs of average working families," she said. She mentioned the 16.4 million children living in poverty and the 46.2 million Americans living in poverty, which is now the highest in 52 years.
Edwards stressed the importance of re-electing Obama in 2012.
"We know where the battle grounds are," she said. "The plan is that we go out there and we work harder than we have ever worked before because what's at stake is a whole generation ahead of us. We need a new Franklin D. Roosevelt moment. So let's make it known on every street corner that we are standing up for working people and we're not going to remain silent while the top 2 wealthiest percent walk away with the American dream."
Co-founder and President Van Jones of Rebuild the Dream said it's "been a tough couple of years," since the election of Obama for the progressive movement. "We went from hope to heartbreak real quick," he said. "We thought that by electing Obama, we could just sit back and watch. We went from having a movement to watching a movie."
The extreme elements of the GOP including the tea party continue to dominate the debate, he said.
"We have too much experience not to believe in the power, the beauty and the genius of the people," he said.
Despite the setbacks, Jones' outlook was optimistic.
"I think we can take this whole thing back and do it bigger and better than we did in 2008."
But our movement needs to be portable, positive, patriotic and principled, he said
Jones emphasized the importance of broad unity. He invited over 20 conference participants to the stage. They were young and veteran activists, Black, Latino, white and others. And in a tremendous display of unity each leader one by one pledged to the audience to work together in reclaiming the American dream. Group leaders represented the United States Student Association, Jobs with Justice, National Gay and Lesbian Task Force, New Bottom Line, Center for Community Change, Opportunity Agenda, New Organizing Institute, Energy Action Coalition, Leadership Conference on Civil and Human Rights, American Federation of Government Employees, Sierra Club, Campus Progress, Progressive Majority, People for the American Way, Hip Hop Caucus, AFL-CIO, Change to Win, Democracy for America, Progress Now, National Committee to Preserve Social Security and Medicare, Working Families Party, Rebuild the Dream, SEIU, Peace Action, Move On, and the Campaign for America's Future.
Summing up Jones concluded when the people are united than taking back the American dream is ours for the taking. "It's our turn now," he said.
Photo: Your LinkCreative Commons 2.0