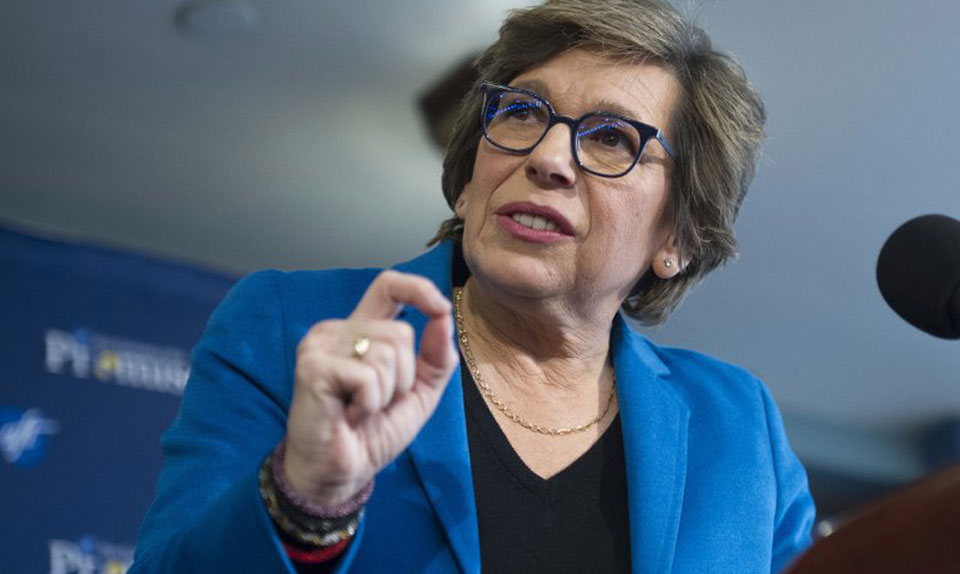 WASHINGTON —With school underway amidst continuing teacher, parent, and student concern about the coronavirus pandemic, Teachers (AFT) President Randi Weingarten says governors who ban staff and kids from wearing anti-virus masks make schools unsafe.
And while Weingarten didn't name names in her mid-September statement, entitled "Schools must be safe, welcoming—and open," the presidents of AFT state affiliates in the two biggest "culprit" states, Texas and Florida, did.
In both states, right-wing GOP Govs. Greg Abbott and Ron DeSantis have vocally taken the lead against masks in schools. Echoing Trumpite rhetoric, they declare mask mandates "infringe on individual liberty." DeSantis has even gone so far as to threaten to yank state aid from Florida districts that defy his edict. Several sued to stop it, and it's on hold in the courts.
The governors' edicts also caught the feds' attention. The Education Department's Office of Civil Rights sent formal letters to both states on Sept. 21. The office is opening an investigation of if Florida's and Texas's masks-in-schools bans violates civil rights of disabled students, who are among the most vulnerable to the coronavirus, by exposing them to it.
The issue of masks in schools is part of the wider ideological conflict, fueled by former GOP White House occupant Donald Trump, acolytes such as DeSantis, Abbott, and Trump's right-wing hordes of followers. By catering to Trump's ideological army, DeSantis and Abbott are also viewed as potential 2024 Republican presidential contenders.
Anti-mask and anti-mandate GOP officials and their legions have bounced between several reactions to the coronavirus. Now, they defy federal recommendations for simple anti-coronavirus measures, such as masks, physical distancing, and especially vaccinations.
Such defiance puts kids at risk, Weingarten said. As of Sept. 22, the virus has killed 678,517 people.
"This is a moment to build safe and welcoming environments in every school so we can help kids not only recover from the disruptions of the past 18 months but thrive," she said after returning from a nationwide tour—including in Dallas—to talk with teachers, parents, and kids about AFT's $5 million program to help schools cope with the virus. Dallas is defying Abbott.
"The places doing this most successfully are where educators and school leaders are working together, creating trust and transparency. Conversely, governors trying to score ideological points by banning mask mandates and bullying school leaders for implementing safety protocols are stoking hostile and unsafe climates," Weingarten declared.
"You see it in the disruptions and violence at schools and school board meetings over health and safety measures as well as curriculum. At its core, the recent attempt to recall California Gov. Gavin Newsom was a referendum on precautions against the coronavirus, and voters chose safety." The recall lost by more than 20 percentage points in the nation's most populous state. Texas is #2 and Florida is #3.
"Safety protocols are not barriers to in-person learning," Weingarten contends. "They are the way back. Schools have no higher priority than protecting the lives of students and staff."
Even as AFT first demanded school districts bargain with their AFT locals over reopening safely, or not, it "consistently advocated" layered anti-viral measures, said Weingarten. They included masks, physical distancing, contact tracing and testing, and especially vaccination. Some 90% of AFT-represented teachers and staffers are fully vaccinated.
The union also lobbied for better ventilation in the nation's schools, especially its older buildings. AFT and the other big teachers union, the National Education Association, won millions of federal dollars committed to that cause in laws providing anti-virus local aid.
While Weingarten spoke in general terms against gubernatorial ideologues who oppose masking, distancing and other anti-virus measures, Texas Federation of Teachers President Zeph Capo and Education Florida President Andrew Spar called Abbott and DeSantis on the carpet by name—before Weingarten spoke. Spar's union is Florida's joint AFT-NEA affiliate.
"While vaccinations provided a foundation for safe returns to school, we still aren't at a point when kids under 12 can be vaccinated, so it is unconscionable for the governor to make the decision" this past May banning masks this school year, Capo said. Abbott's "verdict takes a blanket approach to addressing what is still extremely dangerous for some Texans—a return to school unmasked."
Centers for Disease Control "guidance still states all students and staff should wear masks. Abbott shouldn't confuse the situation and ignore science unless guidelines change."
Spar launched a similar protest against DeSantis's anti-mask mandate—and his threat to yank state cash from schools that didn't conform—on July 30.
"In a state as large and diverse as Florida, decisions on health and safety will not come in one-size-fits-all solutions. That is why it is important for the will of the people, as expressed by their locally elected officials, to determine decisions regarding health and safety in schools.
"Unfortunately, through his words and actions, Gov. DeSantis has made clear he does not respect the freedom of locally elected officials to do what they feel is best for their communities, based on input from parents, school employees, the available Covid data, and guidance from the medical community" and the CDC, Spar added.
"Telling locally elected officials they cannot enforce recommendations from the American Academy of Pediatrics, Gov. DeSantis continues to think Tallahassee knows best what all Floridians need. We reject that kind of thinking," Spar said. "Allow all Florida's citizens to have a voice by empowering the elected leaders of cities, counties, and school districts to make health and safety decisions locally based on their unique needs and circumstances."