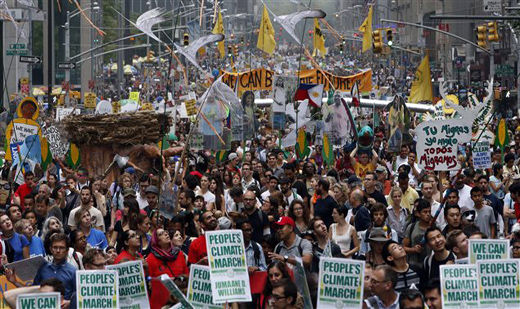 NEW YORK – Hundreds of labor, climate, and community activists met at District Council 37, March 16, to transform the passion of last year's People's Climate March into a movement aimed at pushing for legislation that combats climate change and promotes environmental justice.
The event – "Our City, Our Climate: A Forum on NYC Climate and Environmental Legislation" – was organized by the People's Climate Movement-NY as a follow-up to the 2014 March when hundreds of thousands flooded New York streets demanding government action to avert the climate crisis. Subsequently, bills related to reducing fossil fuel emissions, resiliency and adaptation and more have been introduced in the City Council.
After a warm welcome from DC 37 Assistant Associate Director Jahmila Joseph, attendees got a status report on City Council initiatives and instructions on how to push for their passage from Donovan Richards, chair of the Council's Environmental Committee and Legislative Counsel Samara Swanston. NYS Nurses Association President Judy Sheridan-Gonzalez, Community Garden Coalition's Ray Figueroa and Environmental Justice Alliance's Eddie Bautista described how tackling the issue benefits the issues impact on workers, families and communities.
With Cyclone Pam's recent devastation of the South Pacific island nation of Vanuatu providing a dramatic reminder of the perils of ignoring climate change, a visit from that country's UN Ambassador Odo Tevi and former Ambassador R. Van Lierop was particularly poignant.
Prior to the forum, PCM-NY and Moral Mondays held a demonstration at 250 Broadway to focus of the moral need for action on climate change.
"Climate Change is both a moral issue and a labor issue. First, it's a labor issue because the working men and women we represent are often on the frontlines protecting and providing services to those whose lives have been turned upside down by devastating climate events. Secondly, it's a labor issue because many of the initiatives designed to combat the negative effects of climate change can mean new and better jobs for all," said Jon Foster, chair of DC 37 Climate Change Committee.
"Equally important is the fact that the issue of environmental justice is critical to our rank and file members and we, as labor, must fight the good fight," he added.
Leslie Cagan, one of the coordinators of the 2014 People's Climate March, moderated the panel. "Like Superstorm Sandy whose scars are still evident in parts of New York City, the monster cyclone that smashed into the tiny South Pacific island nation of Vanuatu a few days ago is a painful reminder that climate change is a reality that we simply cannot ignore," she stated.
While organizers stressed their support of efforts of NY Mayor Bill de Blasio and the City Council to combat climate change, at the same time they emphasized that there is much more to do.
U.S. labor organizations have been increasingly educating and mobilizing their members and building coalitions on, what many call, the most pressing issue for humanity.
Below is a five-minute video showing why unions and their allies are coming together to champion a Resist, Reclaim, Restructure approach to energy transition based on social ownership and democratic control. (Article continues after video.)
With alternative energy sources becoming more feasible, "green" jobs, too, are seen as part of the solution to shifting the economy from fossil fuels to clean energy. USA TODAY reports that the Obama administration is setting higher goals for wind power, saying it could supply 35 percent of the nation's electricity by the year 2050.
Wind power currently generates 4.5 percent of electricity, but that number is expected to more than double to 10 percent by 2020, says a report obtained by USA TODAY that will be released Thursday by the U.S. Department of Energy.
"Wind energy continues to be one of America's best choices for low-cost, zero-pollution renewable energy, and in an increasing number of markets, may be the cheapest source of new energy available," says a summary of the report by the Obama administration.
The new report – titled "Wind Vision: A New Era of Wind Power in the United States" – replaces a 2008 document produced during the George W. Bush administration called "20% Wind Energy by 2030."
Photo: People's Climate March. | Jason DeCrow/AP