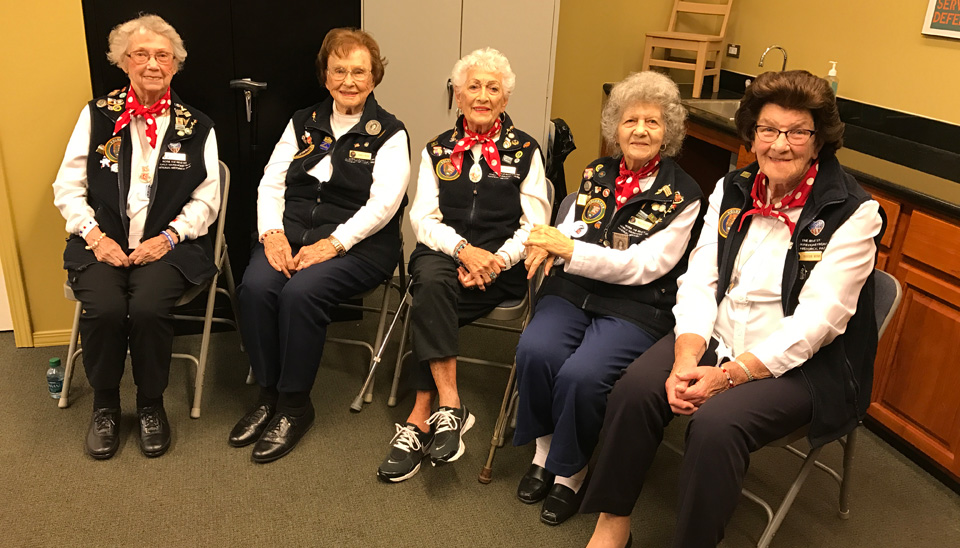 RICHMOND, Calif. — This quintessentially working-class town has made the news in recent years for electorally beating back the vested interests of polluting Big Oil.
But this town has an older history that contributed mightily to winning World War II. During the great global push against fascism and for democracy that the U.S. joined after the attack on Pearl Harbor, the government commissioned over 3200 Liberty and Victory ships for military and cargo use. More than any other shipbuilding yard in the country, the Kaiser works here sent as many as 747 ships out to sea.
With so many young men in the service, the call went out for women to join the workforce, and they streamed in from across the country. "Please come," Priscilla Elder, now 96, heard in her home state of Iowa, "they need women badly." That's how she got to Richmond, alongside thousands of other women, soon dubbed "Rosie the Riveters" after a contemporary song recorded by The Four Vagabonds (check it out!).
Every Friday, visitors to the Rosie the Riveter World War II Home Front National Historical Park in Richmond have the opportunity, as I did last week, to meet with some of the original Rosies, now all in their nineties, who are proud to share their riveting stories. As Catherine (Kay) Morrison said of her defense work as a journeyman welder, "We can help our country and ourselves at the same time." At a time when the minimum wage was 25 cents an hour, Morrison earned $1.38 with her American Bureau of Shipping certificate qualifying her for flat, vertical and overhead welding. After the war was over, the savings these women set aside helped them purchase a first home or a small plot of land for themselves and their growing families.
Before the war, Richmond, population 23,000, was a quiet little town with two prominent features: It was the terminus for several rail lines, and it had a deepwater harbor. Within two years it expanded to 130,000 to accommodate the "home front heroes." Some found housing in trailer parks, many slept in their cars and trucks, or even outdoors under cardboard and tarps, and others shared beds in revolving shifts. Businesses were open 24 hours a day so workers could do their shopping. Factories offered round the clock childcare.
Agnes Moore, who turns 97 this month, described how she came to Richmond. She heard about good jobs for welders on the radio, not even knowing what a welder did. Off she went to the hiring hall in Richmond dressed in her finest black suit, matching high-heeled pumps, gloves and veiled hat. The receptionist looked her over and suggested Agnes take an office job, but Agnes insisted she wanted to be a welder, like she heard on the radio.
In a quick transformation Agnes started donning heavy cowhide leathers — asbestos-lined jacket, bib, overalls, gloves to the elbows — steel-toed boots, and a welder's cap and hood. "You had to learn how to hold your head so it wouldn't fall off." Underneath the hood women wore their famous bandannas to hold back their shoulder-length hair.
"With all that heavy clothing on," Marian Sousa told us, "other welders didn't even know if you were a man or a woman." Yet the women observed that you could tell a woman's welding job from a man's: "It was like creating an embroidery in metal."
"It was smoky, dirty, dusty work," Agnes recalled, "but I was happy to be doing it because I wanted us to win the war and bring the boys home, so I didn't complain." She was one of those "ordinary people who did extraordinary things," as so much popular culture of the time, such as Aaron Copland's well known Fanfare for the Common Man, liked to express.
A new ship rolled out of the yard every 30 days, the speed owing largely to prefabricated technology. Workers didn't even bother to attend the launching ceremonies, they were so commonplace. The Robert E. Perry famously was built in four days. Whirley cranes lifted prefab pieces into place and the welders expertly joined their seams together. Richmond became "the city that won the Purple Heart."
Kay Morrison said that at first, in February of 1942, when she entered the shipyards, she saw signs reading "No women or blacks wanted," but that changed very soon as the demand for labor exploded. When she showed up to apply for work, a supervisor asked her, "Do you belong to a union?" Kay barely knew what a union was and was unsure what to answer. Before she could speak, the hiring agent said, "Don't worry, we can hire you and then you can join the union." The Boilermakers Union was the principal union for shipyard workers.
During the war, in the interest of unity, wages were equal for men and women, and the Richmond workforce soon included African Americans, Native Americans, Chinese and Filipinos, as well as whites. A third of the Kaiser Shipyards workforce were women.
After the war, women were encouraged to give up their manufacturing jobs for the returning servicemen, and keep a tidy, happy home for them and the Baby Boom children that started coming. But not all women responded to that call. Some had formed close friendships with other women. Many social historians cite these wartime experiences as liberating, and in fact the Rosie the Riveter National Park featured a number of expository panels concerning the influence of war production on the emerging postwar gay and lesbian consciousness.
For many women, the skills they acquired led to future careers or at the very least a powerful self-confidence they might never have achieved. "From that point on, I thought," said a woman in the 15-minute documentary film shown at the park about the Rosies, "I can do anything I want to do."
But mostly, the Rosies were forgotten. "We stepped out of traditional roles and created new ones," Marian Sousa said. And then, "I thought I would drift through my life invisible to everybody." The revived feminist movement a generation later popularized the famous "We Can Do It!" image originally created as a weekly Westinghouse poster.
Marian's sister Phyllis made a point of writing to the president of the United States, starting with Bill Clinton, appealing to the government to recognize the contributions of the 20 million women who entered the workforce at home to win the war. Finally, the Rosies' plea was answered. Vice President Joe Biden and his wife Jill hosted a contingent of them at their home. He said, "This is the start of the real women's liberation movement." And at a White House reception, as shown on ABC News, President Obama made an appearance to greet them, not expecting their full-on, lip-kissing embraces.
Finally, Marian says, "My descendants will know I was somebody."
In recent years the National Park Service, this year celebrating its centennial, has begun a more in-depth examination of the national experience, highlighting some of our country's tragic history as well the scenic areas and battlegrounds for which it was once almost exclusively known. An excellent, informative website for the Rosie the Riveter World War II Home Front National Park, which is housed on what was once the thriving Kaiser shipbuilding yard, can be accessed here.