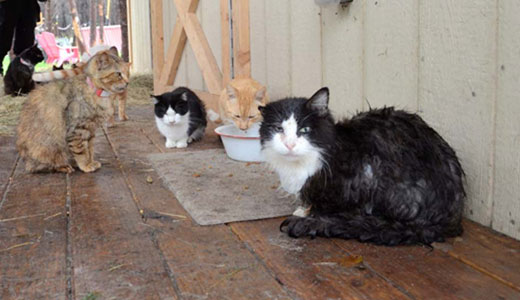 On August 11 and 12, the American Society for the Prevention of Cruelty to Animals will be hosting an adoption event in Jacksonville, Fla. The effort will help find safe homes for hundreds of cats rescued from the abusive conditions of the Caboodle Ranch, from which the ASPCA rescued them in February.
The animals had been living in what people were told was a 'cat sanctuary' – a nonprofit organization based in Lee, Fla. and owned and operated by Craig Grant. In addition to embezzling and misappropriating donations for personal use, Grant was held responsible for subjecting the cats to dirty, torturous conditions. Many of the animals had viruses and respiratory infections, and investigators with People for the Ethical Treatment of Animals found the bones and remains of other cats on Caboodle Ranch property.
The ASPCA and the Jacksonville Humane Society are currently seeking loving homes and responsible owners for the saved cats. Fees will reportedly be waived during the event, and all available cats will be micro-chipped and spayed/neutered.
This will mark the first time the cats will be put up for adoption after receiving five months of "group enrichment treatment, sheltering, and round-the-clock care" at the hands of animal welfare activists.
Meanwhile, separate adoption events will be held in Sarasota (hosted by the Cat Depot) and Tampa Bay (hosted by the Humane Society of Pinellas and SPCA Tampa Bay).
Photo: Cats from the shut-down Caboodle Ranch. The animals have since been rescued. Mike Bizelli/ASPCA & AP