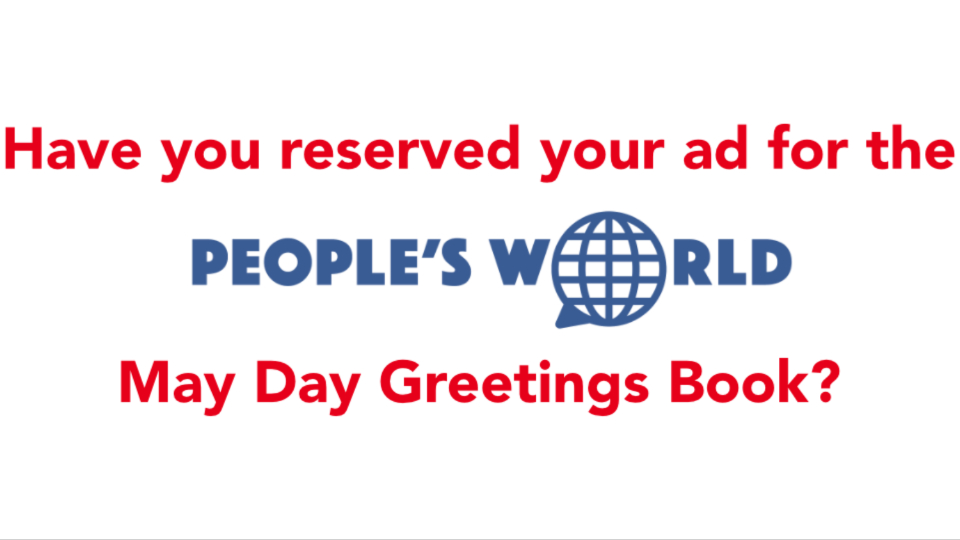 CHICAGO—Ads and artwork are filling the inbox at People's World for the upcoming May Day Greetings Book. Since the call for ads was issued last week, dozens of submissions have been received.
The book is a chance for unions, organizations, clubs, groups of friends, and individuals to mark International Workers Day by getting their message, greetings, and remembrances out to all our readers and supporters.
Some of those taking out ads are choosing to support the ongoing struggle for democracy and against racism. An activist in Virginia, for instance, bought a full-page ad honoring the "Tennessee Three," the lawmakers targeted by Republicans for daring to fight back against mass shootings and the profits of the gun manufacturers.
A group of Amazon workers collected funds to recognize their labor icon, William Z. Foster, author of the classic how-to organizing manual, American Trade Unionism.
Paul Robeson, whose 125th birthday is this month, will be featured in a full-page ad purchased by longtime People's World supporter Jarvis Tyner in New York.
In Chicago, members of the 22nd Ward Political Organization chipped in for an ad remembering Rudy Lozano, the city councilman and Latino community leader who was a key leader in the struggle for Black-Brown unity in the election of Mayor Harold Washington. Lozano was assassinated in 1983.
Elsewhere in Illinois, the Peoria Club of the Communist Party USA will give the spotlight to their hometown hero, Mark Clark. Before he was murdered by Chicago Police alongside Fred Hampton, Clark was a founder of the Black Panther Party and an organizer of the Panthers' free breakfast program.
Further north, in Michigan, folks are using their ad to assert their bragging rights for repealing right-to-work (for less)—the first state to do so in more than 60 years!
In another locale, the sons and daughters of a working-class couple are buying a spot in the May Day book to wish their mom and dad a happy 50th wedding anniversary.
Those are just a sampling of what's been submitted so far.
But what about you, dear reader? Where do you want your light to shine?
Here are some ideas: Remind the People's World community of your favorite historic figure—we're 160 years out from the birth of Mother Bloor. Celebrate a date in history—2023 is the 175th anniversary of the Communist Manifesto, for instance. Or celebrate workers and people in struggle in the U.S., Brazil, and other countries dealing a blow to right-wing MAGA-style extremism. Send your support to the people of France in their fight for retirement security. Congratulate Cuba for resisting U.S. imperialism and the 64-year-old Blockade. What inspires you?
This is a once-a-year opportunity to honor and celebrate what you value most this May Day.
Get your ad in now for the People's World May Day Greetings Book. You'll have the spotlight in front of all our readers while supporting the nation's best labor publication.
Here are the ad rates:

Full page (8 ½" X 11") = $250
Half page (8 ½" X 5 ½") = $150
Quarter page (4 ¼" X 5 ½") = $75
Eighth page (4 ¼" X 2 ¾") = $50
Sixteenth page (2 1/8" X 2 ¾") = $25
Name Listing = $10

HOW TO SUBMIT:

You can send text and graphics and our design team will create a beautiful ad for you. Or, you can send your camera-ready copy. Please submit your ad and information using the online form by April 21. Then, pay for your ad online at the People's World donate page. Your donation will be automatically credited as payment for your ad.

Or, if you prefer, mail a check payable to "People's World" to:

People's World May Day Ad Book
235 W. 23rd Street, 7th Floor
New York, NY 10011
The May Day Greetings Book will appear online, but hardcopies will also be available upon request.