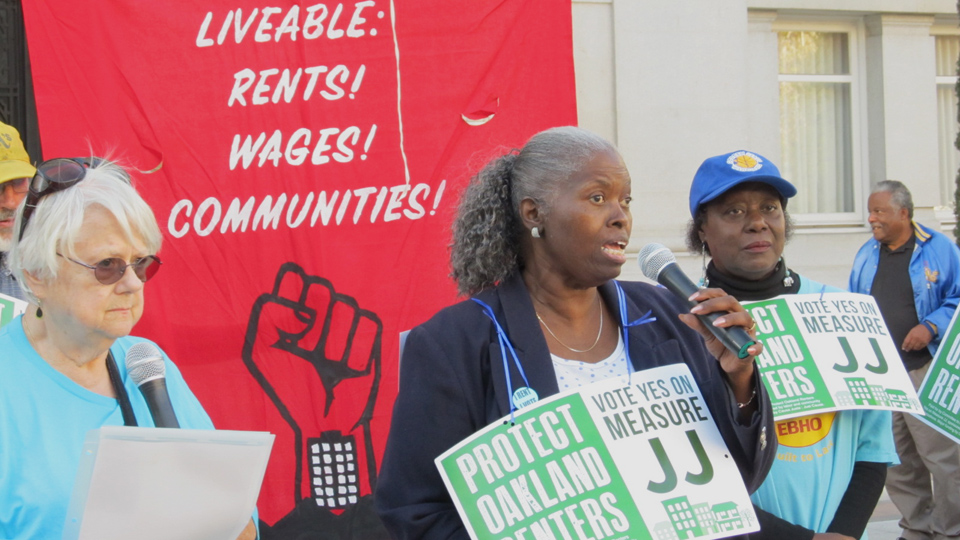 OAKLAND, Calif. – As Nov. 8 approaches, advocates for renters in the San Francisco Bay Area are urging voters to read all the way down their ballots to find local measures aimed at controlling soaring rents and protecting tenants from unfair evictions.
Such measures, and proposals to fund the building of more affordable housing, are before voters in communities including: Alameda, San Mateo and San Francisco counties, and in the cities of Richmond, Oakland, Alameda, Burlingame, San Mateo and Mountain View.
In Alameda and Mountain View, affordable housing advocates have placed competing initiatives on the ballot when they felt City Council-backed measures weren't adequate.
These proposals are fueled by the rapid rise of housing costs in the nine Bay Area counties. The average listed rent has soared by 66 percent since 2010, under pressure by the booming tech industry and an overall failure to build enough new housing. The result is massive displacement of low- and moderate-income renters from the area's core cities, with the pressures to leave longtime homes falling most heavily on people of color.
Measures A1 and JJ
Voters here in Oakland will have the chance to vote on two measures.
Alameda County Measure A1, a $580 million bond measure, would provide affordable local housing for low- and middle-income households, provide supportive housing for homeless people, and help low- and middle-income people buy homes and stay in their communities. It was placed on the ballot by the county Board of Supervisors, and requires a two-thirds majority to go into effect.
Oakland's Measure JJ, put on the ballot by the City Council, would require landlords to get the city's approval before raising rents beyond the cost-of-living adjustment allowed by city law. It would also extend just-cause eviction protection to buildings constructed before Jan. 1, 1996. Now only renters in buildings built before Oct. 14, 1980 have such protection.
Oakland renters gathered Oct. 4 in front of City Hall, to hear renters' rights advocates talk about the urgency of both measures to help keep large numbers of longtime residents from being forced from the community, or driven into homelessness.
Alameda County Supervisor Keith Carson told the crowd, "It's not affordable to live here any longer. It will take Measure JJ to fight for people who are renters, to make sure they are dealt with humanely and can stay in a place… The people being chased away are our teachers, janitors, hospital workers – people who work one and two jobs every single day and they can't afford to rent."
Carson said the Alameda County Measure will provide funds "to build housing where working-class people, everyday people, can afford to live." He said it is urgent that both measures pass, because they are "part of the puzzle that allows people to have a house, a place to rent, some place permanent to lay their heads, so they don't have to couch-surf every day."
Homecare worker Chen Yu Ying, speaking in Chinese, said she and her husband, who works at an Oakland grocery store, were forced from their one-bedroom apartment when the building was sold to a new landlord. "Now," she said, "We've moved to a tiny studio, and I know our story is the same as thousands of other renters in Oakland who are struggling to find affordable, quality places to live now."
Fredrika Robinson, who said she's been living with HIV for the last 22 years, told how she was selected from a pool of 5,000 applicants in 2014, to live in an affordable apartment specially set aside for people with HIV and AIDS. "So keep hope alive," she said. "I went through a lot, but there's a good God. And not only that, there's people-power. Vote for Measure A1 because we need it here."
Francine Williams, who heads the residents' council at Valdez Plaza, an affordable complex for seniors, emphasized that "Housing should not be a privilege, it ought to be a right."
Driving out people of color
Williams, who also serves on the Board of Directors of Satellite Affordable Housing Associates, called attention to the change that's taken place in Oakland's population in recent decades. Twenty-five or 30 years ago, she said, African Americans made up well over 40 percent of the city's population; now they make up less than 28 percent. "This is no accident, it is intentional," she said. "And another discrimination is at work as well: economic discrimination."
She also urged passage of Oakland's Measure JJ, which she said will allow more teeth to be put into the Renters Protection Ordinance, the Rent Control Board, and just cause eviction requirements.
Williams then introduced her neighbor across the street, Jeanne Robinson, recording secretary of the Westlake Christian Terrace resident council, who called on "all present to work their way down the ballot" to Measures A1 and JJ. Robinson warned that nearly 30 years ago, a measure similar to A1 failed to meet the two-thirds requirement by a mere 700 votes, adding, "How different the landscape would be now if that one had passed."
Both measures are endorsed by a long list of community and labor organizations and elected officials, including U.S. Rep. Barbara Lee, D-Oakland; Alliance of Californians for Community Empowerment; Alameda Labor Council; East Bay Housing Organizations; California Nurses Association; East Bay Asian Youth Center and many more.
Photo: Marilyn Bechtel | PW