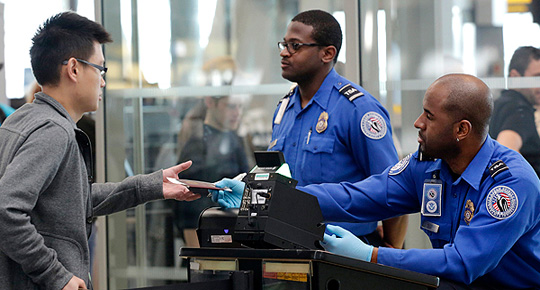 WASHINGTON – J. David Cox, Sr., the president of the American Federation of Government Employees, is charging that the Republicans' 2016 platform for federal workers would, if enacted, lead to "a spoils system staffed by those hired because of who they know, not what they can do."
The GOP plan advocates, among other things, elimination of the federal union for airport screeners, replacement of merit pay and reductions in federal pay and pension benefits.
And the GOP also wants to privatize Department of Veterans Affairs' health services, a proposal that veterans' organizations and AFGE, the union which represents the VA workers, overwhelmingly oppose.
Republican presidential nominee Donald Trump has had little to say about federal workers, other than to bash the VA and call for privatization there. By contrast, Democratic nominee Hillary Clinton, whom AFGE – which is virtually even in partisan political registration-and other unions strongly support, values federal workers and their labor, union leaders say.
"The platform advocates such profound changes to the terms of government employment that, if enacted, it would bring to end the merit-based, apolitical civil service system," Cox said after reading the labor and federal worker sections.
"Without constitutional due process rights and free unions to provide accountability and transparency to government employment, government employment would cease to be a professional civil service.
"What would ensue is quite predictable and occurs wherever there is an absence of the rule of law: A government staffed with cronies and political protectors that will fail to provide quality services to the American people. A spoils system staffed by those hired because who they know, not what they can do."
Cox pointed out that GOP claims federal workers are overpaid and have excellent benefits show its "ignorance and misrepresentation of the facts." He cited many presidential commissions reporting that federal pay lags private sector pay for the same jobs, by an average of 35 percent.
"And federal benefits only look generous when compared to the shameful practice of private employers who provide nothing or next to nothing for their employees in the way of pensions or insurance," he added. "Dragging a border patrol agent or a VA nursing assistant's living standards down even lower is despicable," said Cox, a retired VA psychiatric nurse.
Privatization and handing over government work to "profit-hungry contractors" is also a "guarantee of scandal," Cox said. That's what privatizers on a VA advisory commission advocate, he previously noted.
"Telling veterans to find their own care through a privatized insurance system is a disgraceful and outrageous abrogation of the promise our nation makes to those who have worn our nation's uniform," he stated.
Photo: The GOP platform calls for taking away the right of airport screeners to unionize. | AP