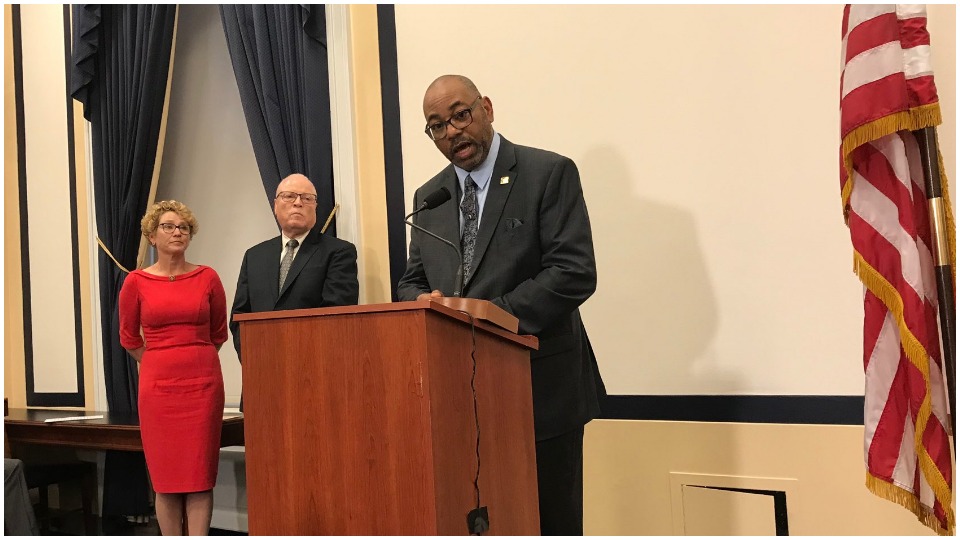 WASHINGTON—The Government Employees are saying their strong push led to creation of paid parental leave for all two million federal workers, a provision tucked into the final legislation for defense programs for the year that began Oct. 1.
"No federal employee should have to choose between a paycheck and meeting their family obligations because they currently have no paid parental leave. The benefits to children and families are enormous and long-lasting," AFGE Secretary-Treasurer Everett Kelley said in a statement.
Workers and their allies have pushed paid parental and family leave for virtually all workers for more than a decade, over business and Republican resistance. Since 2016, active military members have had paid parental leave only, but federal workers had no paid leave of any kind. Some 29% of private sector firms offer paid parental and family leave, AFGE says.
The paid leave provision would give all federal workers, not just defense civilian workers, 12 weeks of paid leave for birth, adoption, or foster placement of a child. But unlike other paid family and medical leave legislation pending before the Democratic-run House, the provision does not include paid medical leave for any reason, such as to care for yourself, your spouse, partner, or aging or ailing parents.
Still, AFGE hailed the win. It did not mention a tradeoff that gave GOP President Donald Trump a separate U.S. Space Force Command within the Air Force. That's similar to the status of the Marines within the U.S. Navy.
"AFGE has been fighting to provide all federal workers with paid family leave for decades, and the provision in this year's National Defense Authorization Act is a large step in the right direction for full family leave. The hard work by our members is finally beginning to pay off," said Kelley.
"This new paid benefit will help federal employees better balance their work and home lives, and it will give agencies a needed advantage when recruiting and retaining workers  to carry out critical missions on behalf of our country."
Kelley called the success for federal workers "a watershed moment that sets the stage for achieving the ultimate goal of providing all workers with paid family leave."
Congress voted to approve the measure, the National Defense Authorization Act, as part of its mad rush to adjourn before a scheduled recess from Dec. 19-Jan. 3. That mad rush included Dec. 18 House votes along party lines to impeach GOP President Donald Trump.
The end-of-session rush also included two money bills funding government agencies through next Sept. 30. Those bills had major wins for workers.
And it included House passage—with AFL-CIO support but over the Machinists' opposition—for legislation implementing Trump's "new NAFTA," officially known as the U.S.-Mexico-Canada Agreement. The Senate will handle that measure in January.
"From the moment we passed our bill through the House without the support of a single Republican vote, it was clear that our counterparts in the Senate and White House fundamentally opposed the Democratic priorities in the bill," such as paid parental leave, House Armed Services Committee Chairman Adam Smith, D-Wash., said. He did not mention the union's role in his release.
"Do you know what they also hated? The repeal of the 'widow's tax' and granting paid parental leave for federal employees. But, because of our tireless work, we succeeded in getting these provisions included. Because of this hard work, our bill will have real impacts on Americans leading real lives."
"Throughout the negotiations I failed in one way: I was unable to turn President Trump, (Senate Majority) Leader Mitch McConnell, and" Senate Armed Services Committee Chairman James "Inhofe into Democrats and convince them to suddenly accept all of the provisions they despise," Smith said, tongue in cheek.