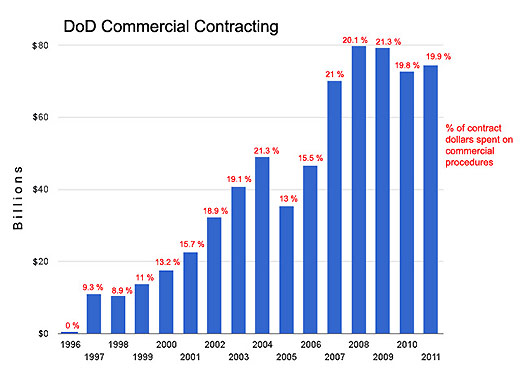 WASHINGTON (PAI) – Citing a study by the independent, non-partisan Government Accountability Office (GAO), the Government Employees (AFGE) says military overspending on contractors led to unneeded unpaid furloughs of civilian Defense Department (DoD) workers.
And AFGE, which represents the civilian DoD workers, who were left for weeks with no jobs and no paychecks, is demanding the Defense Department, particularly the U.S. Army, follow the law that limited the agency's overall spending on such contractors.
The problem is not just in the past, either, AFGE notes. That's because DoD furloughed its workers to cut spending to comply with "sequestration," the GOP ordered federal budget cuts in 2013. And unless the new 114th Congress acts, sequestration will return, AFGE warns.
The comments from AFGE and its citation of the GAO report are the latest evidence in the union's continuing effort to rein in government overspending on private contractors. That spending has mushroomed for years, both in the U.S. and abroad. Congress has set limits on overall DoD contractor spending, but DoD broke them, the union pointed out.
"Department of Defense spending on service contracts is closing in on $200 billion annually, having more than doubled in little more than a decade; already, it is more than double the cost of the Department's entire civilian workforce," AFGE reported.
"Contractors and their allies in Congress, think tanks, and the media used the debate over 'acquisition reform' to push for proposals to further enrich contractors. Conspicuously absent from this debate is how DoD can control spending on service contracts," it said.
DoD civilian workers are supposed to perform many of those services, due to the national security implications of contracting them out, the union adds. AFGE also repeatedly points out that using civilian defense workers for various tasks is cheaper than contracting out.
Overall, DoD overspent its $56.5 billion contracting limit in fiscal 2012, which ended Sept. 30, 2012, by $1.72 billion, the accountability office report said. It stayed within its fiscal 2013 limit of $57.5 billion, by $500 million. But that year, GAO said, the Army blew through its ceiling on contractor spending, while the rest of DoD did not.
"While implementing both the civilian and contract services limitations, the department faced uncertainty about funding levels associated with the automatic, across-the-board cancellation of budgetary resources, known as sequestration," GAO pointed out.
The sequester forced a $37 billion cut in DoD discretionary spending, GAO said. DoD saved the money by furloughing its civilian workers, "but contract services were not subject to these furloughs and DOD continued to use contracted support under existing contracts."
DoD reported different figures for the contractor spending, the report adds, because its contracting offices kept excluding items. But the key point – the overspending – remained, GAO said.
"Varied implementation of fiscal controls hampered military department efforts to adhere to the spending limits. In fiscal year 2012, DoD exceeded the spending limit because each of the military departments exceeded their respective spending targets," GAO added.
Since DoD overspent in one prior fiscal year and the Army overspent its contracting budget every year, DoD had to take the money out of its own civilian workers' pockets, AFGE, which represents the workers, said.
"No 'acquisition reform' is complete if DoD is still unable to identify and control the ever-increasing costs of its service contracts," AFGE said. The union said the agency must "ensure the cap on service contract spending is retained.
"Not only does it (the contractor spending cap) discourage DoD from shifting work from civilians to service contractors, but it helps to hold down costs. Recommendations from GAO to improve planning, enhance control, and ensure consistency in guidance should be implemented, as well as close loopholes that allow large amounts of service contract spending to escape scrutiny."
AFGE also said the department must finally assemble a master inventory of all the private service contracts – something, GAO pointed out, that Congress first required in 2008 – to hold services accountable for staying within spending limits. Doing so will also "reduce reliance on costly contractors for performance of risky contracts, as required by law," AFGE noted.
And it said the Army contracting and budget office needs "special oversight," given its past record for budget-busting on contractor spending. "Working-class and middle-class civilian employees must not again lose paychecks because of the Army's illegal over-spending on service contracts," AFGE stated.
Photo: DoD