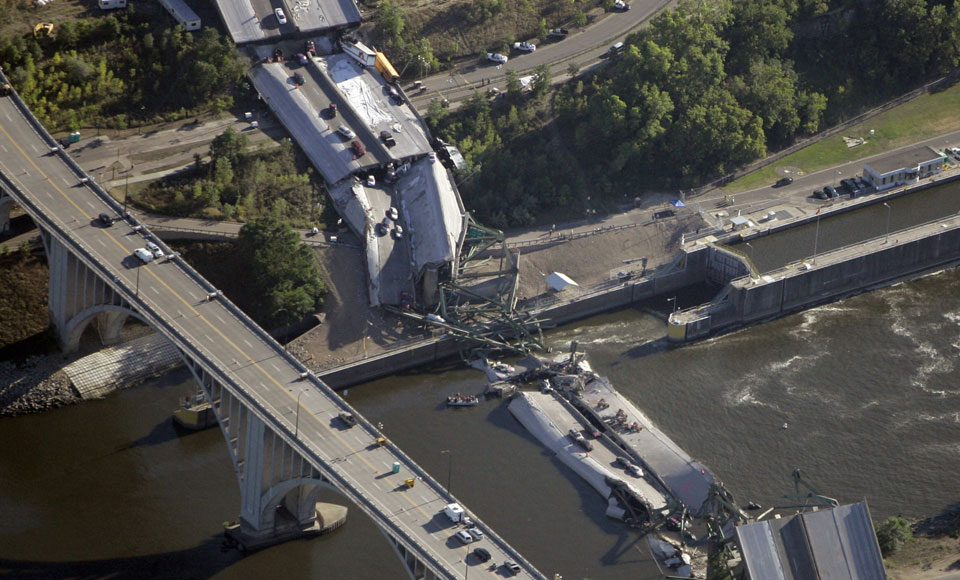 WASHINGTON—Repeating a song they've sung for a decade or more, the AFL-CIO and big business, represented by the Chamber of Commerce – are uniting to urge Congress to provide more tax dollars to rebuild and replace the nation's breaking bridges, crumbling roads, creaky railroads, aging airports and stuttering subways, by raising the federal gas tax.
But they didn't say by how much, and that's one of the big issues in the whole debate over upgrading the nation's infrastructure.
Nevertheless, AFL-CIO President Richard Trumka and U.S. Chamber of Commerce CEO Thomas Donohue sang that tune to the tax-writing House Ways and Means Committee on March 6, and in an impromptu press conference before the panel's infrastructure financing hearing began.
"The gas tax user fee, which funds the Highway Trust Fund, has not been raised since 1993 and needs to be adjusted to meet current and future needs. The HTF is facing a dire funding cliff next year if action is not taken," he told lawmakers.
"The longer we wait, the bigger this list" of infrastructure needs "grows, and the harder it is to finance," Trumka told the reporters beforehand.
And not just highways, bridges, subways, railroads and airports, he added. Rebuilding infrastructure also includes new pipelines, transmission lines and moves to make the U.S. energy-independent in an environmentally conscious way – even if it isn't the specific "Green New Deal" congressional progressives are pushing.
The catch, however, to this pro-infrastructure chorus, which other witnesses joined at the panel session, is "How much?" And the second catch is whether congressional Republicans, whose mantra is to cut taxes a lot for corporations and the rich and very little for everyone else, will go along?
And how about GOP President Donald Trump? His budgets have proposed turning over infrastructure funding to the states and especially to private for-profit firms to build things like more toll roads.
Trumka doesn't like Trump's scheme. Public financing is the way to go, he told the House panel. And to make a gas tax hike fly, "We have to educate people a little more that the problem is getting bigger every day" the U.S. doesn't upgrade its infrastructure, he said in the press confab.
The political hurdles and financial question marks didn't stop Trumka and Donohue from their advocacy. At the impromptu press session, Donohue cited that 26-year period since the gas tax hike. The fund has actually suffered, both noted, as auto fuel efficiency improved.
Trumka talked about how crumbling roads cost workers precious dollars in auto repairs and precious time – hours per day – spent in traffic jams rather than with their families. "The cost of doing nothing is greater" than the cost of road, bridge and subway repairs, he said. The American Society of Civil
Engineers calculate that bringing current infrastructure up to "a state of good repair" would cost $2 trillion. Modernizing it – including the pipelines, transmission lines and broadband – doubles the sum.
Trumka also reminded reporters that voters in three states, two of them GOP-run, approved their own gas tax hikes in referendums this past November – as long as the revenues went to roads, bridges and subways, and not into states' general funds.
The states are still at it: The Ohio legislature cut GOP Gov. Mike DeWine's state gas tax hike from 18 cents per gallon to 10.7 cents on March 6, but nonetheless OKd the increase. Alabama GOP Gov. Kay Ivey sent a gas tax hike proposal to her GOP-run legislature the same day.
So did Michigan Gov. Gretchen Whitmer (D), the labor-backed winner last year whose top campaign theme was "Fix the goddamn roads!" She proposed a 45-cent gas tax hike to her GOP-run legislature.
"We know the only way to advance an infrastructure modernization plan that will get the job done is through a commitment to sustainable, long-term federal funding," Trumka told the lawmakers, implicitly rejecting Trump's privatization schemes.
"To be successful, any plan will need to be bipartisan, bicameral and signed into law by President Trump. This will require a healthy dose of political will that is often discussed but rarely exercised," he admitted. That, too, was an indirect reference to GOP hatred of taxes in general and gas tax hikes in particular.
"The AFL-CIO and our affiliates have long supported a substantial, long-term infrastructure investment plan — one that lifts up working people, grows the economy, creates 'high road' jobs and provides increased opportunity for people of color, women and  immigrants."
But there have to be some conditions to providing more funds to fix the roads, bridges, subways, airports and other infrastructure, he warned.
The top one is "when done  right, infrastructure investment creates good jobs and  career paths that can  support a family, a child's education, a secure retirement and  a middle-class life. In fact, jobs in infrastructure pay more competitive wages than similarly skilled positions in other sectors."
"To that end,  any infrastructure package must maintain long-standing federal policies that support working people with high labor standards and  good jobs." That means upholding collective bargaining agreements and other pro-worker provisions of past federal transportation and gas tax laws, he said.
"Wages and benefits must not be undermined by low-wage bids, and public-sector pay, benefits and  labor rights must be protected when special interests push privatization and contracting-out schemes," he said. And procurement for rebuilding infrastructure must extend contracts to everybody, especially previously shut-out groups such as women and minorities. They also need 'Buy America" rules.
"That is not just good for union members. It's good for every single American," he said.