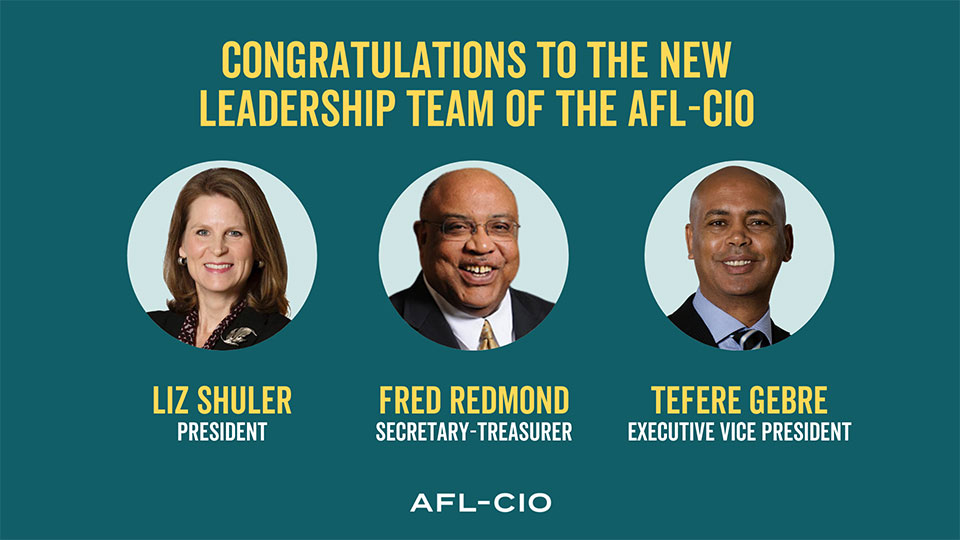 WASHINGTON (PAI)—The AFL-CIO Executive Council elected current Secretary-Treasurer Liz Shuler, now the federation's Acting President, to hold the top job through its convention next year.
Shuler, an Electrical Worker from Local 125 in Portland, Ore., becomes the first woman to officially head the nation's largest labor federation. In its August 20 session, the council elected Steelworker Vice President Fred Redmond to succeed her as Secretary-Treasurer.
With current Executive Vice President Tefere Gebre, who will continue in that job, at least through the convention, the changes mean the federation leadership team includes, for the first time, no white men.
Redmond will be the federation's first Black person in its #2 job. Gebre, from the Teamsters and then AFSCME, is a naturalized citizen and Ethiopian refugee.
The fed's board had to act after incumbent President Richard Trumka died of a heart attack on August 5. He made one last trip to the AFL-CIO afterwards, lying in repose in his coffin in the federation lobby on August 14, as tributes poured in.
"I am humbled, honored, and ready to guide this federation forward," Shuler said in a statement released after the board's decision.
"I believe in my bones the labor movement is the single greatest organized force for progress. This is a moment for us to lead societal transformations–to leverage our power to bring women and people of color from the margins to the center—at work, in our unions, and in our economy, and to be the center of gravity for incubating new ideas that will unleash unprecedented union growth."
"I could not be more excited to get to work with President Shuler so we can build on the labor movement's legacy of change, writing a new chapter that brings the promise of union membership to workers across this country," Redmond said. "This is the right team at the right time to help bring about the economic and social justice America is hungry for."
Praise came in from, among others, Pride@Work, the AFL-CIO constituency group for LGBTQ workers, the Amalgamated Transit Union, and the Transportation Trades Department.
Shuler "was always there for Pride at Work when we needed something," said Pride@Work Executive Director Jerame Davis. "She has spoken of her passion for equality… She will always have LGBTQ working people at heart as she leads us forward.
"Shuler and Redmond bring to the table proven leadership, grit, determination, and a deep understanding of the unique and complex needs of today's working families," TTD President Greg Regan added. "The labor movement needs an experienced leader and a strong advocate for working people and their families. Liz Shuler is that person," ATU President John Costa added.