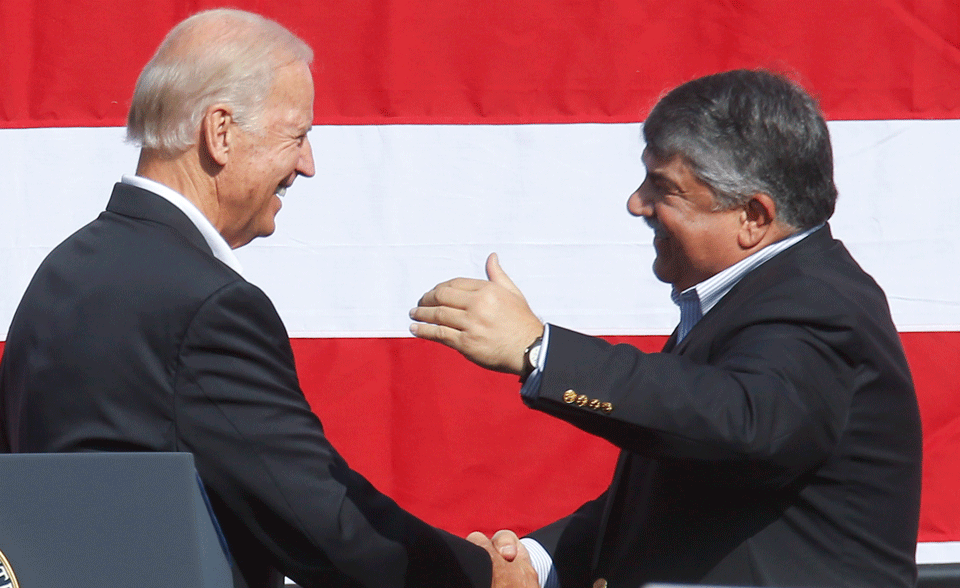 WASHINGTON—By vote of its general board, the AFL-CIO, the nation's largest labor federation, formally endorsed presumed Democratic presidential nominee Joe Biden for election to the White House in 2020.
The endorsement, announced in a 10-minute speech May 26 by federation President Richard Trumka, was expected. It followed Biden endorsements by two influential AFL-CIO unions: The Steelworkers on May 20 and the Communications Workers on May 22.
The AFL-CIO's nod clears the way for the federation to mobilize its unions' millions of members, their families and their allies to not only elect Biden, "who is the embodiment of goodness and decency," but also complete worker rejection of the "pettiness and negativity" of GOP Oval Office occupant Donald Trump.
Indeed, those were some of the milder terms Trumka used to excoriate Trump during his pro-Biden speech. Trumka also signaled Trump's disastrous handling of the coronavirus pandemic, which has sickened almost 1.7 million people and killed almost 100,000 as of the morning of May 27, would be a top issue on the campaign trail.
"Just imagine what workers can accomplish with an ally in the White House," Richard Trumka, president of the nation's largest labor federation said in his endorsement speech.
Trump's track record on the coronavirus, Trumka said, "has been delinquent, delayed, disorganized and deadly." And his track record against workers, especially on health and safety and collective bargaining rights, has been dreadful, Trumka added.
"Worse yet, Donald Trump has used the highest office in the land to divide America, scapegoating immigrants, degrading women and playing on people's worst fears," Trumka declared.
"That's our choice this year: Between Donald Trump's pettiness and negativity and Joe Biden, who is the embodiment of goodness and decency."
Trumka spent more of his speech praising Biden as a man whose word is good, who did not and does not forget his humble roots in Scranton, Pa., and who can be trusted to fight for workers' causes.
"Just imagine what working people can accomplish with an ally in the White House," Trumka said.
Trumka omitted several disagreements with Biden over the years. One was the former vice president's support for so-called "free trade" pacts which cost workers jobs. The top two were NAFTA – passed in 1994 with Biden's support as a senator from Delaware – and the Trans-Pacific Partnership, which labor opposition forced Biden's boss, Barack Obama, to shelve. "It made sense at the moment," Biden said a year ago of NAFTA.
And when Biden used his standard line of "Osama Bin Laden is dead and GM is alive" after the Obama-led recovery from the 2008 crash, union leaders at a closed-door AFL-CIO Executive Council meeting in 2013 erupted. They demanded why Obama and Biden had stopped pushing the pro-worker Employee Free Choice Act, too.
Another is Biden's record with the African-American community. Biden has a lot of credibility with older African-Americans, who remember him as Obama's VP. Their strong support in the key South Carolina primary revived his then-struggling campaign this year. But he's struggling to win over younger ones.
Besides recent radio comments – where Biden put his foot in his mouth, but later apologized – he also was a prime mover, while Senate Judiciary Committee Chairman, of the infamous crime bill, which was tilted against African-Americans on drug offenses.
And while Biden backed and pushed voting rights and civil rights legislation, again from his committee post, he also, at the start of his career, opposed using busing to desegregate public schools – a flash point with white working-class voters he is wooing.
Trumka mentioned none of those controversies. Instead, he dwelt on how "working people have overcome fear and hostility" all the way up to the Trump White House, and said Biden can help overcome more, while appealing to "the better angels" of the U.S.
He also said "I get it," in discussing why many workers and their families turned to Trump in 2016, especially in the key swing states of the industrial Midwest: Ohio, Wisconsin, Michigan and his home state of Pennsylvania. Symbolic of the shift was Trumka's home, in Pennsylvania's farthest southwestern corner. The small county, including his hometown of Nemacolin, went for Trump by almost 3-to-1.
Those workers were desperately looking for a change from 40 years of anti-worker policies from politicians of both parties and from an economy that worked against workers, Trumka said. Trump promised it, but hasn't delivered.
So, now, Trumka expects, those workers and others will come back to Biden.
"The path to the presidency runs through the labor movement. And with the full force and unmatched reach of our political program, we are ready to pave that road for our friend, Joe Biden," Trumka concluded.