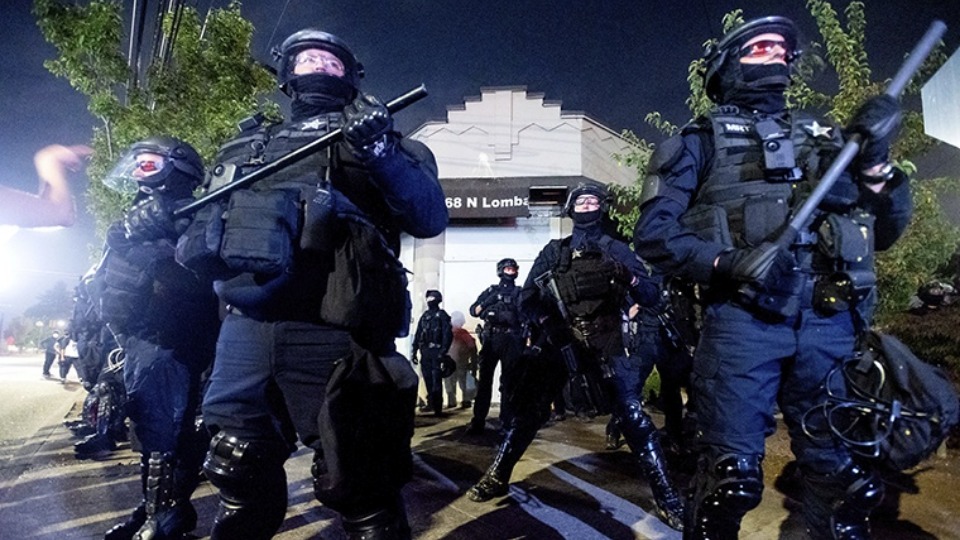 WASHINGTON (PAI)—A jury's conviction of former Minneapolis cop Derek Chauvin on all three counts in George Floyd's killing—including one that could send Chauvin to prison for decades—delivered justice to Floyd's family, AFL-CIO President Richard Trumka says.
But at the same time, he warned, it's not the end of the story. Reconstructing the U.S. away from the systemic racism that Chauvin's killing of Floyd last Memorial Day emphasized must continue, Trumka declared.
The jury found Chauvin guilty of all three counts, led by second-degree murder. The three other police officers who stood by and did nothing, despite demands from surrounding people to stop Chauvin, face trial in the near future.
Chauvin, who is white, pushed a handcuffed unresisting Floyd, who was Black, to the ground and then threw his entire weight through one knee onto Floyd's neck, for more than nine minutes. By the time Chauvin rose, Floyd, 46, was unconscious and not breathing.
"We are relieved the jury delivered justice for George Floyd's family. Floyd's murder shocked our collective conscience and sparked a movement for change that has inspired America over the past year," Trumka said.
"While this verdict is welcome news, the work of dismantling systemic racism and white supremacy is just beginning. As members of our communities and representatives of union public safety professionals,"—i.e. police unions—"the labor movement has a unique role to play in changing this culture of policing."
Denunciations of racist police violence by the leadership of National Nurses were among the toughest of any union; it doesn't have the same "police problem" that the national AFL-CIO does.
"We hope this verdict will send a message about the importance of holding police officers accountable for terrifying acts of police violence and misconduct. We also recognize that this decision would not have been possible without the outpouring of millions of Americans demanding justice following the murder of George Floyd," said NNU President Jean Ross, RN.
Zenei Triunfo-Cortez, RN, also NNU president, said, "We know this was just one case; there are so many more where there was no accountability or justice: Breonna Taylor, Elijah McClain, Philando Castile, Michael Brown, Tamir Rice, Eric Garner, and so many others whose names are seared in our memories of destroyed lives, wounded families, and traumatized communities."
NNU's executive director, Bonnie Castillo, RN, declared racism "a public health crisis." She said, "We have seen the impact of racism on the lives of communities of color during the pandemic—from the disproportionate deaths of Black, Latinx, and Indigenous people due to COVID-19 to the recent xenophobic attacks against Asians." On top of all that, Castillo said, there is the problem of "an out-of-control system of policing," which requires "transformational changes."
"We have so much work ahead of us in order to build a more just state and nation for everyone," Minnesota AFL-CIO President Bill McCarthy said. "Black Minnesotans continue to face police violence. George Floyd and Daunte Wright should still be alive today," he added, referring to Wright, 20, killed by a cop in a Twin Cities suburb while Chauvin was being tried.
"As Minnesotans, we must continue working so that whether we're Black or White, Latino or Asian, Indigenous or newcomer, our families are safe, our voices are heard, and our rights are respected.
"The Minnesota AFL-CIO is committed to building a more inclusive labor movement by listening to and elevating the voices of Minnesota's Black union members as we work to reimagine public safety," he added. After post-Floyd protests rocked the area, the Minneapolis City Council began a thorough overhaul of policing, if not outright abolition of the department.
The state fed demanded the racist president of the city's Fraternal Order of Police chapter quit or be kicked out. "The Minnesota AFL-CIO and affiliated unions will continue our work to bring racial and economic justice to all workers in our state," McCarthy said.
Some sections of unions—including Writers Guild of America, East and Workers United of Upstate New York—demand the AFL-CIO completely expel the small International Union of Police Associations, which strenuously defends cops who have killed Blacks.
The AFL-CIO is "developing a public safety blueprint for change, and we look forward to using our experience and influence to heal this nation through liberty and justice for all," Trumka responds. The issue of police unions presents the federation with a dilemma, but it could also be an opportunity to contribute to the healing needed.
Darren Wilson, the police officer who killed Michael Brown in Ferguson, Mo., in 2014, for example, was a union member. Brown's mother, Lesley McSpadden, was also a union member, part of UFCW Local 88. In a statement at the time, Trumka said, "Our brother killed our sister's son, and we do not have to wait for the judgment of prosecutors or courts to tell us how terrible this is." Many labor leaders continue to believe the movement is in a unique position to mediate the discussions needed to win policing reform and combat systemic racism.
This article from Press Associates Union News Service has been supplemented with additional material by People's World.