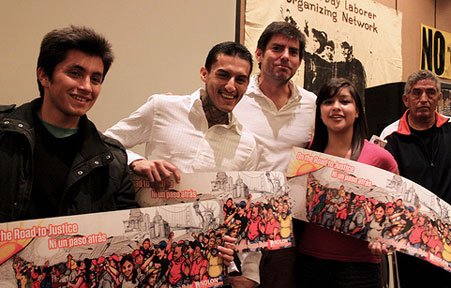 LOS ANGELES – Day laborers from 14 states journeyed by car, at times through states and communities where police double up as deportation agents, to participate in the 6th National Assembly of the National Day Laborer Organizing Network (NDLON) in Los Angeles Feb. 19-23.
Many, undocumented, risked arrest and possible deportation. But they would not be deterred in their quest for "Humane and Fair Immigration Reform for All, Now," as a conference banner proclaimed in Spanish and English.
In a fiery speech on Tuesday, AFL-CIO President Richard Trumka said the national labor federation and its affiliates stand "shoulder to shoulder" with immigrant workers.
"There is power in our union, power big enough to transform this country," Trumka declared. "You are critical to the future of the American labor movement."
Last year, for the first time in recent history, the organized labor movement joined hundreds of thousands of immigrant workers around the country to celebrate May Day as immigrant workers' day.
This year, Trumka took a step closer to reclaiming U.S. labor history when he told the day laborers assembly, "We will celebrate May Day as a day to recognize the rights of immigrants and the rights of workers."
Later in the day, Trumka also spoke at a victory rally of carwash workers, members of the United Steelworkers union, who recently won contracts with Vermont Carwash and Nava's Carwash. Three union carwashes in the country are now covered by a labor agreement, with Santa Monica's Bonus Carwash becoming the first last year.
At the conference, Trumka hailed the 2006 partnership agreement between the AFL-CIO and NDLON that paved the way for AFL-CIO bodies and NDLON's day laborer worker centers to cooperate on issues ranging from workplace rights to immigration reform to health and safety and other job-related concerns.
"Turning the tide is not just about a campaign against immigration enforcement but also about day laborers leading a movement for dignity and justice," NDLON Executive Director Pablo Alvarado declared in a message to conference attendees.
Alvarado singled out several recent victories, including the passage of Illinois' Just Pay for All bill, protecting workers against wage theft particularly affecting immigrant workers. He also pointed to the defeat of the Redondo Beach, Calif., ordinance barring day laborers from gathering on busy street corners to solicit work from passing drivers.
In a significant victory, the U.S. Supreme Court this week turned down the city's appeal seeking reinstatement of the ordinance, after the U.S. 9th Circuit Court of Appeals struck it down on free-speech grounds.
In response to widespread criticism, the Obama administration is phasing out a program known as 287(g) that deputized local police officers to act as immigration agents.
Once involving 60 local agencies under former President George W. Bush, it now involves eight. Since August 2010 no additional agencies have signed on.
Under a separate program, however, in response to a wave of protests a number of states are reconsidering their participation in Secure Communities, a program aimed at identifying and deporting undocumented immigrants convicted of serious crimes.
Department of Homeland Security statistics show many of those deported under the program had never been convicted of a crime or were guilty only of minor offenses.
Underscoring both victories and challenges, Alvarado explained, "We've named the Asamblea 'On the Road to Justice, Ni un paso atras (Not one step back)' because we have come too far to go backwards."
Day laborers at the conference were also joined by representatives of the faith-based community, civil rights groups, academicians and other NDLON allies – a microcosm of the social movements that have come to the defense of day laborers.
Sandra Castro, reflecting the mood of conference attendees, said, "When I walked into the conference this morning, I was overcome with a gleeful feeling of power and hope. It is always great to see a room full of people that believe that together we can make a difference, and we can beat back the right-wing attack."
Photo: NDLON website.