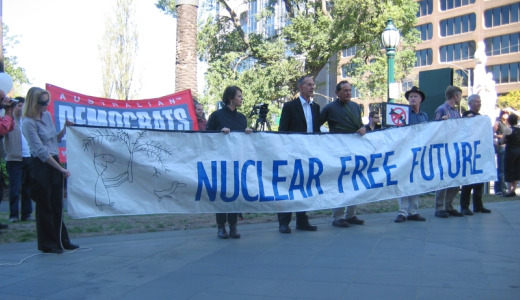 As a presidential candidate, Barack Obama vowed to pursue "a world in which there are no nuclear weapons." He also pledged that during his first year in office he would "lead a global effort to secure all loose nuclear materials."
This spring his administration is building on those promises with its Nuclear Posture Review, the New START treaty to cut U.S. and Russian nuclear weapons, and now this week's nuclear security summit. The process will continue next month as the United States participates in the Nuclear Non-Proliferation Treaty Review Conference.
As it advocates smaller weapons stockpiles and narrows the criteria for U.S. use of nuclear weapons, the Nuclear Posture Review also highlights the need to secure vulnerable nuclear materials worldwide.
Addressing the summit, President Obama highlighted "a cruel irony of history – the risk of a nuclear confrontation between nations has gone down, but the risk of nuclear attack has gone up" and now "is one of the greatest threats to global security."
In its final statement, the summit called on nations to cooperate for nuclear security, including keeping "non-state actors" from being able to use nuclear materials "for malicious purposes," and barring illicit nuclear trafficking.
International cooperation in "nuclear detection, forensics, law enforcement and the development of new technologies," strengthening "physical protection" and "material accountancy" – all are indeed vital in today's world.
But no matter how successful such cooperation becomes, true nuclear security also depends on fulfilling the president's other objectives: preventing more countries from acquiring nuclear weapons, ensuring "strategic stability" among current nuclear powers, and reducing and ultimately eliminating all stockpiles of nuclear weapons.
Much rests on what is sure to be a centerpiece of next month's review of progress under the Nuclear Non-Proliferation Treaty – the obligation of all signers under its Article VI "to pursue negotiations in good faith" to achieve complete nuclear disarmament and to conclude a treaty for general and complete disarmament.
Only when this great goal is won will it be possible to truly end the threat of catastrophe from the "malicious" use of nuclear materials, whether by nations, by "non-state actors" or by accident.
Photo: A 2007 Palm Sunday peace march in Melbourne, Australia. http://commons.wikimedia.org/wiki/File:Rallyleadbanner1.jpg