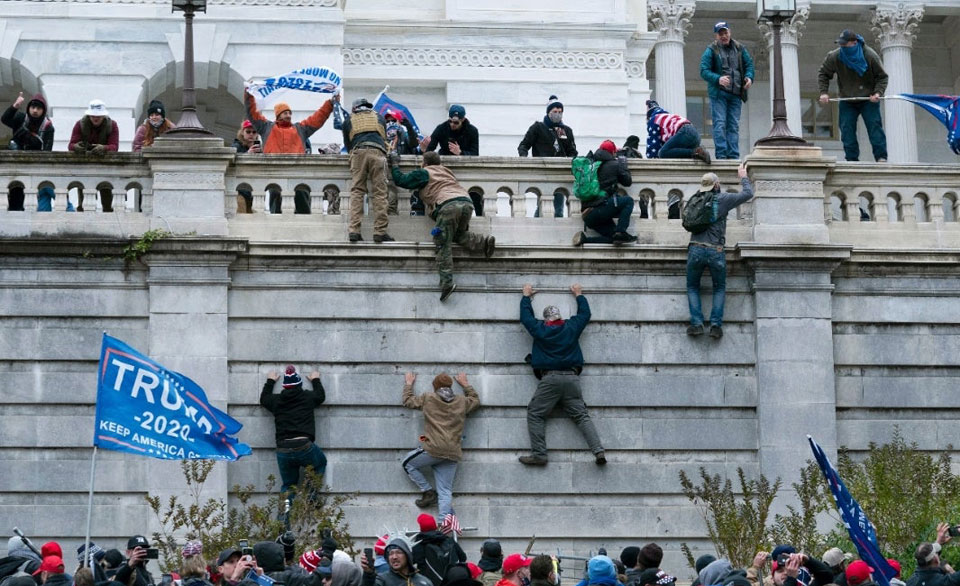 WASHINGTON—The AFL-CIO's leaders formally and unanimously voted today to demand immediate ouster of GOP Oval Office occupant Donald Trump. The call comes as a nation on edge watches its elected lawmakers move today and tomorrow to immediately extricate from the White House a dangerous and deranged president who is leading right-wing extremists across the country in a continuing attack on the U.S. government.
The nation's leading labor federation is demanding Trump "resign or be removed" for inciting the Jan. 6 insurrection which saw tens of thousands of Trumpites invade and occupy the U.S. Capitol.
Federation President Richard Trumka announced the decision, by the federation's General Board. The board includes 56 union presidents, its three top officers, and other leaders representing women, people of color, and other groups of workers.
Trump, said Trumka, "drove America into depression and the brink of civil war."
"He [Trump] incited an insurrection and pushed lawmakers to overturn democratic election results," Trumka told a Jan. 12 telephone press conference. "The future of the labor movement is entwined with the fate of our democracy. Unions both thrive on and contribute to democracy."
"Trump was outraged because Black and Brown people and workers of all colors voted against him," Trumka stated. He added the White House denizen's congressional followers specifically targeted throwing out votes from people of color in Philadelphia, Milwaukee, and Atlanta, the hubs of three key swing states Democratic President-elect Joe Biden carried.
"They thought they could steal the election," Trumka said of Trump, the insurrectionists, and GOP lawmakers led by Sens. Josh Hawley, R-Mo., and Ted Cruz, R-Texas.
On Jan. 6, Trump ordered the pro-Trumpite invaders, including white nationalists and conspiracy believers—plus some police officers from around the U.S.–to march on the Capitol and, though he didn't use the word, carry out a coup to overturn Biden's Electoral College win. Biden's inauguration, under much-heavier security, is scheduled for Jan. 20.
The invaders overran U.S. Capitol police, whose leaders left them ill-prepared and unwarned. "If striking workers had stormed the Capitol," they would have been met with police tactical teams, Trumka said. "If Black Lives Matter had" done so, "there would have been a massacre."
What happened at the Capitol was the result of many things. Economic and political systems failing to serve the majority of working people are high among them.. The Electoral College is so arcane that a president and members of Congress thought they could manipulate the rules to steal an election. Fear, hate, disinformation, conspiracies, and the white supremacy that spawns all of them fueled the insurrectionary coup attempt which is ongoing not just in Washington D.C. but across the country.
The fed's decision came as the U.S. House barreled towards a Jan. 13 vote to impeach Trump on one count of incitement of that seditious invasion of the Capitol. One question: How many House Republicans, besides Adam Kinzinger of Illinois, would back impeachment?
That incitement count parallels constitutional language, in the post-Civil War 14th Amendment, aimed at Confederate leaders.
Would remove any oath violator
The amendment's words ban anyone who took the oath of office to the Constitution—as Trump did—and then broke it by having "engaged in insurrection or rebellion…or given aid and comfort to the enemies" of the U.S. from holding any federal or state office ever again.
Before the impeachment decision, lawmakers approved a resolution on Jan. 12 demanding GOP Vice President Mike Pence convene Trump's Cabinet, or what's left of it, to invoke the 25th Amendment's provisions allowing removal of a president for "inability to discharge" duties of the office. Pence initially refused but has since stayed silent. Like rats deserting a sinking Trump ship, two Cabinet members and an acting Secretary have quit since Jan. 6, citing Trump's incitement of the invaders.
The impeachment resolution, originally crafted by Reps. David Cicilline, D-R.I., Ilhan Omar, DFL-Minn., and Ayanna Presley, D-Mass., was expected to pass despite the narrower Democratic margin in the House.
But the week before, two-thirds—some 140—of the House GOPers, including their three party leaders, went down the line with Trump even after the invasion. They parroted his lies about vote fraud and a stolen election and opposed Biden's certification as the next president.
Their stand led a new "squad" member, newly elected Rep. Cori Bush, D-Mo., to point out the sharp contrast in gentle police treatment of the white nationalist invaders versus the riot gear, flash grenades, tear gas, rubber bullets, and other cop actions against peaceful BLM protesters last year. Bush is the first BLM leader elected to Congress.
She drafted a resolution to expel the GOP Trump backers, comparing them to pro-rebel lawmakers thrown out of the House in the winter of 1860-61, in the run-up to the Civil War.
"Many have said that what transpired" on Jan. 6, which Trump incited, "was not America," Bush wrote in an op-ed she posted on a Working Families Party e-mail. "But this is the America that Black people know.
"To declare that this is not America is to deny the reality that Republican members of the U.S. House and Senate incited this coup by treasonously working to overturn the results of the presidential election—members like one of my senators, Josh Hawley, who went out of his way to salute the white supremacists before their attempted coup."
"They must face consequences. That's why I just introduced a resolution today to expel them from Congress," Bush wrote (emphasis hers).
Meanwhile, more details about the mayhem inside the historic building, and Trump's refusal to halt his invaders, are emerging, especially about the Oval Office occupant's inaction as the insurrectionists plundered the Capitol.
The Capitol Police, whose leaders had ignored weeks of warnings of coming trouble,  received no help until it was too late. And Trump was responsible for that, too,
The Washington Post reported Trump sat and watched the invasion on live TV and didn't even take calls from congressional leaders who had to flee the insurrection. He also did not activate the D.C. National Guard to aid the police. Pence finally did.
And when Trump belatedly responded, his video told the invaders to "go home," after he lavishly praised them.
Trump's thousands streamed through the building, scrawled some graffiti, hunted for Pence and Pelosi to harm them, and occupied the Senate chamber. They overran the outnumbered U.S. Capitol Police, some of whose white members took selfies with invaders, then let them in.
The Trumpites vandalized offices and paintings, waved Confederate flags and pro-Trump banners, and stole everything from computers and files to Democratic House Speaker Nancy Pelosi's portable podium. Dozens of police were injured, some seriously, and two have died so far, along with four insurrectionists.