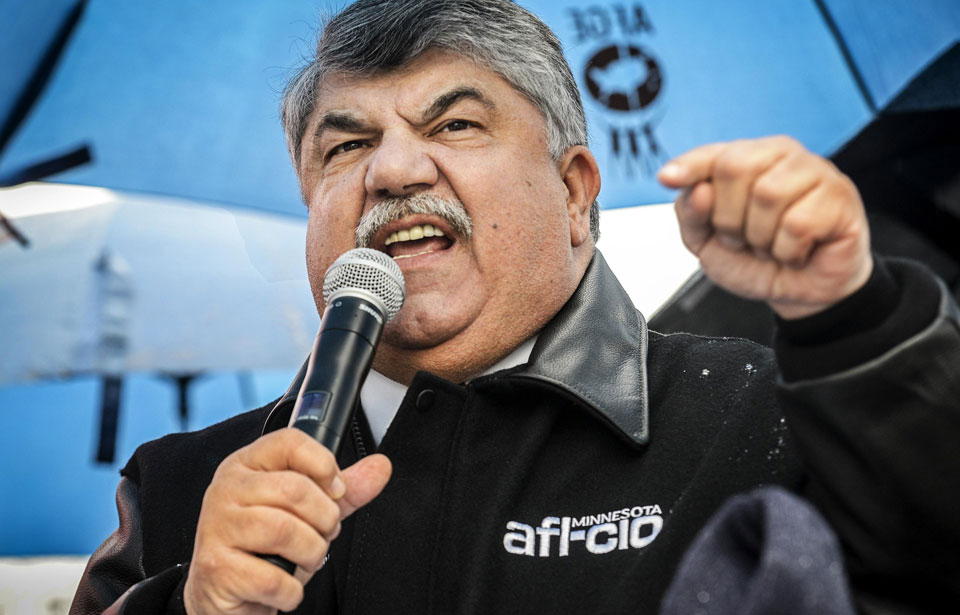 WASHINGTON—Sticking its collective tongue very far in its cheek, the AFL-CIO posted a satirical critique/resume of GOP President Donald Trump's Labor Secretary pick, right-wing corporate attorney Eugene Scalia, on Sept. 17.
But whether their spears and arrows and other criticism from unions, consumer groups, and their allies will be enough to stop Scalia's ascension is doubtful.
The Senate Health, Education, Labor and Pensions (HELP) Committee held a confirmation hearing today on Trump's nomination of Scalia, son of the late right-wing Supreme Court justice, to succeed Alex Acosta in DOL's top job.
And unless committee Democrats hold together against him and convince several Republicans to defy Trump and party leader Mitch McConnell, R-Kent., to defect there, Scalia becomes DOL's top dog. McConnell has greased the skids for Scalia to occupy the Labor Secretary's office, by preventing a filibuster against him.
That didn't stop the AFL-CIO from skewering Scalia, whose anti-worker stands include – among others – defending SeaWorld when the firm's inaction and inattention let a killer whale in Florida drown and kill its woman trainer several years ago.
Scalia was also the lead lawyer for Walmart in its successful battle last decade against Maryland's law mandating that any enterprise with more than 10,000 workers devote at least 8% of payroll to worker health insurance. Only three enterprises in the state qualified and the other two – including unionized Safeway stores – met that standard. Walmart flunked.
"Union-busting lawyer seeking new opportunities to ruthlessly advance corporate interests. Specialties include eroding labor rights, unraveling consumer protections, endangering Americans' retirement security and blaming a worker for her own death," the fed led in its resume-style posting about Scalia.
Then the federation dug into Scalia's experience, starting with his role in leading the successful corporate campaign to "eliminate the Department of Labor's fiduciary rule, freeing investors to pocket money at the expense of working people's retirement accounts."
And while at that pro-corporate law and lobbying firm, Gibson, Dunn & Crutcher, Scalia also "sued the government repeatedly on behalf of big banks to unravel Dodd-Frank consumer protection rules and defended UPS against widespread discrimination claims, killing a major class-action lawsuit filed under the Americans with Disabilities Act."
And just to cement the case, the "resume" cited Scalia's role in killing the Maryland "Walmart law," before he "represented casino mogul Steve Wynn when he was accused of stealing tips from his Las Vegas employees" and "championed Boeing's decision to move jobs to a 'right to work' state over union members' objections."
That's a veiled reference to the National Labor Relations Board suing Boeing for retaliating against the Machinists by deliberately moving 787 Dreamliner production away from its unionized IAM members in the Northwest to union-hating right-to-work South Carolina.
The "resume" also noted former GOP President George W. Bush named Scalia Solicitor of Labor, its top legal officer, in a "recess appointment." But Scalia was "deemed too extreme for the job by the U.S. Senate," the fed added. Actually, he never got a Senate floor vote. The Help Committee found Scalia was no bad it never voted on him for the permanent job.
And before joining DOL, the "resume" says, Scalia was "Special Assistant, Attorney General William Barr…Yes, that Bill Barr," Trump's current Attorney General who tried to whitewash Trump with a highly inaccurate summary of Special Counsel Robert Mueller's report on Trump, the Russians, and the 2016 presidential election.
Scalia's "hobbies," the resume says, included one time where he "shamed and berated a sexual harassment survivor to tears," though the fed provided no details and – in another anti-labor move – "dismissed ergonomics as "junk science," and warned that companies might be forced to "give more rest periods, slow the pace of work and then hire more workers."
More seriously, federation President Richard Trumka said "Eugene Scalia has spent his entire career making life more difficult and dangerous for working people," which is why the fed opposes him. Other union presidents were also scathing.
"Scalia has made his fortune over decades by fighting to ensure that the big guys – corporations – don't, in fact, have to abide by regulations intended to foster, promote and develop the welfare of the little guys – wage earners, job seekers, and retirees," new Steelworkers President Tom Conway blogged, in part after Trump nominated Scalia.
"That is who Trump chose to protect wage earners: A corporatist so egregious that when former President George W. Bush wanted Scalia as Labor Department solicitor, Bush had to give him a recess appointment because Republicans in the Senate balked at approving him," Conway added. The recess appointment ran out after several months.
"This isn't a glitch. It's a pattern. Although Trump is fond of surrounding himself with union members and asserting that they love him, he doesn't really like unions, especially ones that challenge him or dare to question his lies," Conway said.
"Scalia spent his whole career helping big business clients shirk their responsibility to treat their workers with respect and dignity, while also taking special interest in dismantling Wall Street regulations that protect consumers," added Communications Workers President Chris Shelton. "In case that's not enough, Scalia worked to defend Walmart when they fired whistleblowers who reported misconduct, telling you everything you need to know about which side he's on."
"Scalia's record shows he is a terrible pick for Secretary of Labor, and CWA members are ready to fight against the inevitable onslaught of more new anti-worker regulation from the Trump administration if he assumes the job."
One rank-and-file worker, replying to Conway's blog, put the roles of both Trump and Scalia succinctly. "One expects nothing from a pig but a grunt. Why are you surprised. He looks after his own people – the rich?????" Dónal Deróiste wrote.