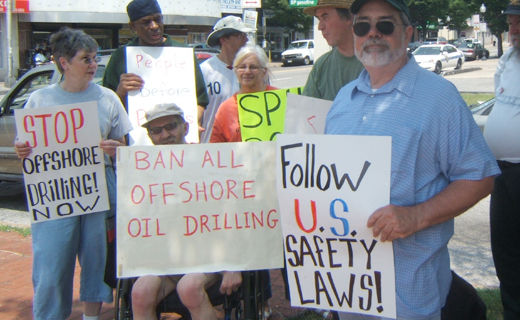 LOS ANGELES – "The right to a safe job is a fundamental worker right. All workers – coal miners, construction workers, health care workers, and garment workers, whether they live in the United States, Bangladesh, or China – should be able to go to work and return home safely at the end of the day," stated Resolution 13, submitted here at the AFL-CIO Convention by the federation's Executive Council and the Committee on Shared Prosperity in the Global Economy.
"This past April," it said, "we witnessed the worst garment factory disaster in history – the horrifying collapse of the Rana Plaza in Bangladesh, which housed five factories making garments for U.S. and European retailers," including profiteering corporations like Walmart. 1,129 workers, mostly women, died altogether, and hundreds more were injured. And months earlier, "112 Bangladeshi workers were killed in a fire trapped behind locked doors at the Tazreen garment factory."
The resolution also cited the innumerable disasters that have occurred right here in the U.S. due to lack of safety protections and concern for workers. They referenced the 2010 Massey Energy Upper Big Branch mine explosion; the BP oil spill; and the recent West, Texas fertilizer plant explosion, which had never been inspected by the Occupational Safety and Health Administration.
There are many new laws guaranteeing worker protection that need to be implemented, the resolution continued, but "progress on needed new protections has been dismal. The 2010 election of a Republican majority in the House brought a renewed anti-regulatory fervor, with business groups and Republicans launching a major assault on regulations and the regulatory system."
Both the OSH Act and workplace standards, especially those for toxic chemicals, are outdated, said the executive council. "Regulation does not keep pace to effectively respond to imminent and emerging hazards."
Nor, they said, does funding: "Our system of safety and health regulations remains fragmented and underfunded. The Obama administration has proposed to cut funding for the National Institute for Occupational Safety and Health, the federal job safety research agency, eliminating all funding to train new safety and health professionals. The Chemical Safety Board, also underfunded, has failed to issue findings on many major chemical disasters and recommendations on how future disasters can be prevented. And the Department of Energy's modest efforts at self-regulation and oversight to protect workers at that department's weapons plans are under attack by contractors and some members in Congress.
"Many groups of workers, including immigrant workers, are at much greater risk of injury and death, working in some of the most dangerous jobs and vulnerable because of immigration status and lack of union representation."
Christina Tzintzun, executive director of Workers Defense Project of Austin, said during a rally for immigration reform here at the convention, "Construction is just one industry that depends heavily on immigrant jobs. But it's the most deadly place for these workers. Employers feel like they can violate their rights with impunity."
Though corporate political power has grown, the statement continued, "we must move forward. But we can't win these fights on our own. The union movement must join with allies – safety and health activists and advocates, family members, worker centers, and public interest organizations – to seek stronger safety and health protections and rights for all workers."
The resolution declared that the federation and its allies would push to modify existing work safety laws to cover all workers and toughen anti-retaliation protections; continue to push the Obama administration to strengthen rules on toxic chemicals; challenge anti-worker policies and tactics used by employers; fight corporate efforts to dismantle safety regulations; educate workers and union members; and "fight efforts to use international trade agreements to lower safety and health standards and protections, and instead seek to use these agreements and their enforcement as means to raise standards and improve working conditions for all workers."
Photo: Here, workers call for oil companies to implement safety regulations. The lack of job safety and oversight by such companies is the primary factor in major disasters, including the BP oil spill. Tim Wheeler/PW